créée le 6 août 2003 et mise à jour du 20 août 2003

| | |
| --- | --- |
| marque | CHECKER |
| modèle | MARATHON |
| finitions | Station Wagon |
| année | 1 9 6 9 |
| quantité/prix | / $3560 |
| carrosserie | familiale 4 portes 6 places |
| moteur/boite | V8 de 5300cc |
DU SITE D'ENCHERES EBAY-USA
hôte : e-bay, le fameux site d'enchères aux USA qui comprend toujours entre 1 et 2 millions d'objets à enchérir. C'est celui aussi qui a acheté notre iBazar national avec ses 4 à 600 mille objets aux enchères et qui est devenu ebay.fr
voitures américaines : il y en a toujours beaucoup avec de superbes photos sur le site américain. Le site français propose en général entre 2 et 4 pages d'objets et de voitures avec une certaine modestie pour les photos. Ceci va sans doute changer
photos : elles sont du propriétaire-vendeur klasic-chaz (nom de code ebay)
en 1969 Checker produit des MARATHON et des DELUXE

MARATHON, deux carrosseries 4 portes 6 places

Sedan vendu $3290
Station Wagon vendu $3560

DELUXE, deux carrosseries 4 portes 8 places

Sedan vendu $3984
Limo vendu $4969

le moteur de base est pour chaque un 6 cylindres de 250cid développant 155cv à 4200t/mn

en option: 327cid V8 développant 235cv à 4800t/mn, +$108
également 350cid V8 développant 300cv à 4800t/mn, +$195

total des ventes: 5417 exemplaires dont 760 non taxis
69 CHECKER MARATHON WGN, RESTORED, EXC. COND!
Vehicle Description : WHAT YOU ARE VEIWING IS A 1969 CHECKER MARATHON STATION WAGON! IT IS 90% RESTORED, NEW PAINT(LEMON YELLOW W/WHITE TOP), RECHROMED TRIM AND BUMPERS, NEW VINYL SEATS(LOOKS LIKE LEATHER), CARPETS, HEADLINER AND NEW RADIAL TIRES ON FACTORY WHEELS WITH ORIGINAL WHEEL COVERS. MECHANICALLY, IT RUNS AND DRIVES NEAR PERFECT. THE 327 V-8 ENGINE PURRS LIKE A KITTEN YET IT IS POWERFUL LIKE A CHEETAH ON A HUNT CHASE. THE AUTOMATIC TRANSMISSION PERFORMS FLAWLESSLY. THE A/C CURRENTLY HAS A BROKEN PRESSURE LINE AND IS NOT WORKING BUT, WE SHOULD HAVE FIXED SHORTLY. IT IS ALSO EQUIPPED WITH POWER STEERING AND BRAKES.
RESTORATION WAS DONE OVER A 5 YEAR PERIOD BY THE PREVIOUS OWNER WHO OBVIOUSLY LOVE THIS CAR. IT WAS TAKEN APART AND DONE CORRECTLY. ALL TRIM WAS REMOVED AND SENT OUT FOR RECHROMING, ALL PAINTED SURFACES WERE RE-PAINTED, INSIDE AND OUT, DOOR JAMS, UNDER THE HOOD INNER FENDERS AND FIRE-WALL ETC. THE ENGINE WAS PAINTED A MAT BLACK, WHICH I BELIEVE WAS THE WAY THEY CAME FROM THE FACTORY. CHECKERS WERE DESIGNED SO THAT ALL BODY PANELS COULD BE REMOVED EASILY FOR REPAIR AND PAINTING. OVER $12,000 WERE SPENT ON THIS RESTORATION. AT TODAY'S COST YOU COULD NOT DUPLICATE THIS WAGON FOR THAT AMOUNT OF MONEY AND YET, HERE YOU HAVE THE RARE OPPORTUNITY TO BID-TO-OWN THIS LOVELY CAR FROM THE PAST. WE HAVE LISTED IT WITH A RESERVE PRICE AS WELL AS A BUY-NOW PRICE FOR YOU CHECKER FANS WHO DON'T WANT TO WAIT TIL THE END OF THE AUCTION.
PLEASE TAKE A LOOK AT THE MANY PICTURES THAT FOLLOW. SHOULD YOU HAVE ANY QUESTION'S, PLEASE FEEL FREE TO E-MAIL US.
PHOTOS de la CHECKER MARATHON STATION WAGON 1969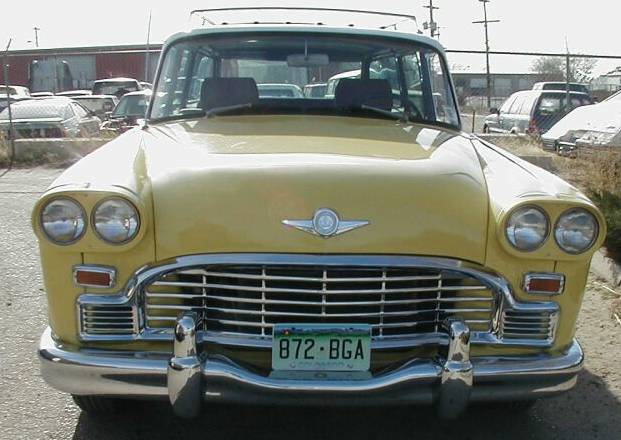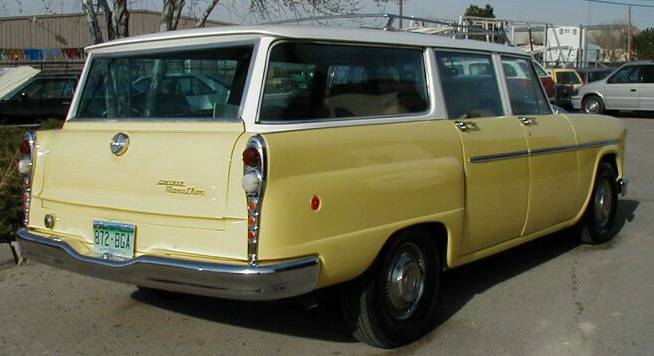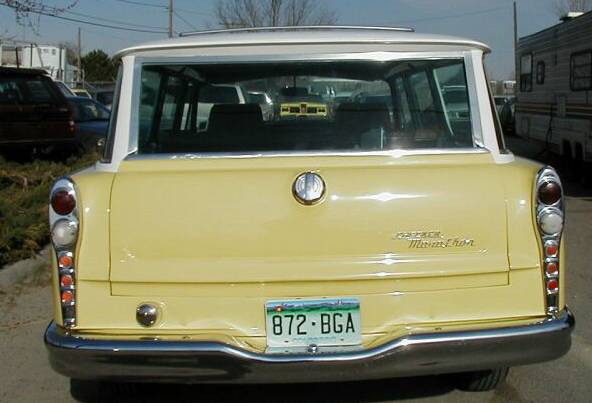 | | | |
| --- | --- | --- |
| | ou | |

des sites de http://www.mainguet.com