créée le 20 août 2003 et mise à jour du 20 août 2003

marque

CHECKER

modèle

MARATHON

finitions

A-12 Sedan 4dr
transformée en Landaulet

année

1 9 7 9

quantité/prix

voir production

carrosserie

Landaulet 4 portes 6 places

moteur/boite

Chevrolet V8
DU SITE D'ENCHERES EBAY-USA
hôte : e-bay, le fameux site d'enchères aux USA qui comprend toujours entre 1 et 2 millions d'objets à enchérir. C'est celui aussi qui a acheté notre iBazar national avec ses 4 à 600 mille objets aux enchères et qui est devenu ebay.fr
voitures américaines : il y en a toujours beaucoup avec de superbes photos sur le site américain. Le site français propose en général entre 2 et 4 pages d'objets et de voitures avec une certaine modestie pour les photos. Ceci va sans doute changer
photos : elles sont du propriétaire-vendeur de Pompano Beach (Floride)
en 1979 Checker produit des MARATHON SIX et des MARATHON V8

MARATHON SIX 4 portes 6 places Sedan vendu $7314
le moteur de base est le Chevrolet 6 cylindres de 250cid développant 105cv à 3800t/mn
MARATHON V8 4 portes 6 places
le moteur de base est le Chevrolet V8 de 305cid développant 145cv à 3800t/mn
option pour le Chevrolet V8 de 350cid développant 160cv à 3800t/mn

Sedan vendu $7515
DeLuxe Sedan (plus long) vendu $8389

total des ventes : 5231 exemplaires dont 270 non-taxis
la collection TAXI du MONDE en presse (Altaya) sort en france en janvier 2002 son n°2 avec en cadeau un Checker Marathon 1980 particulièrement bien reproduit au 1:43e pour le prix très bas de 7,50 Euros
Ceci dit le véhicule présenté doit répondre à une demande de l'époque ou une transformation ultérieure
Description : 1979 CHECKER MARATHON FLORIDA CAR - Miles: 148000 - Transmission: Automatic
Vehicle Description : You are bidding on a 1979 Checker Marathon; this rare find is in restorable condition. This Checkers options include automatic transmission, power steering, power brakes, after market a/c (the a/c is not working but is all in tact). The engine is a 350 Chevrolet V-8 and it runs very good. This vehicle was purchased by Mills Motors and RV?s from a private owner in the south Florida area. The previous owner installed front fog lights and a 3rd brake light on the rear deck; both of these may be removed if you choose to. The body is straight but there is some rust on trunk lid a door jams but not to serious and all spots can be fixed if you are looking to restore this vehicle. If you are looking for a Checker to restore this one is not bad and is one of the last ones to come off the line. This vehicle was never a taxicab and has been privately owned its whole life.
Mills Motors and RV?s is an established automobile and RV dealer in the south Florida area since 1984. Mills Motors and RV?s prides itself in purchasing its entire inventory from private owners and not from auto auctions or wholesale dealers like most dealers do, therefore we offer a nicer more reliable product to our customers. Mills Motors and RV?s is a member of the F.I.A.D.A and the R.V.D.A.
Vehicle Condition : This vehicle is in good runing condition, the body is straight with some rust on trunklid and in door jams and light rust on fenders. Chevrolet 350 V-8 runs good, all a/c componates are there but a/c is not blowing. The tires look very good with very light wear.
PHOTOS de la CHECKER MARATHON V8 LANDAULET 1979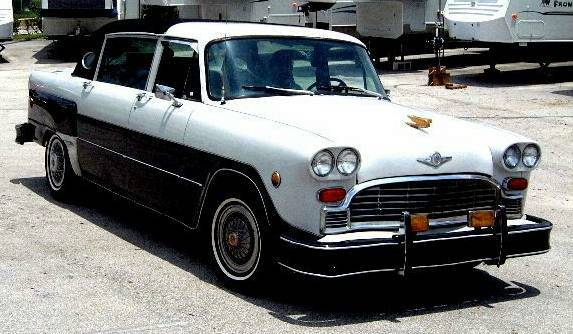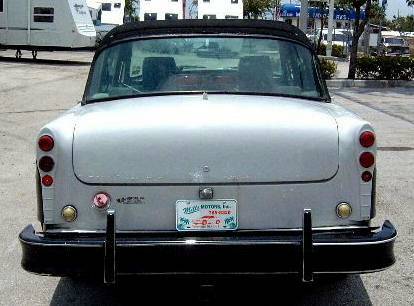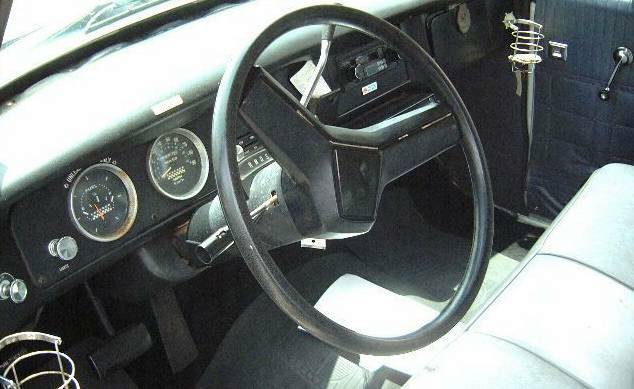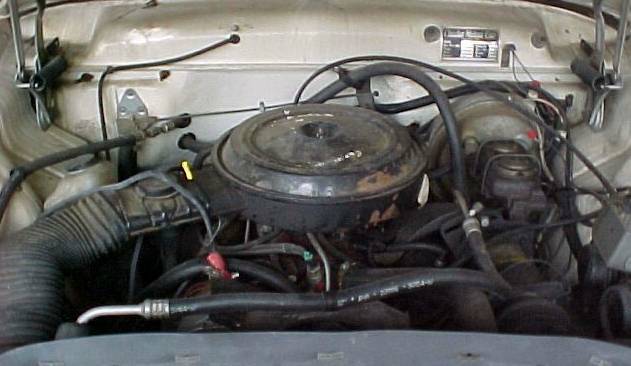 | | | |
| --- | --- | --- |
| | ou | |

des sites de http://www.mainguet.com