creee le 7 mars 2014 et derniere mise a jour le 7 mars 2014

marque

PONTIAC

modèle

FIREBIRD

finitions

TRANS-AM SE
Coupe

année

1 9 7 9

quantité/prix

117 108 exemplaires Trans-Am / $10620

carrosserie

coupé 2 portes 4 places

moteur/boite

V8 de 403cid/6L6
<<BARRETT-JACKSON>> ENCHERES DE SCOTTSDALE 2014 (Arizona)

GAMME 1979 : Sunbird, Phoenix, FIREBIRD, LeMans, Grand LeMans, Grand Am, Grand Prix, Catalina, Bonneville
Les Firebird se décomposent en

38 642 FIREBIRD HT Coupe 4 places à $4825 en V6 et $5020 en V8
30 853 ESPRIT HT Coupe 4 places à $5193 en V6et $5388 en V8
24 851 FORMULA HT Coupe 4 places à $6018 en V8
117 108 TRANS-AM

HT Coupe 4 places à $6299 en V8
HT LIMITED EDITION à $10620 en V8

les moteurs de base sont

Firebird et Esprit en 6cyl de 231cid/3L8 développant 105cv à 3200t/mn
Firebird, Esprit et Formula en V8 de 301cid/5L0 développant 150cv à 4000t/mn
option V8 de 350cid/5L7 développant 155cv à 3400t/mn ou 160cv à 3800t/mn
Trans-Am en V8 de 403cid/6L6 développant 185cv à 3600t/mn
CE QU'EN DIT LE COMMISSAIRE PRISEUR
1979 Pontiac Trans AM 10th Anniversary Edition
Incredibly low mileage and original example, 24,300 documented miles. The factory inspection marking still on the 6.6 Liter V8. As with most 10th Anniversary cars this one is fully optioned. These Trans AM were collector items right from the beginning. Most Dealers sold these cars at or above sticker price.
The 10th anniversary Trans Am was also selected as the Daytona 500 race car in 1979.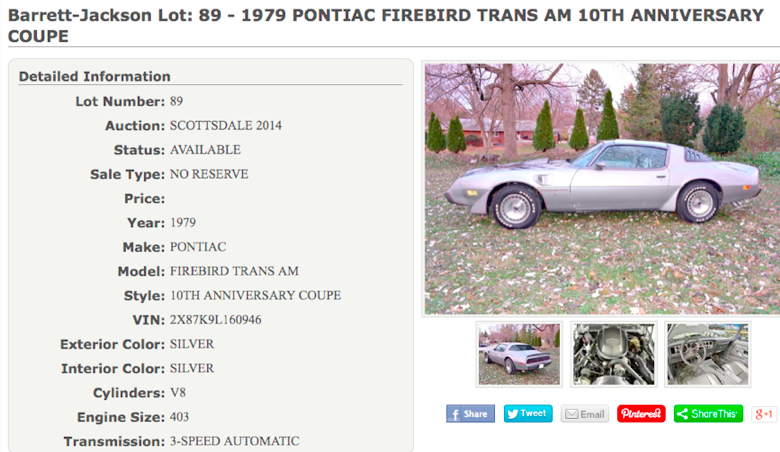 PHOTOS DE LA PONTIAC FIREBIRD TRANS-AM ANNIVERSARY (SE) COUPE 1979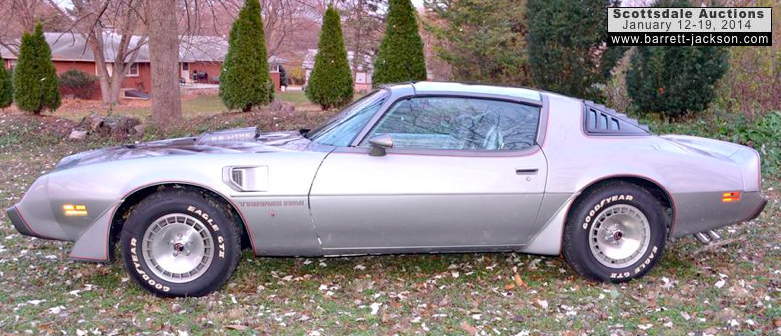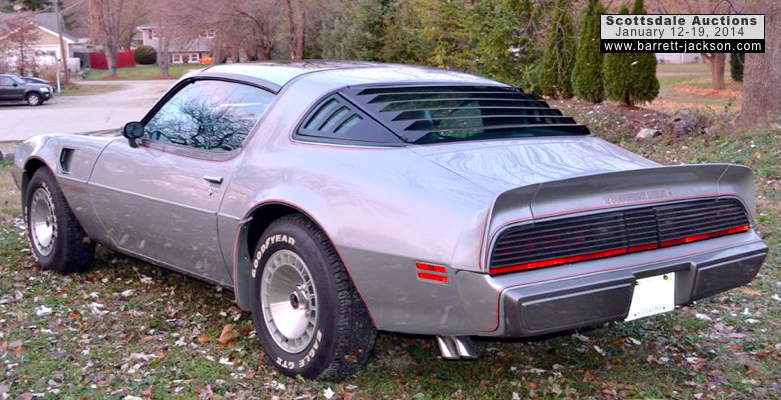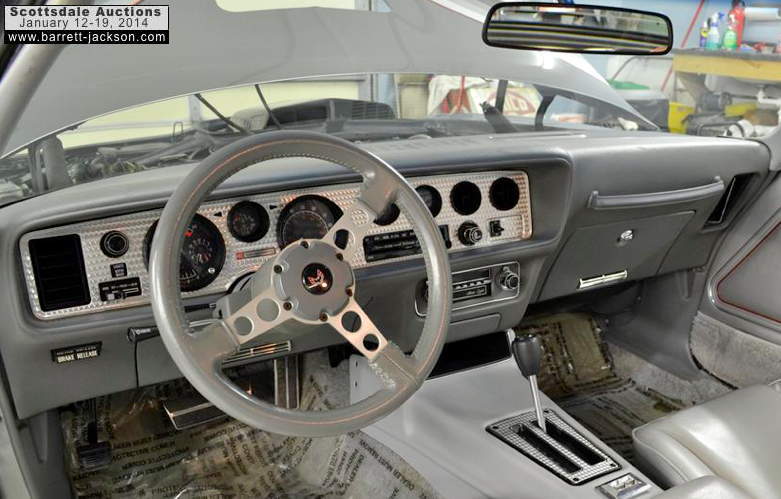 | | | |
| --- | --- | --- |
| | o u | |
des sites de http://www.mainguet.com