fiche créée le 26 mai 2008 et derniere mise à jour le 26 mai 2008


| | |
| --- | --- |
| marque | FORD |
| modèle | V8 |
| finitions | DeLuxe Coupe 3W |
| année | 1 9 3 5 |
| quantité / prix | 31.513 exemplaires / $570 |
| carrosserie | coupé 2 portes 2 places |
| moteur/boite | V8 de 221cid - 85cv à 3800t/mn. |
<<BARRETT-JACKSON>> ENCHERES DE SCOTTSDALE 2008 (Arizona)
hôte : <<BARRETT-JACKSON>> se dit lui même "the world's greatest collector car events" met aux enchères un bon millier de voitures en une semaine à Scottsdale (Arizona) tous les ans en janvier. Puis c'est au tour de Las Vegas, Palm Beach etc etc
voitures américaines : c'est 95% des propositions au marteau
photos : du webmestre du trombinoscar en janvier 2008
En 1935 Ford ne produit que le modèle V8 mais en moultes versions

Series DELUXE

6 073 PHAETON 4 portes 4 places à $580
4 896 ROADSTER Rumble Seat 2 portes 2/4 places à $550
17 000 CABRIOLET Rumble Seat 2 portes 2/4 places à $625
42 34 CONVERTIBLE SEDAN 4 portes 4 places à $750
31 513 COUPE 3 fenêtres 2 portes 2 places à $570
33 065 COUPE 5 fenêtres 2 portes 2 places à $560
84 692 ou 87 336 TUDOR 2 portes 4 places à $595
75 807 ou 105 157 FORDOR 4 portes 4 places à $655

Series STANDARD

78 477 COUPE 5 fenêtres 2 portes 2 places à $520
423 783 TUDOR 2 portes 4 places à $510
49 176 FORDOR 4 portes 4 places à $575
4536 STATION WAGON 4 portes 4 places à $670

toujours avec le moteur V8 de 221cid développant 85cv à 3800t/mn.

le 2.000.000e moteur V8 est sorti des chaîne en juin 1935

total millésime = 826 519 véhicules, total année calendaire = 942 439
CE QU'EN DIT LE COMMISSAIRE PRISEUR
adjugé $52000
1935 FORD 3 WINDOW COUPE 221CI 3SPEED
Summary : Highest quality restoration finished in 2001 to original specification. Factory gauges, fully refinished brightwork, rebuilt original Flathead V8.
Description : This beautiful '35 Ford 3 window is a fantastic way to get into the pre-war classics with a car that is ready to drive and enjoy. 1935 saw many changes to the Ford lineup including a new high class front end, revised frame, the engine mounted further forward for better weight distribution and to increase interior space, and a new, better riding suspension. Motivation comes from Ford's famous Flathead V8 which was only 3-years-old in '35, with aluminum heads producing 90hp allowing effortless cruising even at modern highway speeds. A "high priced" engine in an everyman's car, indeed. Some features of the car seen here include a rebuilt engine, fully refinished brightwork, great looking red wire wheels with wide white wall tires, a tilt out windshield, roll down rear window with retractable sun shade, excellent deep blue paint, superbly finished engine bay and pristine dash and gauges. Arguably, this car is one of the nicest '35 Ford coupes in existence. It's refreshing to see one of these that hasn't been made into a Hot Rod.
PHOTOS DE LA FORD V8 COUPE 3 W 1935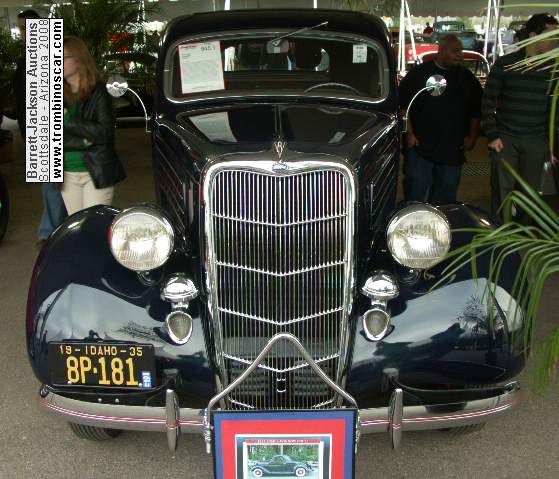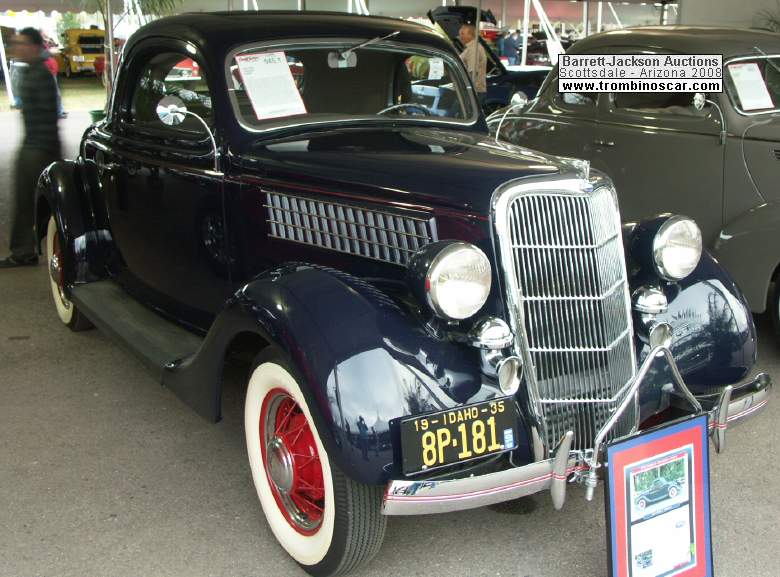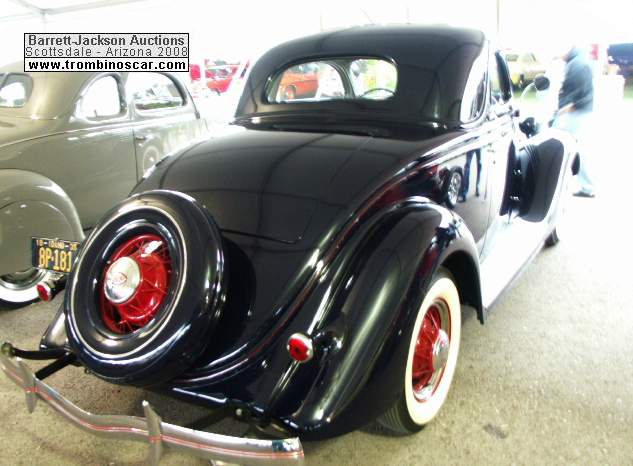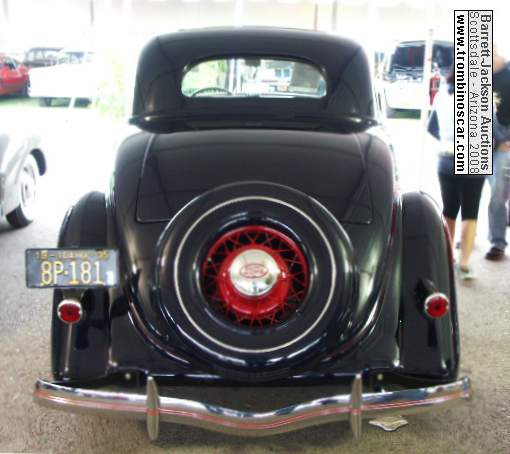 des sites de http://www.mainguet.com