cree le 20 janvier 2002 et mise a jour le 30 mai 2010


marque

FORD

modele

Series 73

finitions

Pick-Up 1/2 ton
modifié (calandre, moteur etc)

année

1 9 3 7

quantité / prix

/ $536

carrosserie

pick-up 2 places

moteur/boite

(modifié)
DU SITE D'ENCHERES EBAY-USA
hôte : e-bay, le fameux site d'enchères aux USA qui comprend toujours entre 1 et 2 millions d'objets à enchérir. C'est celui aussi qui a acheté notre iBazar national avec ses 4 à 600 mille objets aux enchères et qui est devenu ebay.fr

voitures américaines : il y en a toujours beaucoup avec de superbes photos sur le site américain. Le site français propose en général entre 2 et 4 pages d'objets et de voitures avec une certaine modestie pour les photos. Ceci va sans doute changer

photos : elles sont de "kruseintl", nom de code de ce vendeur professionnel très connu, même en France
paru sur ebay usa en décembre, l'enchère était à $5500 et le prix de réserve n'était pas encore atteint
ce véhicule est au Texas
voici ce que le vendeur en dit:

Exterior: Garnet Red Interior: Tan Vinyl in Good Condition
Engine: V6 Automatic Odometer Reading: 4548 Miles on Restoration
Air Conditioning, AM/FM Cassette, Bucket Seats, Disc Brakes, CD Player- Jensen, Floor Mats, Dual Exhaust, Jack, Power Brakes , Power Steering, Seat Belts, Tinted Glass, Chrome in Excellent Condition, Frame Off Restoration Five Years Ago
1937 Ford Pickup. This 1937 Ford pickup was lovingly restored about five years ago. It has received a complete frame off restoration and is in great shape.
The engine was changed out in July 2001. The seller did not write down the mileage when it was done. He believes that it had about 2000 miles on the pickup. The pickup runs great, it is not a fast car. But, it easily runs 70-80 mph down the road.
This car took 41/2 years to restore this vehicle. The floor was gone when the seller bought it. It was replaced with 20 gauge metal and the floor out of a Nissan pick up. The floor in the bed was gone too, but it was replaced with the floor out of a 1990 Ford pick up. The side doors on the hood are not there. The seller made the hood out of 20 gauge metal. The body was installed on a 1984 Bronco drive train and frame. The frame was stretched 18" to get the pick up to fit. The grill is made out of tubing and it looks like a 1935 grill. The body is all metal, except for the four fenders. These are fiberglass. The front window frame has been removed, so it will not open any more. The paint is not perfect on it. The seller painted it in his garage. It is not dust proof, so some dust got in the paint job. But, the paint is in good shape inside of the bed. It has the roll on bed liner installed. It does have some scratches in the paint from use. The door was opened too wide and there is some chipped paint on the fenders

The seller made a console to fit on the roof of the cab for the radio. It has a 10 disc CD player located behind the seat. The speedometer reads about 8 mph slow.
PHOTOS DU FORD PICK-UP 1937 (modifié)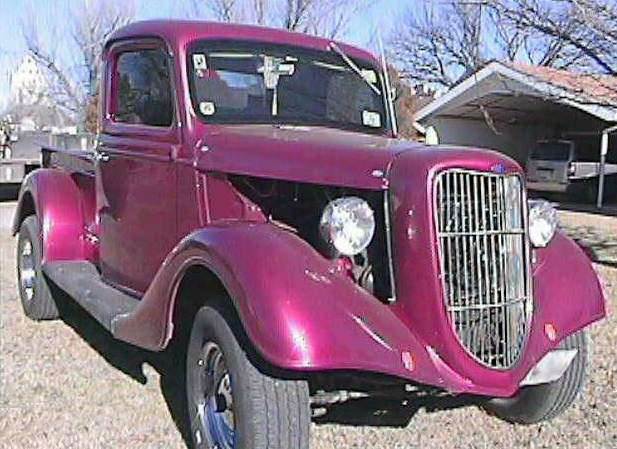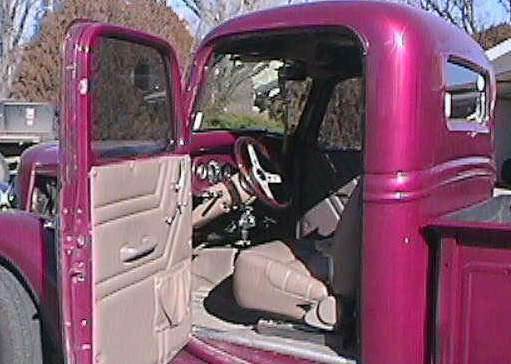 des sites de http://www.mainguet.com