fiche créée le 26 mai 2008 et derniere mise à jour le 26 mai 2008


| | |
| --- | --- |
| marque | FORD |
| modèle | 81A - V8 |
| finitions | DeLuxe Coupe 5W |
| année | 1 9 3 8 |
| quantité / prix | 22 225 exemplaires / $685 |
| carrosserie | coupé 2 portes 2places |
| moteur/boite | V8 Mercury de 255cid/1951 |
<<BARRETT-JACKSON>> ENCHERES DE SCOTTSDALE 2008 (Arizona)
hôte : <<BARRETT-JACKSON>> se dit lui même "the world's greatest collector car events" met aux enchères un bon millier de voitures en une semaine à Scottsdale (Arizona) tous les ans en janvier. Puis c'est au tour de Las Vegas, Palm Beach etc etc
voitures américaines : c'est 95% des propositions au marteau
photos : du webmestre du trombinoscar en janvier 2008
81A pour le modèle DELUXE" et 82A pour le modèle "STANDARD"
82A STANDARD :
moteur V8 de 136cid développant 60cv à 3500t/mn avec une compression de 6.6:1 et carburateur doublecorps

34 059 COUPE 2 portes 2 places à $625
106 117 TUDOR SEDAN 2 portes 5 places à $665
30 287 FORDOR SEDAN 4 portes 5 places à $710

81A DELUXE :
moteur V8 de 221cid développant 85cv à 3800t/mn avec une compression de 6.1:1 et carburateur doublecorps

1 169 PHAETON 4 portes 5 places à $820
6 080 CLUB CONVERTIBLE 2 portes 5 places à $800
4 702 CONVERTIBLE COUPE 2 portes 3 places à $770
2 703 CONVERTIBLE SEDAN 4 portes 5 places à $900
22 225 COUPE 2 portes 3 places à $685
7 171 CLUB COUPE 2 portes 5 places à $745
101 647 TUDOR SEDAN 2 portes 5 places à $725
92 020 FORDOR SEDAN 4 portes 5 places à $770
6 944 STATION WAGON 4 portes 5 places à $825
CE QU'EN DIT LE COMMISSAIRE PRISEUR
adjugé $37000
1938 FORD 5W COUPE V8 255CI 3SPEED MANUAL
Summary : Complete nut and bolt restoration. Cosmetically done to original standards with correct interior, vintage gauges and a '51 Mercury Flathead V8 engine.
Description : "This '38 Ford has received a complete nut and bolt restoration to a very high standard. The car is done to mostly original standards with correct interior, working vintage gauges, proper upholstery over the original bench seat, 3-speed transmission, superbly redone chrome and glass, original heater, original clock, directional antenna, roll out windshield, stock radio and even the original paint color. You will find the notable exception under the hood in the form of a 1951 Mercury Flathead V8 mated to a rear exiting dual exhaust system. This motor obviously provides much improved power and is an ultra cool throw-back Hot Rodder's choice like might have been done in the 50's. This car is sensational in every way and comes with the original fender skirts.
PHOTOS DE LA FORD V8 DELUXE COUPE 5W 1938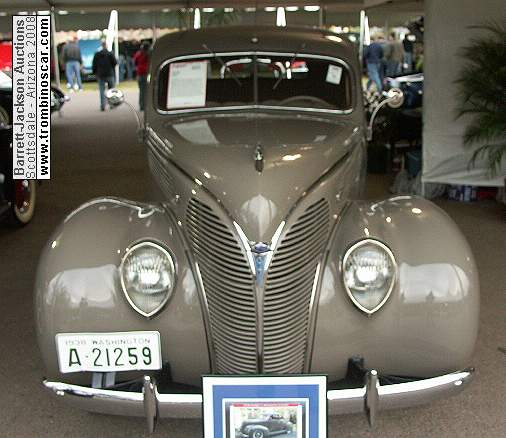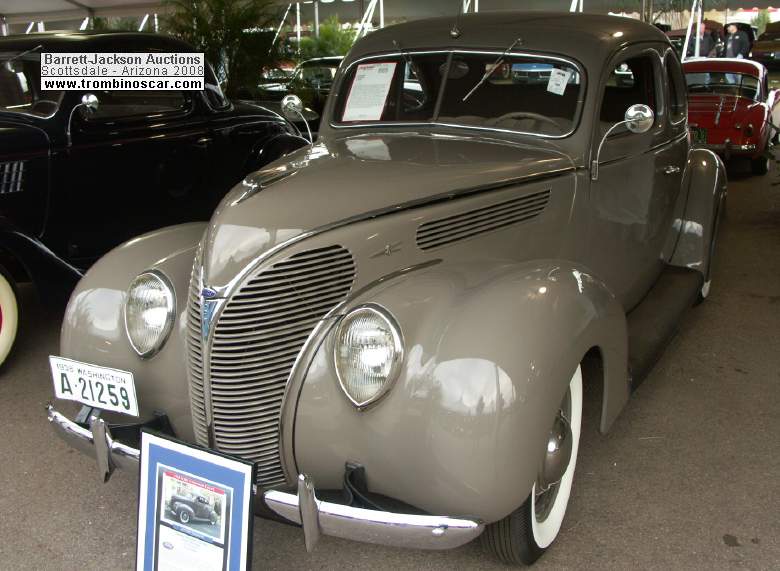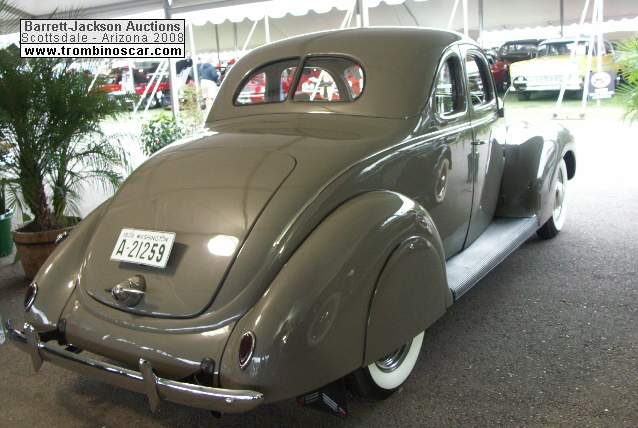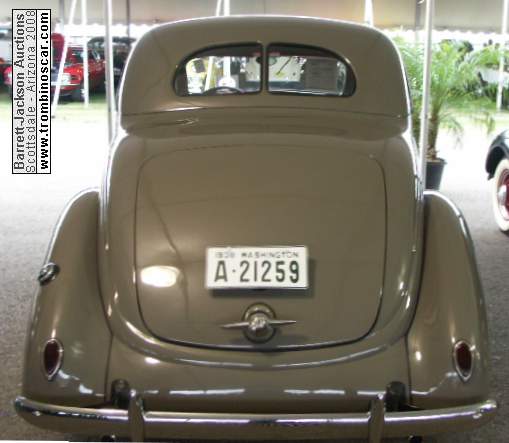 des sites de http://www.mainguet.com