fiche créée le 26 mai 2008 et derniere mise à jour le 26 mai 2008


marque

FORD

modèle

01A - V8

finitions

DeLuxe Fordor
Von Dutch Striped

année

1 9 4 0

quantité / prix

23 704exemplaires / $850

carrosserie

cabriolet 2 portes 5 places

moteur/boite

modifié V8 de 350cid
<<BARRETT-JACKSON>> ENCHERES DE SCOTTSDALE 2008 (Arizona)
hôte : <<BARRETT-JACKSON>> se dit lui même "the world's greatest collector car events" met aux enchères un bon millier de voitures en une semaine à Scottsdale (Arizona) tous les ans en janvier. Puis c'est au tour de Las Vegas, Palm Beach etc etc
voitures américaines : c'est 95% des propositions au marteau
photos : du webmestre du trombinoscar en janvier 2008
pour 1940, model 01A EIGHT et model 022A EIGHT
model 022A EIGHT STANDARD
moteur V8 de 135cid développant 60cv à 3500t/mn avec une compression de 6.6:1 et un carburateur doublecorps

33 693 COUPE 2 portes 3 places à $660
16 785 BUSINESS COUPE 2 portes 5 places à $680
150 933 TUDOR SEDAN 2 portes 5 places à $700
25 545 FORDOR SEDAN 4 portes 5 places à $750
4 469 STATION WAGON 4 portes 5 places à $875

model 01A EIGHT DELUXE
moteur V8 de 221cid développant 85cv à 3800t/mn avec une compression de 6.1:1 et un carburateur doublecorps

27 919 COUPE 2 portes 3 places à $721
20 183 BUSINESS COUPE 2 portes 5 places à $745
171 368 TUDOR SEDAN 2 portes 5 places à $765
91 756 FORDOR SEDAN 4 portes 5 places à $810
23 704 CONVERTIBLE COUPE 2 portes 5 places à $850
8 730 STATION WAGON 4 portes 5 places à $950

Pas d'infos pour les utilitaires
CE QU'EN DIT LE COMMISSAIRE PRISEUR
adjugé $67000
1940 FORD CUSTOM 2 DOOR CONVERTIBLE 350CI AUTOMATIC
Summary : Originally striped by Von Dutch. Less than 500 miles since body-off restoration. Von Dutch signed and dated eyeball on un-modified 1977 dash.
Description : "THIS CAR MAY BE THE ONLY COMPLETE RUNNING CAR IN EXISTANCE THAT HAS VON DUTCH'S SIGNED AND DATED FLYING EYEBALL INSIGNA. IT IS ON THE DASHBOARD. ALL MAGAZINE ARTICLES AND TROPHIES DATING BACK TO 1976 ARE INCLUDED. ALONG WITH DAVE BELLS ORIGINAL ARTISTS PROOF FOR THE HENRY HI RISE CARTOON PUBLISHED IN STREET RODDER. FACTORY ORIGINAL ALL STEEL 1940 FORD CONVERTIBLE BODY 2" CHOP WITH WESCOTT'S TOP IRONS. MOULDED HOOD AND TRUNK LID. SHORTENED SIDE TRIM. FILLED AND PAINTED STOCK RUNNING BOARDS. 138 VULCANIZING HOLES IN EACH BOARD FILLED BY BRAZING. HAND BUILT GRAVEL SHIELD BETWEEN THE REAR DECK PAN AND BUMPER. BRIZIO ALUMINUM BUMPERS AND BRACKETS FRONT AND REAR. ALUMINUM 49 CHEVY BUMPERGUARDS. HAND PAINTED LOUVERED FRONT LICENSE PLATE BACK. PPG BASE COAT , CUSTOM MIXED FORMULA CONTAINING GOLD PEARL THAT STARTED WITH 60'S AMERICAN MOTORS COLOR CALLED WINEYARD BURGANDY THUS THE NAME OF THE CAR OL WINO.FOUR BOLT MAIN 350 CHEVY BORED 30 OVER, BALANCED AND BLUEPRINTED. COMP CAM. ROLLER TAPPETS. EDELBROCK ALUMINUM PERFORMER HEADS. MALLORY ELECTRONIC IGNITION. TAYLOR WIRES. OFFENHAUSER TRIPLE TWO BARREL MANIFOLD. PROGRESSIVE LINKAGE, HELMET TYPE AIR CLEANERS WITH K&N FILTERS. SINGLE WIRE POLISHED ALTERNATOR. ALAN GROVE ALTERNATOR MOUNT. HIGH TORQUE STARTER. CHROME WATER PUMP. POLISHED ALUMINUM PAN. TURBO 350 TRANSMISSION WITH A LOCKAR SHIFTER AND HAND PAINTED SHIFT KNOB WITH VON DUTCH'S EYEBALL. POLISHED ALUMINUM PAN. COOLER MOUNTED UNDER THE RIGHT RUNNING BOARD. THE BUILD BOOK WITH ALL SPECIFICATIONS AND AN ARTICLE ABOUT THE SELLER'S WEEKEND SPENT WITH VON DUTCH ARE INCLUDED AS ARE ALL MAGAZINE FEATURE ARTICLES.
PHOTOS DE LA FORD V8 DELUXE CONVERTIBLE COUPE 1940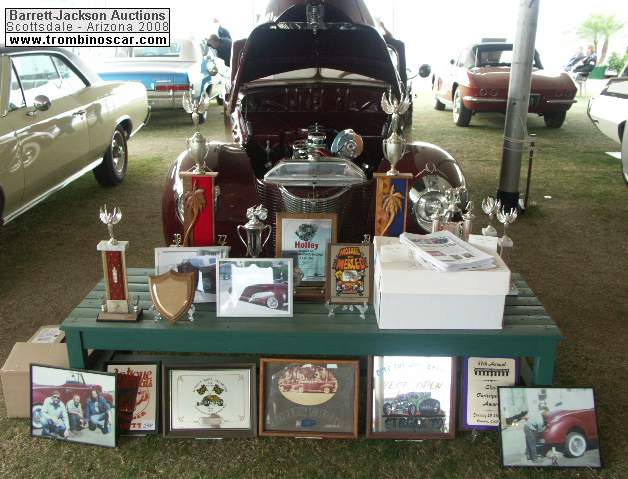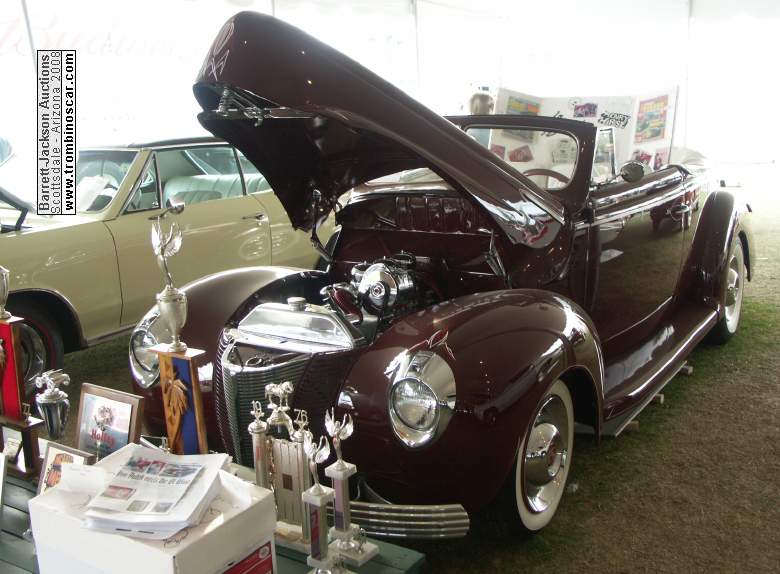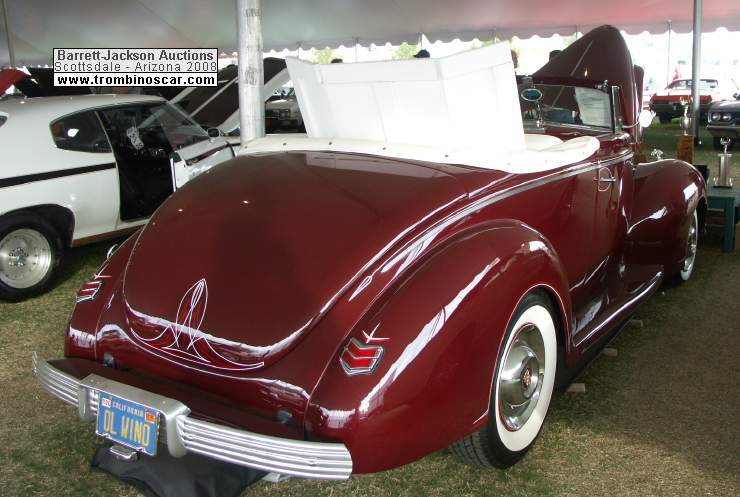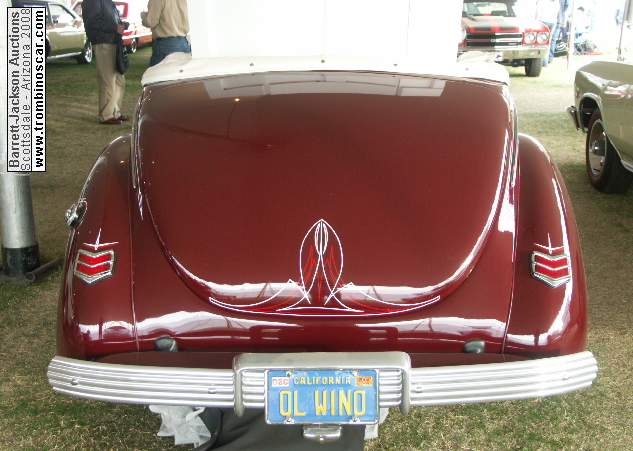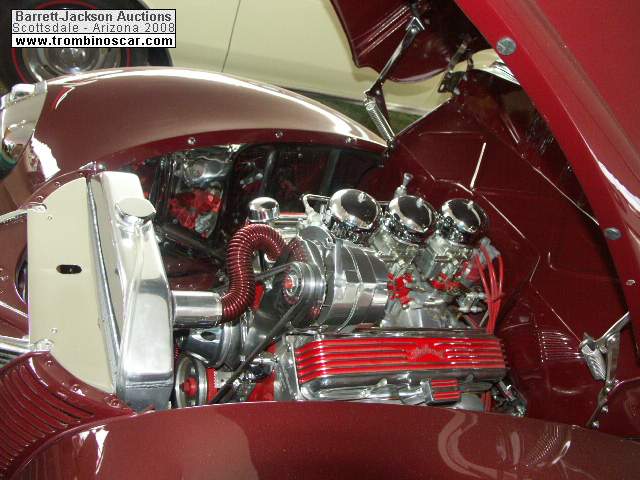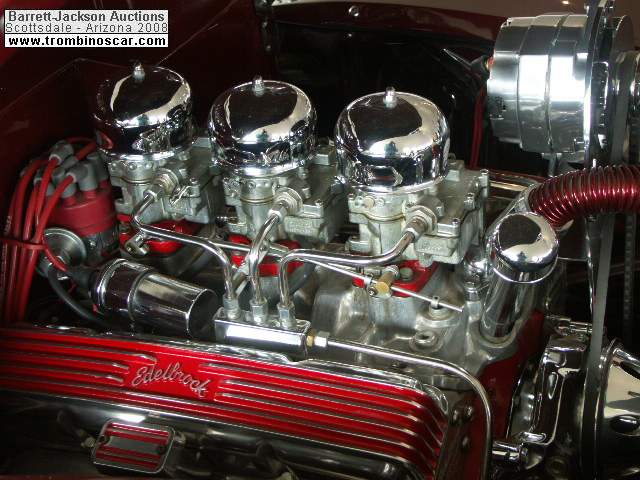 des sites de http://www.mainguet.com