créé le 28 mai 2005 et mis a jour le 28 mai 2005


| | |
| --- | --- |
| marque | HUPMOBILE |
| modèle | model 32 |
| finitions | Roadster 2 pass |
| année | 1 9 1 3 |
| quantité/prix | 12 543 exemplaires 1913 / $975 |
| carrosserie | cabriolet 2 portes 2 places |
| moteur/boite | 4 cyl de 3200cc - 32cv |
DU SITE D'ENCHERES <<E-BAY>> usa

hôte : e-bay, le fameux site d'enchères aux USA qui comprend toujours entre 1 et 2 millions d'objets à enchérir. C'est celui aussi qui a acheté notre iBazar national avec ses 4 à 600 mille objets aux enchères et qui est devenu ebay.fr
voitures américaines : il y en a toujours beaucoup avec de superbes photos sur le site américain. Le site français propose en général entre 2 et 4 pages d'objets et de voitures avec une certaine modestie pour les photos. Ceci va sans doute changer
photos : elles sont du propriétaire-vendeur dont j'ai oublié de noter les coordonnées
HUPMOBILE a fabriqué 12.543 véhicules cette année et était en stabilité aau dela de 10.000 par an
La gamme se composait des Model 20 et Model 32
MODEL 20-C

c'est le Runabout 20cv de 1909 présent pour la dernière année
proposé depuis le début au même prix de $750

MODEL 20-E

même moteur avec une carrosserie Roadster et à $850

MODEL 32

moteur 4 cylindres développant 32cv, 4 modèles

Touring 5 places vendu $975
Touring 6 places sur châssis allongé de 20 pouces, vendu $1175
Roadster 2 places vendu $975
Coupe 2 places, un des premiers modèles fermés vendu $1350

le model 32 s'est fabriqué depuis 1912 jusqu'en 1915
Roadster 1913 Hupmobile Rare Early Example of Model 32 Roadster 2 doors 4 - Cyl. 1913
This auction is for a 1913 Hupmobile Roadster.
The Hupmobile was an important player in Detroit's automobile industry from the company's beginning in 1909, through founder Robert C. Hupp's departure in 1911, to a damaging corporate battle for control during the Depression to its ignominious demise in 1940 amid styling grace and bankruptcy.
The company began producing cars in 1908 and within a relitively short time they managed to bring together an impressive group of talented individuals who would continue to help push the small auto manufacturer ahead in the years to come.
By 1913 Hupmobile production had spiked from the initial figure of 1,618 to a recored 12,543, a very impressive result in only four short years. Much of the success in 1913 could be credited to the Model 32 Roadster, the example offered here for auction. These cars were fitted with a more powerful engine that was mated to a long chassis, essentially moving the car up in performance, design and price.
Up for auction is this cute 1913 Hupmobile two passenger roadster. While and older restoration this vehicle still shows and drives extremely well. The white paintwork and black leather interior appear to be in presentable overall condition along with the black soft top. The engine is a 32hp four-cylinder with a three-speed manual transmission in running condition. Given its long history and low production, this model 32 Hupmobile will always be a rare collectible American Built Automobile.
PHOTOS DE LA HUPMOBILE model 32 ROADSTER 1913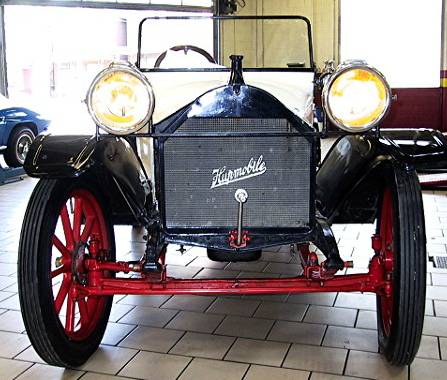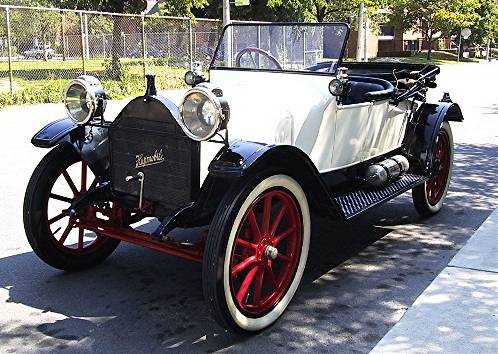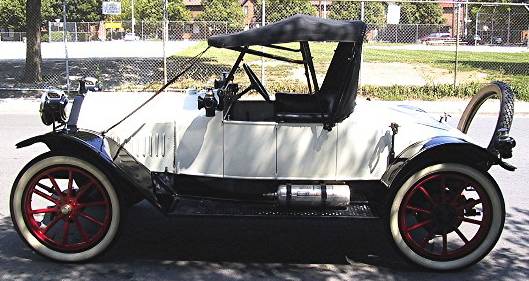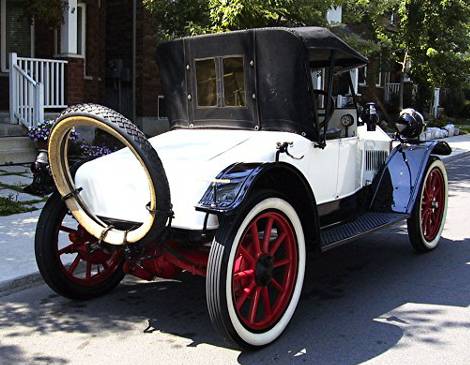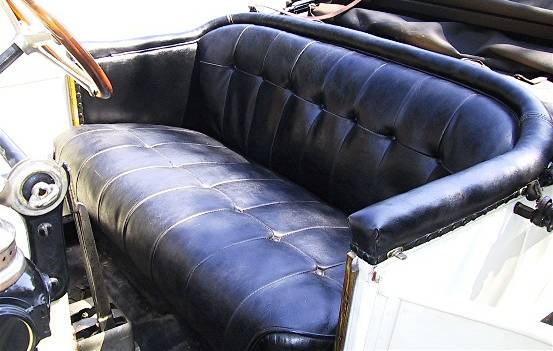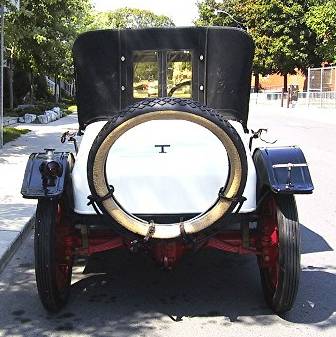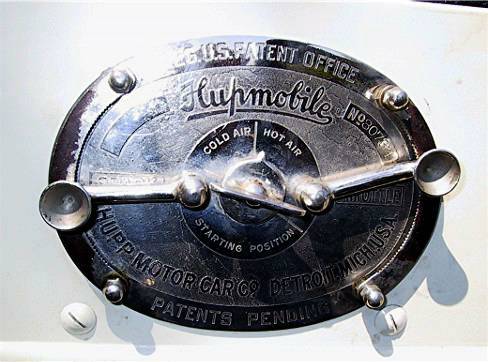 des sites de http://www.mainguet.com