créée le 8 janvier 2004 et mise à jour du 28 mai 2005


| | |
| --- | --- |
| marque | CHANDLER |
| modèle | STANDARD SIX |
| type | Touring |
| année | 1 9 2 7 |
| quantité/prix | 18 461 Chandler / $945 et $1005 en DeLuxe |
| carrosserie | torpédo 4 portes 5 places |
| moteur/boite | 6 cyl de 181,25cid - 22cv |
D'UN DE MES CORRESPONDANTS
propriétaire : Martin est propriétaire de ce fabuleux torpédo ; Il habite le Minnesota (USA)
elmail : mjmzchambers@hotmail.com - MN 55112, USA - Tel 1 800 CARDIAC
photos : de Martin
Ell est a vendre - for sale
CE QU'EN DIT LE PROPRIETAIRE
for sale
I own a 1927 Chandler (Straight Six tourer), the car is in immacculate condition and has only had three owners throughout the past 76 years. I purchased this vehicle several years ago in Tazmania, and has been in my possession ever since and i now live in Minnesota. I also have a spare 1927 Chandler prefessionally reconditioned engine as new (Straight six Cleveland engine - mounted on a pallette). The car is a racing green 4 door tourer with black mud-guards.
my email mjmzchambers@hotmail.com
New in Summer 2004:
This rare car in wonderful running condition is one of less than 30 known surviving Chandlers remaining in the USA, with less than half of those vehicles in full running condition. The car was built by the Chandler Corporation, Cleveland, Ohio, USA in 1927 for the Australian market (right hand drive) which later did not survive the great depression and went bankrupt in 1932, folding and then being absorbed by Hupmobile Car Corporation.
The vehicle comes with a fascinating, documented history with only four owners over the past seventy-seven years (including current owner). This outstanding original vehicle was lost in storage for close to 30 years, discovered and restored back to original specification in 1978. Since that date, the vehicle has been lovingly kept in a motor museum with periodic dry weather outings to keep and maintain in full running condition.
In addition, the vehicle comes with an identical and professionally restored spare engine, converted to run on unleaded fuel (full re-build receipts available). In addition, many other invaluable spare parts and documents
Biography
This magnificent vehicle was ahead of it's time for luxury and quality when built back in 1927. Built in 1927 by the Chandler Corporation, for a buyer named Neville Cooke in North Sydney, Australia.
Neville Cooke looked after and drove this vehicle for over ten years and in 1937 gave it to his eldest son who lived on his own in the New South Wales outback territory, West of Sydney, Australia. In 1939 Neville's son was conscripted to join the World War Two armed forces where he served overseas and was killed in active duty. Prior to his departure, he built a corrugated iron, self-standing shed around the Chandler (no door) and departed overseas. After his death, his father, Neville Cooke made no attempt to find his house or the vehicle. The car remained in its shed storage, undetected, for the next 30 years. Over that period of time, the house fell into dereliction and the outback brush and undergrowth grew to hide the remaining structures.
It was 1976, in a Hospital in Sydney Australia where Neville Cooke lay delirious and dying from old age. In his semiconscious state, Neville talked of a son killed at war and a vintage car that was not recovered and remained out in the bush. The nurse caring for Neville Cooke was a personal friend of the President of the Australian Vintage Car Society, Ken Hooper and she relayed the story as she heard it. Ken Hooper visited Neville in Hospital and met with his younger sister, validating the story, clarifying further details and gaining agreement to go searching for the car.
After some three months, working with fairly vague details, the location of the car was discovered with the original corrugated iron shed still standing. After removing the outer cladding the car was found inside, as described, in fairly good condition with some of the wooden structures long gone from termite damage.
Ken Hooper then spent most of the next twelve months to fully restore the vehicle back to as close to the original condition as when built new in 1927. After completing the restoration, the only part missing was the original hand-wind dashboard clock (which in those days were a target for removal and converting into mantelpiece clocks). Ken went back to Neville Cooke's sister to see if the clock remained in her possession or was anywhere in Neville's possession &endash; they were not successful, however they did find the original Chandler handbook in mint condition. Ken also contacted many car dealers and second hand car part distributors to try and find the clock, still with no success.
In 1978 the Chandler was entered into the International Rally that started in Sydney, finishing in the Gold Coast, Queensland, Australia. Ironically, one week before the rally, Ken Hooper was contacted by a car parts dealer who said that he thought he had his original Chandler car clock. Someone had just sold it to him and he felt this was what Ken had been looking for. Ken confirmed it was the missing clock and this was the final piece to complete the restoration. The car was entered into a number of subsequent rallies in both Australia and Tasmania and won many awards.
Between 1976 and 1999, Ken Hooper kept the car in his motor museum in Tasmania, on display with his many other collectable vintage and classic cars. On a periodic basis, the Chandler was taken out for a dry weather run to keep in full running order.
In 1999, I received information about this personal car collection and that the owner was retiring and planning to sell off a number of his vehicles. I traveled down from Sydney to Tasmania to visit the owner, Ken Hooper, with the intention of buying a classic car or a vintage car, providing there was a car I liked. Almost immediately on arrival, I fell in love with the Chandler and we arrived at a suitable agreement for me to buy it.
Since 1999, the Chandler has been a cherished member of our family (nicknamed Arthur), moved around the world to San Francisco and now here in Minnesota. Since owning, we have kept the car in garage storage with the periodic family dry weather outing to keep the car in full running order.
So, why do we want to part with the car? As with any vintage car, there is the time required to keep in pristine condition, which is more a joy than a chore. Combine this with a high demanding job and the likelihood of moving internationally on a frequent basis, I would much prefer the car to go to a caring and loving home rather than risking damage every time we move.
PHOTOS DE LA CHANDLER STANDARD SIX TOURING 1927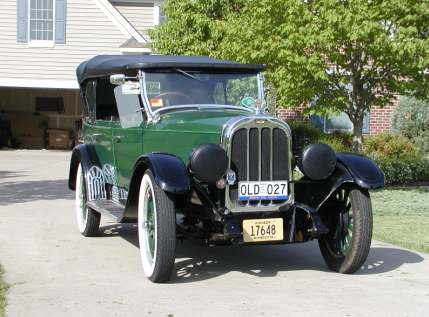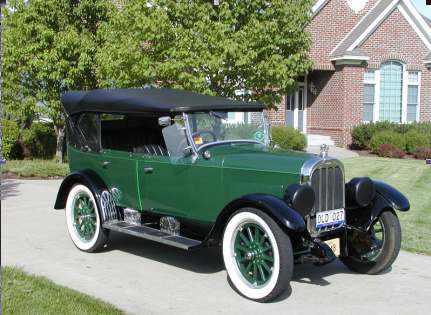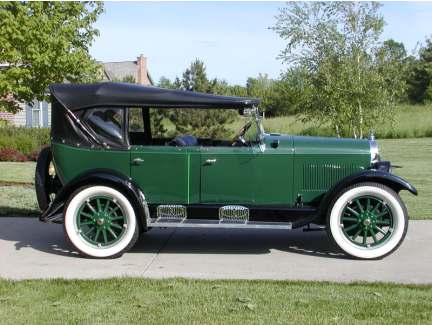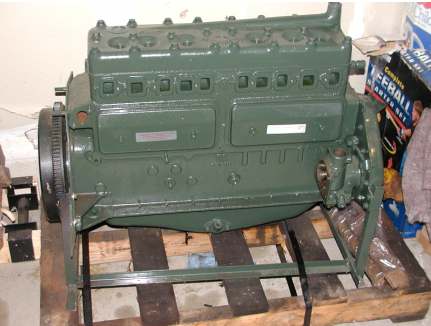 des sites de http://www.mainguet.com