créée le 1er février 2003 et mise à jour du 1er février 2003

| | |
| --- | --- |
| marque | MERCURY |
| modèle | MONTEREY |
| finitions | (64C) Coupe HT 2dr |
| année | 1 9 5 6 |
| quantité/prix | 42 863 exemplaires / $2630 |
| carrosserie | coupé 2 portes sans montant 6 places |
| moteur/boite | V8 de 312cid - 210cv à 4600t/mn |
hôte : e-bay, le fameux site d'enchères aux USA qui comprend toujours plusieurs milliers de voitrures à enchérir. C'est celui aussi qui a acheté notre iBazar national et qui est devenu ebay.fr
voitures américaines : il y en a toujours beaucoup avec de superbes photos sur le site américain. Le site français propose en général entre 2 et 4 pages d'objets et de voitures avec une certaine modestie pour les photos. Ceci va sans doute changer
photos : elles sont du vendeur qui a pour email de l'Oregon
La gamme 1956 Mercury comprend MEDALIST - CUSTOM - MONTEREY - MONTCLAIR

MEDALIST 4 choix

6 685 SEDAN HT 4 portes 6 places à $2458
x xxxx SEDAN 4 portes 6 places à $2313
11 892 COUPE HT 2 portes 6 places à $2389
20 582 SEDAN 2 portes 6 places à $2254
moteur V8 de 312cid développant 210cv à 4600t/mn carburateur quadruple corps et compression 8.0:1

CUSTOM 7 choix

12 187 SEDAN HT 4 portes 6 places à $2555
15 860 SEDAN 4 portes 6 places à $2410
16 343 SEDAN 2 portes 6 places à $2351
20 857 COUPE HT 2 portes 6 places à $2485
2 311 CONVERTIBLE 2 portes 6 places à $2712
8 478 STATION WAGON 4 portes 6 places à $2722
9 292 STATION WAGON 4 portes 9 places à $2819
moteur V8 de 312cid développant 2105cv à 4600t/mn carburateur quadruple corps et compression 8.0:1

MONTEREY 5 choix

10 726 SEDAN HT 4 portes 6 places à $2700
11 765 SEDAN SPORT 4 portes 6 places à $2652
26 735 SEDAN 4 portes 6 places à $2555
42 863 COUPE HT 2 portes 6 places à $2630
13 280 STATION WAGON 4 portes 8 places à $2977
moteur V8 de 312cid développant 210cv à 4600t/mn carburateur quadruple corps et compression 8.0:1

MONTCLAIR 4 choix

24 493 SEDAN HT 4 portes 6 places à $2835
9 617 SEDAN SPORT 4 portes 6 places à $2786
50 562 COUPE HT 2 portes 6 places à $2765
7 762 CONVERTIBLE 2 portes 6 places à $2900

moteur V8 de 312cid développant 2105cv à 4600t/mn carburateur quadruple corps et compression 8.0:1
56 Mercury Monterey 2dr Hardtop V-8 RARE
Vehicle Description : This is the one: RARE 1956 Merc. You will be the talk of the car shows. 100% Completely restored close to NEW. Engine 312 rebuilt and bored 60 over. Mild cam, balanced, Polished steel crank shaft, new pistons ect.Only 1,500 miles since complete rebuild, Transmission rebuilt at the same time, new brakes everything pretty much new or rebuilt. Painted Factory Color Cambridge Green. Interior redone in factory colors black and white. Speedo works and even the factory AM radio plays. I have $30,000.00 in reciepts and too many Trophies. I have the fender skirts painted to match, original tires,wheels and hub caps. This is a turn key vehicle and I have clear title and the miles are unknown but I bought it from the original owner with 81k . This is an Oregon car that hasn't seen the salt roads. Too much to list, Serious buyers call me for more information 503-781-0474 or e-mail for more photos at toknights@yahoo.com Don't let this one get away as Spring is coming. I am retiring and cleaning out the garage.LOW RESERVE
Vehicle Condition : The car looks better in person than the photos. Everything works as Factory and no mechanical work needed. You can buy this one and drive to Florida. The Paint work is thick and Beautiful and doesn't even need a buff or wax. You will be amazed at the detail of this rare vehicle.
PHOTOS DE LA MERCURY CUSTOM SEDAN 2dr 1956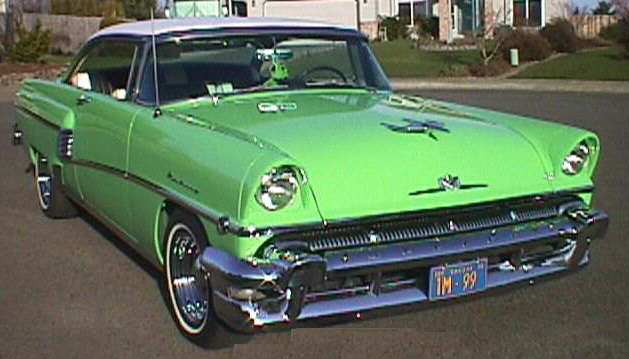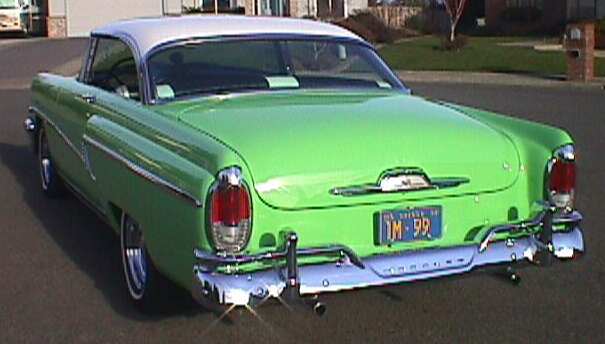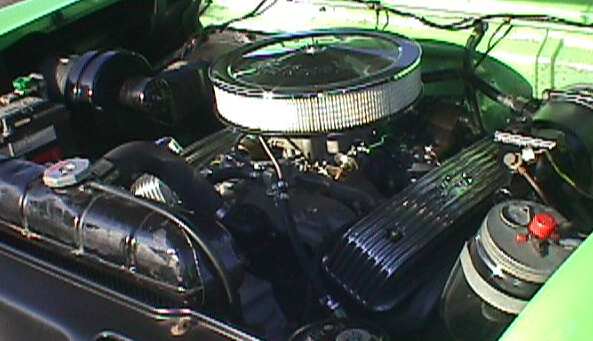 des sites de http://www.mainguet.com