créée le 1er février 2003 et mise à jour du 1er février 2003

| | |
| --- | --- |
| marque | MERCURY |
| modèle | PARK LANE |
| finitions | (44) Hardtop 2dr |
| année | 1 9 6 6 |
| quantité/prix | 8 354 exemplaires / $3460 |
| carrosserie | coupé 2 portes sans montant 6 places |
| moteur/boite | V8 de 410cid |
hôte : e-bay, le fameux site d'enchères aux USA qui comprend toujours plusieurs milliers de voitrures à enchérir. C'est celui aussi qui a acheté notre iBazar national et qui est devenu ebay.fr
voitures américaines : il y en a toujours beaucoup avec de superbes photos sur le site américain. Le site français propose en général entre 2 et 4 pages d'objets et de voitures avec une certaine modestie pour les photos. Ceci va sans doute changer
photos : elles sont du vendeur qui a pour code ebay gillebear du Canada
Mercury produisait la gamme suivante : COMET, CAPRI, SALIENTE, CYCLONE, COUGAR, MONTEREY, MONTCLAIR, PARK LANE, S-55, BROUGHAM, MARQUIS et STATION WAGON
COMET : (Comet, Capri, Caliente, Cyclone, Station Wagon) ont leur page spéciale au http://www.trombinoscar.com/comet/1966.html
MONTEREY existent en cinq modèles, tous 6 places
le moteur est un V8 de 390cid développant 265cv à 4600t/mn, carburateur quadruple corps et compression 9.5:1

18 998 SEDAN 4 portes à $ 2854
14 174 BREEZEWAY 4 portes à $2917
2 487 SEDAN 2 portes à $2783
7 6473 HARDTOP SEDAN 4 portes à $2990
3 279 CONVERTIBLE 2 portes à $3237
19 103 HARDTOP COUPE 2 portes à $2915

MONTCLAIR existent en trois modèles, tous 6 places
le moteur est un V8 de 390cid développant 265cv à 4600t/mn, carburateur quadruple corps et compression 9.5:1

11 856 SEDAN 4 portes à $3087
15 767 HARDTOP SEDAN 4 portes à $3217
11 290 HARDTOP COUPE 2 portes à $3144

PARK LANE existent en cinq modèles, tous 6 places
le moteur est un V8 de 410cid développant 330cv à 4600t/mn, carburateur quadruple corps et compression 10.5:1

8 696 BREEZEWAY 4 portes à $3389
19 204 HARDTOP SEDAN 4 portes à $3460
2 546 CONVERTIBLE 2 portes à $3608
8 354 HARDTOP COUPE 2 portes à $3387

S-55 existent en deux modèles à 2 portes et 5 places
le moteur est un V8 de 428cid développant ?cv à ?00t/mn, carburateur quadruple corps et compression 10.5:1

2 916 HARDTOP COUPE à $3292
669 CONVERTIBLE à $3614

STATION WAGON à 4 portes et 6 places
le moteur est un 6 cylindres de 200cid développant 120cv à 4400t/mn, carburateur monoorps et compression 9:2:1

6 847 COMMUTER à $3240
18 894 COLONY PARK à $3502
CE QU'EN DIT LE PROPRIETAIRE
COOL CLASSIC MUSCLE 2 DR HARDTOP NO RESERVE
Vehicle Description .......LIKE THE SONG SAYS....."CRAZY BOUT A MERCURY"!!!!!!!!!!!!...........WOW!! As most of you already know from watching our sales here on Ebay over the past several years we are for the most part GM FANS!! We just couldn't help ourselves when we found this beautiful 1966 MERCURY PARK LANE at the WORLD FAMOUS CARLISLE CAR SHOW/SALE just a few weeks ago. The pictures will speak for themselves so lets get to it and I will fill you in as we go along!! Enjoy!! ALL RIGHT WADE.....I BOUGHT A FORD PRODUCT......ARE YOU HAPPY NOW!! :)
WOW!!! A 1966 MERCURY PARK LANE!!! I JUST GOT THIS CAR A COUPLE WEEKS AGO AT THE SPRING CARLISLE SHOW/SALE!!! How many times have you seen a COOL CLASSIC CAR on Ebay with the words "RESERVE NOT YET MET" or a huge opening bid??? We are selling our Classic Mercury with "NO RESERVE" to the highest bidder regardless of price!!!!
SURE, EVERYBODY LIKES THE TYPICAL CARS...MUSTANGS, CAMAROS ETC....ISN'T IT NICE TO FIND SOMETHING A LITTLE UNIQUE!!!! WHEN WAS THE LAST TIME YOU SAW A PARK LANE??? WHEN WAS THE LAST TIME YOU SAW ONE THIS STRAIGHT???? FREE PAIR OF SUNGLASSES INCLUDED SO THE CHROME WON'T HURT YOUR EYES :)
ALL KIDDING ASIDE THIS IS ABOUT ONE OF THE NICEST DRIVING AND NICEST CONDITION CLASSICS WE HAVE HAD IN A WHILE!! YOU COULD BUY CHEAPER AND TRY AND RESTORE ONE......BUT THIS ONE IS READY TO GO TODAY!! I WOULDN'T HESITATE TO DRIVE THIS CAR 1000 MILES TODAY!! SHE RUNS THAT GOOD!!!! OK WADE THIS IS WHAT IT'S SUPPOSED TO LOOK LIKE!!!! RADIAL TIRES ARE IN GREAT SHAPE AND HANDLE LIKE A DREAM!!! DASH PANEL AND GAUGES ARE IN GREAT SHAPE!!! I WAS TOLD BY THE PREVIOUS OWNER AT CARLISLE THIS WAS ORIGINAL!!! THEY MUST HAVE BABIED THIS CAR AS IT JUST LOOKS AND DRIVES FANTASTIC!! EVEN THE ENGINE COMPARTMENT LOOKS GREAT!!! I WAS TOLD THIS WAS A "410" ENGINE?? I CAN ONLY ASSUME IT IS AS I HAVE NEVER OWNED ONE OF THESE.... I CAN TELL YOU SHE HAS POWER TO SPARE AND DROVE DOWN THE ROAD AT A SPEED I WOULD RATHER NOT ADMIT TO FOR FEAR OF INCRIMINATING MYSELF :) THE AUTOMATIC TRANSMISSION SHIFTS GREAT!!! POWER STEERING AND BRAKES JUST ADD TO THE FUN!! THE QUALITY REPAINT LOOKS EXCELLENT AND SHINES VERY NICE!! DON'T FORGET TO CHECK OUT ALL OF OUR CLASSIC CARS AND TRUCKS ON EBAY BY CLICKING ON THE LINK AT THE BOTTOM OF THE PAGE!!!
Even though this car look like a million bucks, we want you to know the issues you can't see in the pictures: Like I stated already the interior is in great shape. The steering wheel has a crack in it near the horn button. Still perfectly functional but I just wanted you to know. The body as you can see is in incredable shape. Both front fenders just above the side markers have dings in them. I believe at one point someone had extra mirrors on the car. When they took them off they did a rather quick repair that should be rather inexpensive to have done correctly to make it look better. The windshield reservoir tank has a cracked plastic lid. Should be an easy and inexpensive replacement item. We reserve the right to cancel bids made by users with negative feedback or excessive retractions and to cancel the auction early.
PHOTOS DE LA MERCURY PARKLANE HARDTOP 1966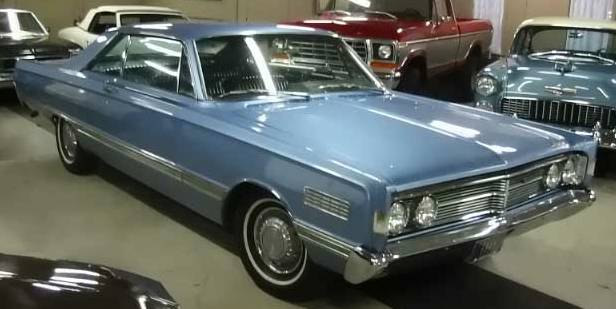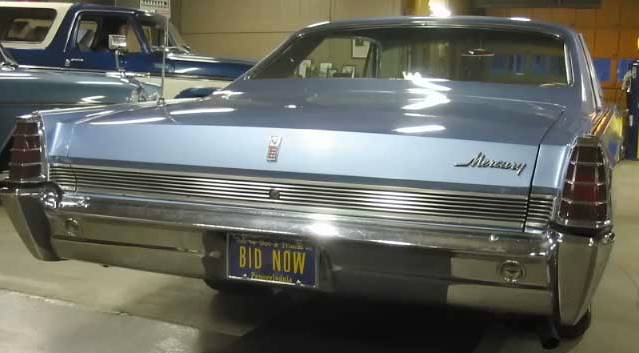 des sites de http://www.mainguet.com