créée le 20 avril 2002 et mise à jour du 26 février 2004


| | |
| --- | --- |
| marque | CROSLEY |
| modèle | CC |
| finitions | Sedan |
| année | 1 9 4 8 |
| quantité / prix | 2750 exemplaires / $869 |
| carrosserie | berline 2 portes 4 places |
| moteur/boite | 4 cylindres de 44cid |
DU SITE D'ENCHERES <<E-BAY>> usa
hôte : e-bay, le fameux site d'enchères aux USA qui comprend toujours entre 1 et 2 millions d'objets à enchérir. C'est celui aussi qui a acheté notre iBazar national avec ses 4 à 600 mille objets aux enchères et qui est devenu ebay.fr
voitures américaines : il y en a toujours beaucoup avec de superbes photos sur le site américain. Le site français propose en général entre 2 et 4 pages d'objets et de voitures avec une certaine modestie pour les photos. Ceci va sans doute changer
photos : elles sont du propriétaire-vendeur
NO RESERVE! HOT ROD or RESTORATION PROJECT
Vehicle Description : 1948 Crosley that has been in storage for the past 30+ years of it's life. I was told the car was running when it was put in storage. I have not tried to start it because I was going to build a custom chassis and install a small block Chevy and turn the car into a street rod. The running condition was not important to me. This car is completely original in every way and will require a total restoration. The body is very straight and sound. There is surface rust on the exterior of the body where the paint has faded through. There is no exterior body rust through. There is a hole in the passenger side floor pan that is rusty. This would be a very easy fix. All interior and exterior chrome mouldings are there. The interior is complete but needs renovation. Engine compartment looks to be complete except for a battery. A Texas bill of sale will be given with the car. The title was lost many years ago. This car is 98% complete! Have fun bidding on the car and good luck with the auction!
Vehicle Condition : Tires are dry rotted but they do hold air. Tail light lenses are missing. Rear and side window glasses have been removed because the rubber mouldings holding them into the car are rotten. I do have all of the glass that was removed.
PHOTOS de la CROSLEY CC SEDAN 1948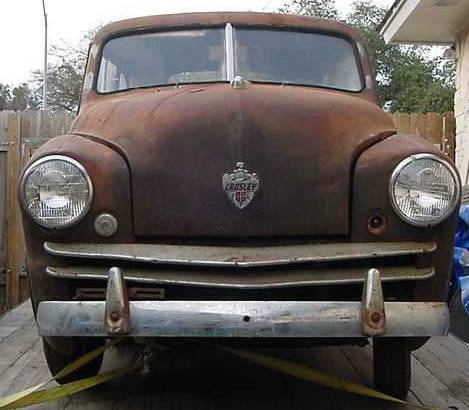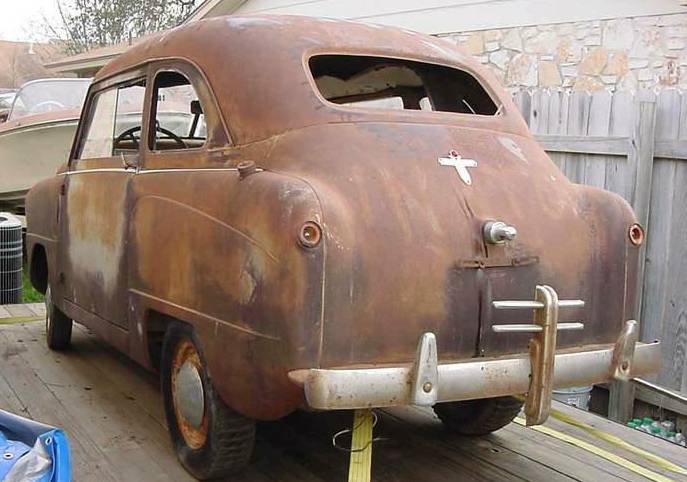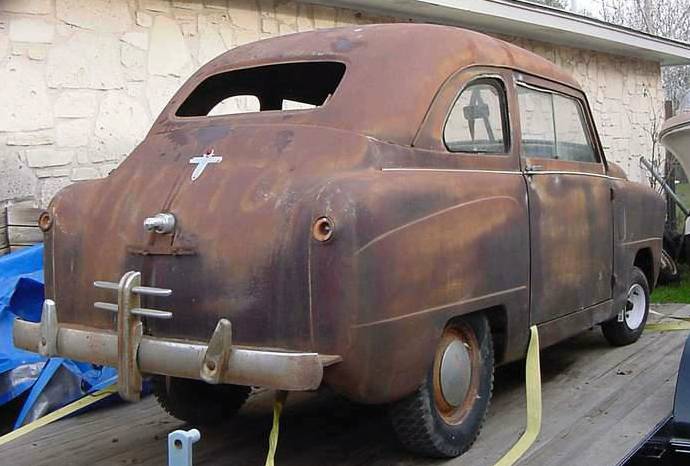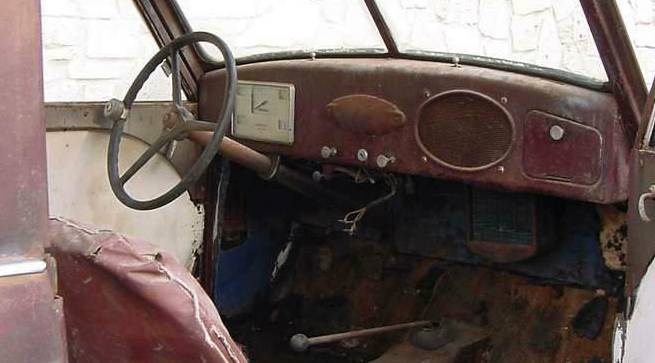 CLIQUEZ
sur votre choix
des sites de http://www.mainguet.com