créée le 20 novembre 2008 et dernière mise à jour le 20 novembre 2008
| | |
| --- | --- |
| marque | NASH |
| modèle | METROPOLITAN |
| finitions | (series A) 1500 Hardtop |
| année | 1 9 6 0 |
| quantité/prix | 13 874 exemplaires / $1445 pour le HT |
| carrosserie | berline 2 portes 2+2 places |
| moteur/boite | 4 cyl de 91cid - Austin 3 vitesses |
DU SITE D'ENCHERES <<E-BAY>> usa
hôte : e-bay, le fameux site d'enchères aux USA qui comprend toujours entre 1 et 2 millions d'objets à enchérir. C'est celui aussi qui a acheté notre iBazar national avec ses 4 à 600 mille objets aux enchères et qui est devenu ebay.fr
voitures américaines : il y en a toujours beaucoup avec de superbes photos sur le site américain. Le site français propose en général entre 2 et 4 pages d'objets et de voitures avec une certaine modestie pour les photos. Ceci va sans doute changer
photos : elles sont du propriétaire-vendeur du nom de code philneweycars de la Habra (Californie)
1960 NASH METROPOLITAN, RARE, - NO RESERVE -
Vehicle Description : 1960 NASH METROPOLITAN ' CUTE AS A BUTTON, METRO WITH A TRUNK '' RARE 1500cc MODEL, CALIFORNIA CAR TO BOOT ''
1960 NASH METRO, JUST OUT OF A SHORT STORAGE IN SUNNY SOUTHERN CALIFORNIA, THIS IS A RARE MODEL WITH THE TRUNK, IT IS A LOCAL CAR THAT WAS GARAGED A SHORT WHILE AGO, IT IS RUST FREE EXCEPT FOR SOME WET FLOOR MAT RUST IN THE SHEET-METAL UNDER DRIVERS AND PASSENGERS FEET, THE TRUNK IS A DREAM !!!! , AND THE CHASSIS JUST LOVELY, THE ROCKER PANELS ARE BRILLIANT !!! , IT REEKS OF ORIGINALITY, THE DOORS FIT PERFECTLY, AS DOES TRUNK AND HOOD, YOU WONT FIND A MORE ORIGINAL DASH, IT STILL HAS THE FACTORY RADIO, TALK ABOUT PATINA !! , THE STEERING WHEEL AND GEAR SHIFT LEVER ARE TIME WARP, THE GAUGES VERY NICE, THE CHROME IS IN PRESENTABLE ORDER, THE PAINT OF COURSE IS FADED OUT AND FLAT, SOME PEELING HERE AND THERE, THE SEATS DESERVE A TRIP TO THE UPHOLSTERY SHOP, DO THE CARPETS WHILE YOU ARE THERE, THIS IS THE 1500cc MODEL, THE '' BIG ENGINE '', THEY ARE A JOY TO WORK ON, THE ENGINE RUNS WELL, THE BRAKE AND CLUTCH HYDRAULICS ARE DOWN, I WOULD RECOMMEND A GOOD GO THROUGH, AND THE OLD GIRL WILL BE UP AND RUNNING, EVERYTHING LINES UP NICELY ON THIS CAR, IT BEGS FOR RESTORATION, AND WHAT A CAR YOU WILL HAVE WITH A LITTLE EFFORT, THEY ARE FABULOUS DRIVING DOWN THE BOULEVARD, AND WHAT A SHOWPIECE ONCE ITS FINISHED TO HAVE PARKED IN FRONT OF THE HOUSE, FOR THE PRICE OF A VW BUG YOU CAN OWN A CAR THAT IS AUTOMOTIVE HISTORY, AND I PROMISE YOU WILL NEVER SELL IT, HOW COULD YOU KICK THIS CAR OUT !! , ITS BEAUTIFUL !! IT HAS LEGITIMATE LIEN SALE PAPERS SO NO PROBLEM WITH THE PAPERWORK.
PHOTOS DE LA NASH METROPOLITAN HARDTOP 1960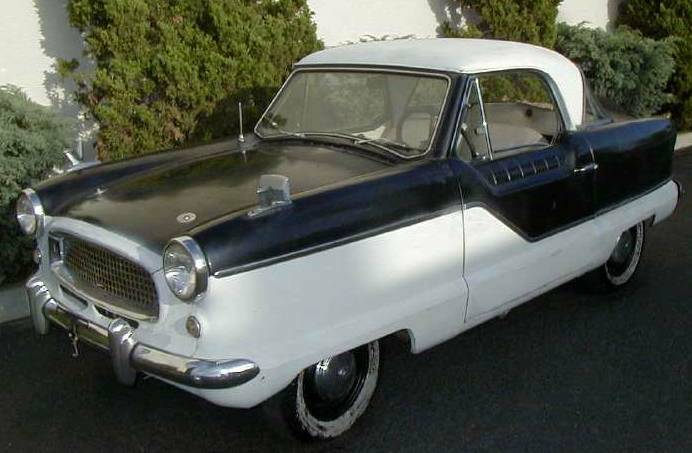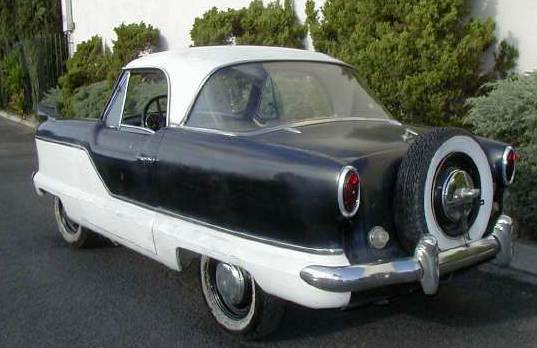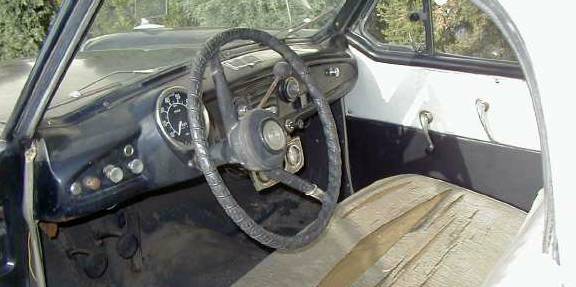 des sites de http://www.mainguet.com