créée le 2 novembre 2007 et derniere mise a jour le 2 novembre 2007


| | |
| --- | --- |
| marque | PACKARD |
| modèle | model 236 |
| finitions | Boattail Speedster KUSTOM |
| année | 1 9 2 6 |
| quantité/prix | modèle unique |
| carrosserie | cabriolet 2 places |
| moteur/boite | V10 de 8L2 (Viper) - 500cv |
<<BARRETT-JACKSON>> ENCHERES DE SCOTTSDALE 2007 (Arizona)

PRODUCTION PACKARD 1925/1926
nous sommes pour ces deux années au cours de la seconde Series et troisième Series
les premiers exemplaires sont sortis de chaine le 2 février 1925 pour chacune des deux Series
SECONDE SERIES

model 236 en huit choix de Holbrook 2 places à $3750 à la Sedan Limousine à $4850. Total 2794 exemplaires
model 243 en Club Sedan 5 places ($4890), Sedan 7 places ($5000), Sedan Limousine 7 places ($5100) et Touring 7 places ($3950). Total 5118 exemplaires
moteur 8 cylindres de 357,8cid développant 85cv à 3000t/mn

TROISIEME SERIES

model 326 en neuf choix de la Touring à $2585 à la Coupe et Phaeton au même prix de $3450. Total 24 668 exemplaires
model 333 en Club Sedan 5 places ($2725), Sedan 7 places ($2785), Sedan Limousine 7 places ($3695) et Touring 7 places ($2785). Total 15 690 exemplaires

moteur 6 cylindres de 288,6cid développant 60cv à 3200t/mn
CE QU'EN DIT LE COMMISSAIRE-PRISEUR
1926 PACKARD CUSTOM BOATTAIL SPEEDSTER
8.3 LITER VIPER - 6-SPEED MANUAL - 500hp
This piece of rolling art was built of steel, mahogany and maple by one of the premiere builders of Packard concept cars. His cars have been at Pebble Beach, Meadow Brook, The Packard Museum and on international television. This 1926 Packard is an example of the one-off designs that converted a production sedan into a sports roadster. This type of car bridged the gap between the Boat Tail race cars of the 20's and the production Boat Tails of the 30's. It has a modified Packard frame with disc brakes, coil over shocks and a Ford 9" rear end. the engine and transmission are from a 2005 Viper with less than 500 miles on it. It has the kind of performance you would expect from a 500 HP, 2600 lb. car (5.2 lbs/hp). The extended cab fits tall drivers and is finished in leather, wool & wood. This is a one-of-a-kind automobile and virtually everything on it is hand made for this particular car.
PHOTOS DE LA PACKARD 2SPEEDESTER BOATTAIL KUSTOM 1926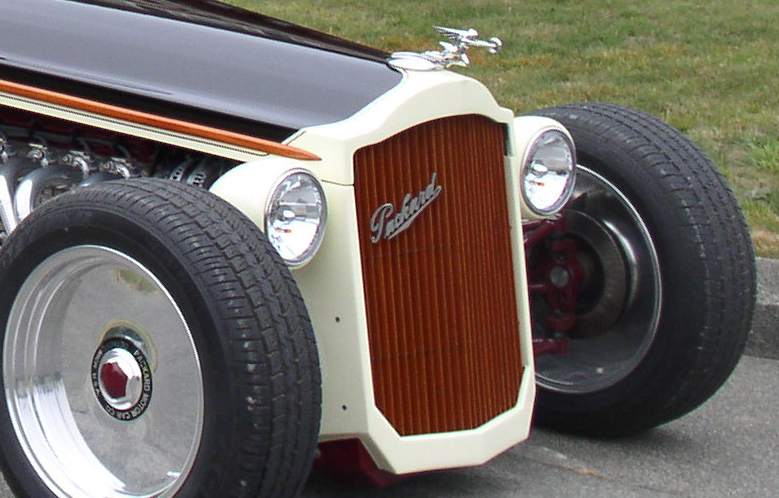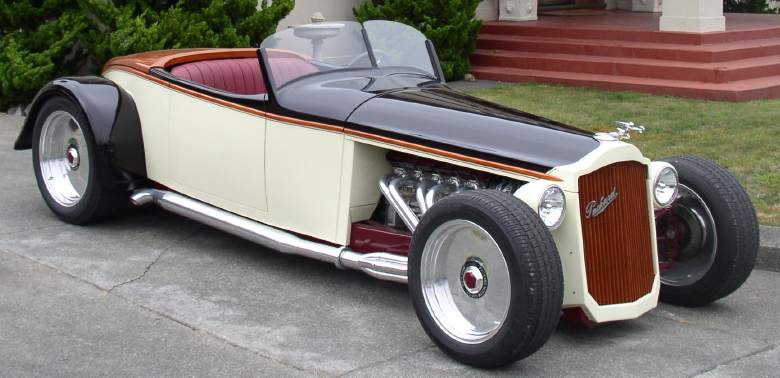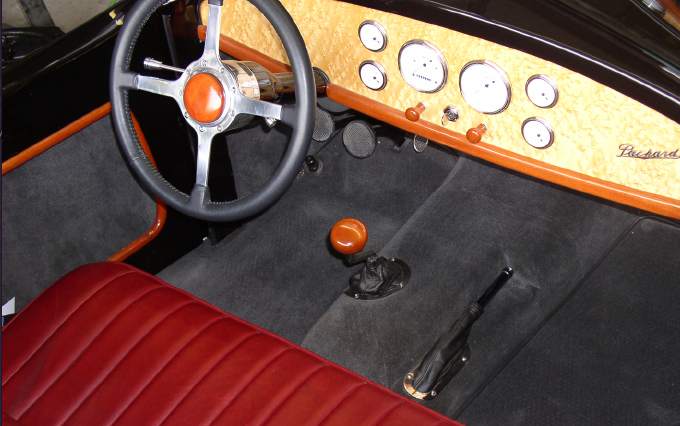 | | | | | |
| --- | --- | --- | --- | --- |
| | ou | | ou | |
| 1899/1936 | | 1937/1958 | | des sites de http://www.mainguet.com |