créée le 12 mars 2004 et mise à jour du 12 mars 2004


| | |
| --- | --- |
| marque | PACKARD |
| modèle | 1-10 |
| finitions | Convertible Coupe |
| année | 1 9 4 1 |
| quantité/prix | 34 700 model 1-10 / $1195 |
| carrosserie | cabriolet 2 portes 2/4 places |
| moteur/boite | 6cyl de 245cid - 100cv - boîte auto |
DU SITE D'ENCHERES <<EBAY>> USA
hôte : e-bay, le fameux site d'enchères aux USA qui comprend toujours entre 1 et 2 millions d'objets à enchérir. C'est celui aussi qui a acheté notre iBazar national avec ses 4 à 600 mille objets aux enchères et qui est devenu ebay.fr
voitures américaines : il y en a toujours beaucoup avec de superbes photos sur le site américain. Le site français propose en général entre 2 et 4 pages d'objets et de voitures avec une certaine modestie pour les photos. Ceci va sans doute changer
photos : elles sont de chazselon@aol.com et la voiture est prêt de Chicago (mais vendue aujourd(hui)
l'année Packard 1941 est à sa 11e Series et comprend des ONE-TEN SIX - EIGHT ONE-TWENTY - SUPER EIGHT ONE-SIXTY - SUPER EIGHT ONE-EIGHTY - CLIPPER
Début de commercialisation en septembre 1940 sauf la Clipper en avril 1941

PACKARD ONE-TEN SIX

1900

7 choix dont un "Taxi", de $927 pour le Business Coupe à $1251 pour le Station Wagon

1900 DELUXE

5 choix de $1058 pour le Club Coupe à $ $1326 pour le Station Wagon

moteur 6 cylindres en ligne de 245cid développant 100cv à 3200t/mn
total 34 700 produites
PACKARD ONE-TWENTY EIGHT

1901

8 choix de $1142 pour le Business Coupe à $1541 pour le Station Wagon DeLuxe
le Station Wagon existe en version standard et DeLuxe
moteur 8 cylindres en ligne de 282cid développant 120cv à 3600t/mn
total 17 100 produites

PACKARD ONE-SIXTY SUPER EIGHT

1903

7 choix possibles de $1594 pour le Business Coupe à $2405 pour le Convertible Sedan DeLuxe
Convertible Sedan et Convertible Coupe existent en version Standard et DeLuxe

1904

Touring Sedan 5 places à $2009

1905

en Touring Sedan 7 places à $2161 et Touring Limousine 7 places à $2289

moteur 8 cylindres en ligne de 356cid développant 160cv à 3500t/mn
total 3525 produites

PACKARD ONE-EIGHTY SUPER EIGHT

1906

Convertible Victoria Darrin 5 places à $4595

1907

6 choix de $2632 pour le Touring Sedan à $4795 pour le Sport sedan Darrin

1908

5 choix possibles de $2769 pour le Touring Limousine à $5595 pour le Touring Limousine LeBaron

moteur 8 cylindres 356cid développant 160cv à 3500t/mn
total 930 produites

PACKARD CLIPPER

1951

Touring Sedan 5 places à $1420

moteur 8 cylindres 282cid développant 125cv à 3600t/mn
total 16 600 produites
Special Rust Free California Car
Vehicle Description : This is a 19th series #110 bearing a "Special" emblem on each side of the motor compartment below the cowl. We have yet to hear of another with this marking. The odometer has 46,650 miles on it. It is a dependable automobile meaning, put the key in, press the start button and take off at highway speeds (I and the previous owner have kept it at 50-55 MPH Max). The body is rust free and the chrome and rubber are in excellent condition. It is equippewd with over-drive for more efficient MPG. The top, tires and battery are recent replacements. The back seat is original and the only cosmedic trim that could be replaced other than the carpeting. I never felt the need. You can contact members of "Packards of Chicagoland" as they are all familiar with the car. The car is available for inspection and driving to you or your agent. The cost of transpo êrtation will depend on your location. As an example I know it would cost $500. to ship to southern Florida. The car is located in Northbrook app. 25 miles north of Chicago. I can send additional pictures by email or you can reach me by phone at 847-564-1059. Please contact me with any and all questions. This car is a sweetheart--don't miss it. I am pushing 80 years of age and for personal reasons it is time to pass it on to a new owner to enjoy for many years.
Vehicle Condition : The car was produced on May 12, 1941 and purchased by a doctor who left for the service with the onset of WW ll. When he returned almost 5 years later he sold it to a Hollywood film agent who in turn sold it to the gentleman I purchased it from. We have all treated the car well and all problems were addressed as needed. A lot of people 61 years of age would be glad to look and be in the excellent condition of the Packard.
PHOTOS DE LA PACKARD model ONE-TEN CONVERTIBLE 1941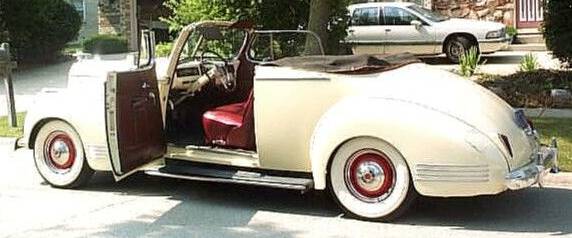 | | | | | |
| --- | --- | --- | --- | --- |
| | ou | | ou | |
| 1899/1936 | | 1937/1958 | | des sites de http://www.mainguet.com |