créée le 20 janvier 2002 et mise à jour du 18 décembre 2004


marque

PACKARD

modèle

CARIBBEAN

finitions

Convertible

année

1 9 5 3

quantité/prix

750 exemplaires / $5210

carrosserie

cabriolet 6 places

moteur/boite

8cyl en ligne de 327cid
180cv à 4000t/mn
DU SITE D'ENCHERES <<E-BAY>> USA
hôte : e-bay, le fameux site d'enchères aux USA qui comprend toujours entre 1 et 2 millions d'objets à enchérir. C'est celui aussi qui a acheté notre iBazar national avec ses 4 à 600 mille objets aux enchères et qui est devenu ebay.fr

voitures américaines : il y en a toujours beaucoup avec de superbes photos sur le site américain. Le site français propose en général entre 2 et 4 pages d'objets et de voitures avec une certaine modestie pour les photos. Ceci va sans doute changer

photos : elles sont de "kruseintl", nom de code ebay du vendeur professionnel
En 1953 Packard en est à sa 26e Series et la sernière comme telle puisqu'ensuite il se basera sur les deux derniers chiffres de l'année
la gamme comprend CLIPPER Special/DeLuxe - CAVALIER Mayfair/Caribbean - PATRICIAN / HENNEY CORPORATE
les CLIPPER

SPECIAL en trois carrosseries toutes en 6 places
moteur 8cyl de 288,6cid développant 150cv à 4000t/mn

Sedan 4 portes : 23126 exemplaires à $2588
Club Sedan 2 portes : 6370 exemplaires à $2534
Sportster 2 portes : 3671 exemplaires à $ 2795

DELUXE en deux carrosseries 6 places
moteur 8cyl de 327cid développant 160cv à 3600t/mn

Sedan 4 portes : 26037 exemplaires à $2735
Club Sedan 2 portes : 4678 exemplaires à $2681

les CAVALIER
moteur 8cyl de 327cid développant 180cv à 4000t/mn

CAVALIER en deux carrosseries 6 places

Sedan 4 portes, 10799 exemplaires à $3234
Convertible 2 portes, 1518 exemplaires à $3234

MAYFAIR HARDTOP en Sport Coupe Hardtop 2 portes 6 places, 5150 exemplaires à $3278
CARIBBEAN Custom Convertible 2 portes 6 places, 750 exemplaires à $5210

Les PATRICIAN
moteur 8cyl de 327cid développant 180cv à 4000t/mn

PATRICIAN en deux carrosseries 4 portes 6 places

Sedan 7456 exemplaires à $3735
Carrosssé Derham 25 exemplaires à $6531

HENNEY CORPORATE en deux carrosseries limousine 4 portes 8 places

Executive Sedan 100 exemplaires à $6900
Corporate Limousine 50 exemplaires à $7100
en en vente aux enchères sur ebay fin 2001 à $32600 alors que le prix de réserve n'était pas atteint
Elle se trouve dans l'état de la Caroline du Nord
Voici ce qu'en dit le vendeur

Exterior: Maroon Metallic Interior: Maroon and White Leather - Excellent
Engine: Straight 8 Cylinder - 327 Cubic Inch - 180 Horsepower - Original 3-Speed Automatic Transmission, 4 Barrel Carbs
Odometer Reading: 67,000 Actual Miles
Chrome Wire Wheels, Rear Mounted Spare, Power Antenna, Floor Mats, Power Brakes, Seat Belts, Power Steering, Spot Lights ,Clock, Power Top, Manuals
Kruse International is a leading force in the classic and collector car auction arena. The first auction company to hold an annual collector car auction in 1971, Kruse was also the first company to first sell a car for a documented $1 million dollars cash! Please feel free to call Jeff Heisler at 800-968-4444 ext. 259. Very few cars bring visions of class to the mind other than Packard
This classic Caribbean Convertible is one of 750 custom built Packards to look like the 1950 Pan American Show Car. It had a complete body-off restoration in the early 1980's. A mechanical restoration took place in 1999 including the engine, transmission, and all working components.
It has a straight 8 cylinder engine backed by a manual transmission. It has Power Brakes and Power Steering. Othe options include the Wonderbar radio, spotlight with mirror, day-night mirror, continental rear kit, and heater. It rides on Coker WWW tires.
It was AACA First Senior in 1986, and has a Red Bird Award with 375 points out of 400!
PHOTOS DE LA PACKARD CARIBBEAN CONVERTIBLE 1953 capoté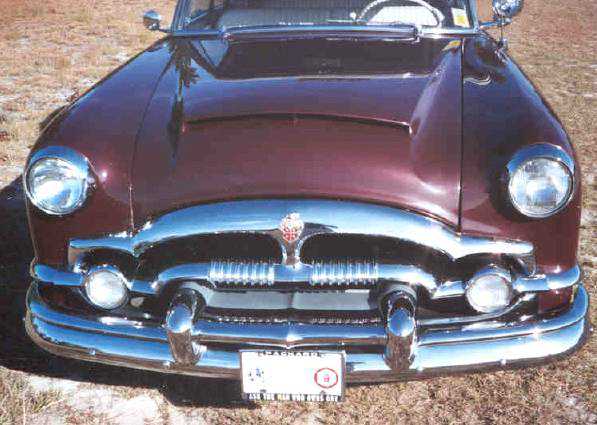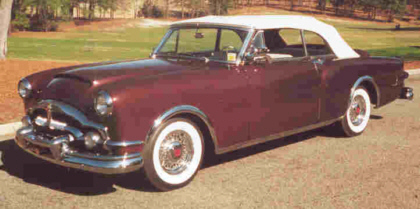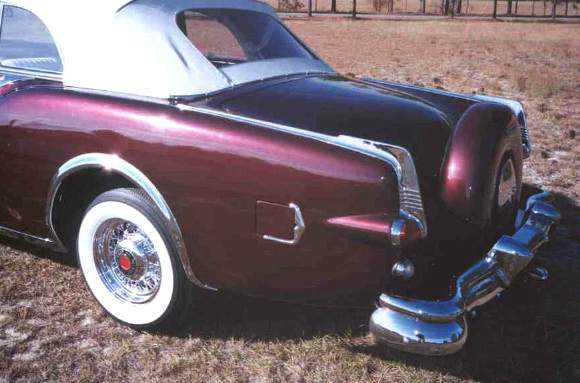 | | | | | |
| --- | --- | --- | --- | --- |
| | ou | | ou | |
| 1899/1936 | | 1937/1958 | | des sites de http://www.mainguet.com |