créée le 3 novembre 2007 et mise à jour le 3 novembre 2007


| | |
| --- | --- |
| marque | PACKARD |
| modèle | LINE |
| finitions | Carribean Custom 400 Convertible |
| année | 1 9 5 4 |
| quantité/prix | 400 exemplaires / $6100 |
| carrosserie | cabriolet 2 portes 6 places |
| moteur/boite | 8cyl en ligne de 359cid - 212cv |
<<BARRETT-JACKSON>> ENCHERES DE SCOTTSDALE 2007 (Arizona)

27307 Packard produites en 1954

Packard ne fonctionnait pas comme les autres constructeurs qui avaient le besoin d'un millésime nouveau tous les ans. Mais il s'est mis au diapason dès l'année 1951 pour la 24th series. Et cette année 1954 fut même appelée la 54th series comme l'année. Il y a moins de ventes mais la gamme est beaucoup plus complexe et complète
Elle se composait alors de : CLIPPER - CAVALIER - PACKARD LINE - PACKARD PATRICIAN
CLIPPER

en finition STANDARD, moteur 8 cyl en ligne 288cid de 150cv

1882 véhicules pour l'année, deux carrosseries 6 places
sedan 4dr (970 ex à $2594), sedan 2dr Club (912 ex à $2544)

en finition DELUXE, moteur 8 cyl en ligne 327cid de 165cv

trois carroseries 6 places

sedan 4 portes: 7610 ex à $2695
sedan 2 portes Club: 1470 ex à $ 2645
Speedster 2 portes: 1336 ex à $2830

en finition SUPER, moteur 8 cyl en ligne 327cid de 165cv

deux carroseries 6 places

sedan 4 portes: 6270 ex à $2815
sedan 2 portes Club: 887 ex à $ 2765

en finition PANAMA, moteur 8 cyl en ligne 327cid de 165cv

deux carrosseries 6 places deux portes

Business Coupe: 5467 ex de prix suivant aménagements
Sport Coupe HT: 3618 ex à $3125

CAVALIER, moteur 8 cyl en ligne 327cid de 185cv

2580 véhicules pour l'année pour une seule carrosserie
sedan 4 portes 6 places vendu $3344

PACKARD LINE, moteur 8 cyl en ligne 359cid de 212cv

en finition PACIFIC

HT Coupe 2 portes 6 places: 1189 ex à $3827

en finition PACKARD

Convertible 6 places: 863 ex à $3935

en finition CARIBBEAN CUSTOM

Custom Convertible 6 places: 400 ex à $6100

PATRICIAN

2 carrosseries en 4 portes 8 places

sedan: 65 ex à $6900
Limousine: 35 ex à $7250
CE QU'EN DIT LE COMMISSAIRE-PRISEUR
1954 PACKARD CARIBBEAN CONVERTIBLE
359 cyl8 - AUTOMATIC - 212hp
Description : As a result of the 1952 Pan American Expo's car of the future, the Caribbean was created to be an authentic piece of the Packard history. This Caribbean is one of 26 remaining and the first owner, J. Lynn Johnston, legal advisor to Joseph P. Kennedy, attests to Senator John F. Kennedy's ride in this car. This Caribbean is powered by a 212 HP, 359 CID Straight 8, with 68,589 miles. A total original body restoration was completed in 2006 including: engine compartment, 162 pieces (including spoke wheels) re-chromed, new carpets, upholstery, top, engine gaskets, front springs, tie rod & sway bar bushings, wheel cylinders, with rebuilt water pump, carburetor, and fuel pump. This work of art and gentleman's car @ $6100 was the most expensive U.S. produced car in 1954and only 400 were made. Restoration photos, 22 year restoration expense detail and Mr. Johnston's historic letters are included.
PHOTOS DE LA PACKARD CARRIBEAN CONVERTIBLE 1954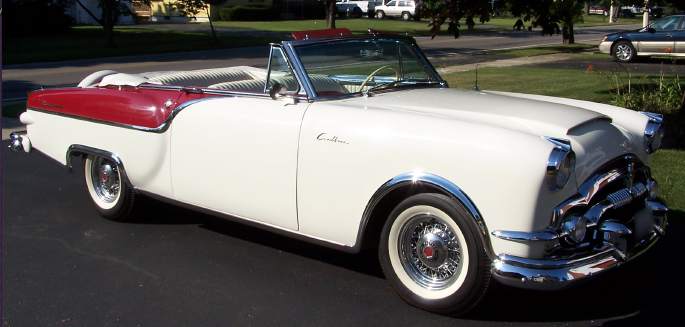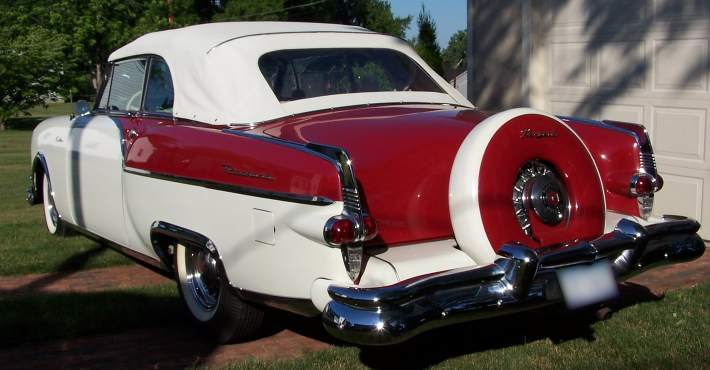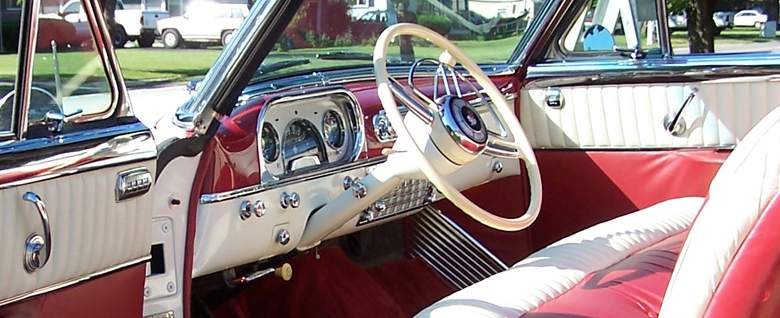 | | | | | |
| --- | --- | --- | --- | --- |
| | ou | | ou | |
| 1899/1936 | | 1937/1958 | | des sites de http://www.mainguet.com |