créée le 20 janvier 2002 et mise à jour du 30 septembre 2002


marque

PACKARD

modèle

CLIPPER

finitions

Sedan 4dr

année

1 9 5 6

quantité/prix

5715 exemplaires / $2731

carrosserie

berline 4 portes 6 places

moteur/boite

V8 de 352cid - 240cv à 4600t/mn
boîte automatique
DU SITE D'ENCHERES <<E-BAY>> usa
hôte : e-bay, le fameux site d'enchères aux USA qui comprend toujours entre 1 et 2 millions d'objets à enchérir. C'est celui aussi qui a acheté notre iBazar national avec ses 4 à 600 mille objets aux enchères et qui est devenu ebay.fr
voitures américaines : il y en a toujours beaucoup avec de superbes photos sur le site américain. Le site français propose en général entre 2 et 4 pages d'objets et de voitures avec une certaine modestie pour les photos. Ceci va sans doute changer
photos : elles sont de"georgerrafferty", nom de code ebay du vendeur
En 1956 Packard produit

CLIPPER

DELUXE 5715 Sedan 4 portes 6 places à $2731
SUPER 5173 sedan 4 portes 6 places à $2866
SUPER PANAMA 3999 Hardtop Coupe 2 portes 6 places à $2916
moteur V8 de 352cid développant 240cv à 4600t/mn

CLIPPER CUSTOM

CUSTOM 2129 Sedan 4 portes 6 places à $3069
CUSTOM CONSTELLATION 1466 Hardtop 2 portes 6 places à $3164
EXECUTIVE LINE

1784 Sedan 4 portes 6 places à $3465
1031 Coupe Hardtop 2 portes 6 places à $3500

moteur V8 de 352cid développant 275cv à 4600t/mn

PACKARD LINE

PATRICIAN 3775 Sedan 4 portes 6 places à $4160
FOUR HUNDRED 3224 Coupe Hardtop 2 portes 6 places à $4190
moteur V8 de 374cid développant 290cv à 4600t/mn

CARIBBEAN

263 Custom Hardtop Coupe 2 portes 6 places à $5495
276 Custom Convertible2 portes 6 places à $5995
moteur V8 de 374 cid développant 310cv
en en vente aux enchères sur ebay fin 2001 à $12500 sans prix de réserve
Elle se trouve dans l'état de la Floride
Voici ce qu'en dit le vendeur

1953 Packard Clipper two-door club coupe. Polaris blue with gray cloth interior. Three speed on the column with overdrive. This is my tour car. It has 114,000 original miles on it. This car is a combination of excellent original and professional restoration. The paint is about ten years old and is excellent. The firewall and door jams have original paint and are excellent. The chrome is a combination of NOS, original and rechromed. The car has approximately 8000 miles on it since the rebuild of the engine, all components, all suspension, brakes, overdrive and all other mechanical parts. New exhaust and radiator.
The motor has hardened valve seats and runs on super unleaded pump gas. Everything on this car works perfectly including the power antenna, radio, clock, heater, all lights, gauges and accessories. The dash, wiring and most of the interior are original. This car is loaded with all correct NOS accessories including; Packard spotlight, Fulton sunshade and street light finder, vent shades, Packard gas door guard and lock, Packard power antenna with correct switch, sun visor mirror and right side mirror. This car is in excellent condition and is regularly driven. I have owned the car for seven years and want something different.
PHOTOS DE LA PACKARD CLIPPER TOWN SEDAN 4dr 1956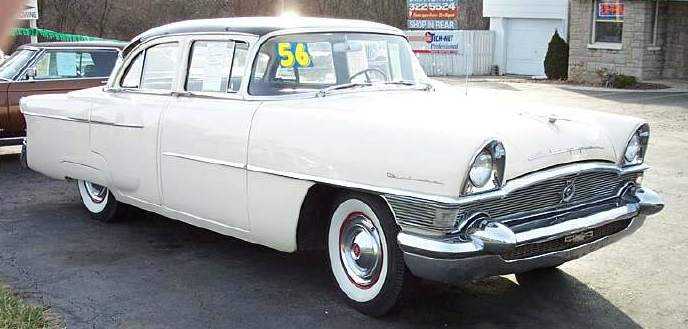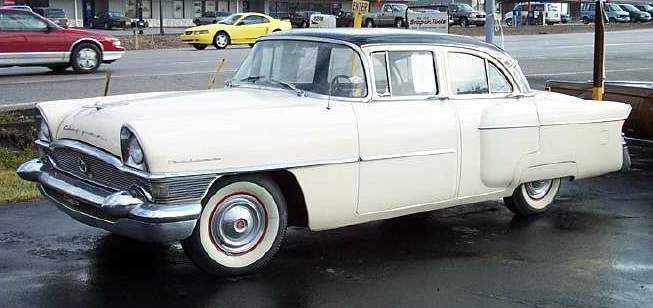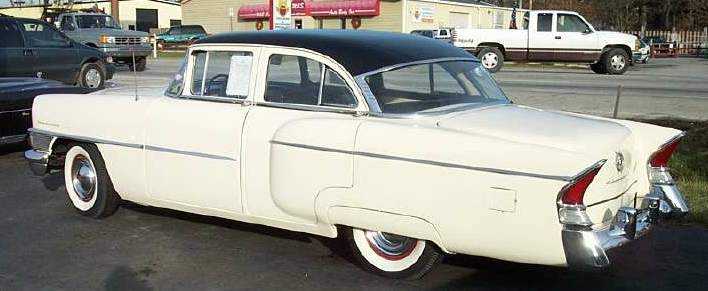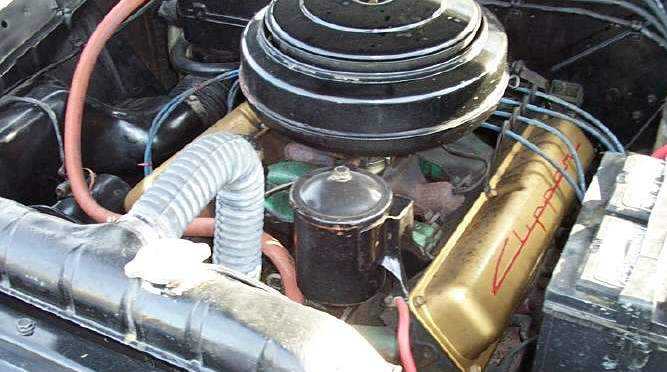 | | | | | |
| --- | --- | --- | --- | --- |
| | ou | | ou | |
| 1899/1936 | | 1937/1958 | | des sites de http://www.mainguet.com |