créée le 13 mars 2004 et mise à jour du 13 mars 2004


| | |
| --- | --- |
| marque | PACKARD |
| modèle | (équivalent Studebaker President) |
| finitions | Sedan 4dr |
| année | 1 9 5 8 |
| quantité/prix | 1200 exemplaires / $3212 |
| carrosserie | berline 4 portes 6 places |
| moteur/boite | V8 de 289cid - 225cv |
DU SITE D'ENCHERES <<E-BAY>> usa
hôte : e-bay, le fameux site d'enchères aux USA qui comprend toujours entre 1 et 2 millions d'objets à enchérir. C'est celui aussi qui a acheté notre iBazar national avec ses 4 à 600 mille objets aux enchères et qui est devenu ebay.fr
voitures américaines : il y en a toujours beaucoup avec de superbes photos sur le site américain. Le site français propose en général entre 2 et 4 pages d'objets et de voitures avec une certaine modestie pour les photos. Ceci va sans doute changer
photos : elles sont de goldenhawk du Nouveau-Mexique
la production Packard se mélage avec celle de Studebaker et par ce fait les caisses sont totalement nouvelles
PACKARD SERIES en 3 choix avec le moteur V8 de 289cid développant 225cv à 4500t/mn, compression 8.3:1 et carburateur quadruple corps

1200 SEDAN 4 portes 6 places à $3212
675 HARDTOP COUPE 2 portes 6 places à $3262
159 STATION WAGON 4 portes 6 places à $3384

HAWK en seul choix HARD TOP SPORT COUPE (588 exemplaires à $3995) avec le moteur V8 de 289cid développant 275cv à 4800t/mn, compression 7.8:1 et carburateur double corps + turbocharged McCulloch
Vehicle Description : 1958 Packard - 42,000 Mile Car in exceptional condition. - One of 1200 built.
I'm at a loss in choosing the superlatives to describe the styling of the 1958 Packard, beautiful, stunning and the like are out. Lets just call the styling outrageous ! Truth to be told, in 1958, it was not that far from the norm for a 50's car. Have you every looked at a 1958 Buick for example ? Having said that, this car is not for those that want to blend in on with the pack on the highway. Rolling along in this Packard, you'll stand out from the "cookie cutter " styling of modern cars from a country mile. Not only will you get the high signs and waves, you may cause a traffic jam from curious onlookers. Not the perfect car for a bank robbery get away car for example. Many of these cars are purchased because the styling "screams the 50's ", a perfect car to bring traffic into a diner or other business. One such Packard is a famous fixture parked in front of a art deco nightclub in Miami beach.
The 1958 Packard was the last year of a long proud history of auto production. Although based on Studebaker President chassis, it has a much nicer interior, dash and refinements and is a wonderful highway cruiser.
Just 1200 Packard 4 door sedans were built, few survive and fewer still in this condition or with this low mileage. I'm listing this exceptional example for Jim, a fellow hobbyist in Clovis. New Mexico and who is thinning out his collection of fine cars.
The car is in well above average condition inside and out. It was repainted in the original factory colors about 10 years ago and although still very nice, it does have a few minor nicks here and there. The chrome is all original, and most is near perfect. The rear bumper has some minor scratches and aging and there is some very minor pitting on the taillight housings. The anodized aluminum trim is straight and dent free. The interior is also the original factory material on the seats and show some minor wear, the door panels have been nicely recovered in vinyl. The headliner and dash pad are new and correct. All the glass is fine, as are the wide white tires. Jim just added a new steering wheel, horn ring, and button. There is only a tiny amount of rust way down low on the front fenders, it's visible in the close-up detail picture at the link at page bottom. All the cosmetic defects I've listed are minor and although the car is not a "trailer queen" show car, there is nothing that needs attention to drive or enjoy at your local Studebaker-Packard meet.
Mechanically, the car needs nothing, All the gages work, it starts, runs, and drives as you would expect a well maintained low mileage example to would. The reserve is below the NADA book value for a average car, and it's well above average in all respects. Your winning bid could well be less than the cost of a paint job and restoration alone of a lesser car, so don't miss your chance on this rare Packard. Jim has the factory build sheet and many years of maintenance history and receipts.
PHOTOS DE LA PACKARD PRESIDENT SEDAN 1958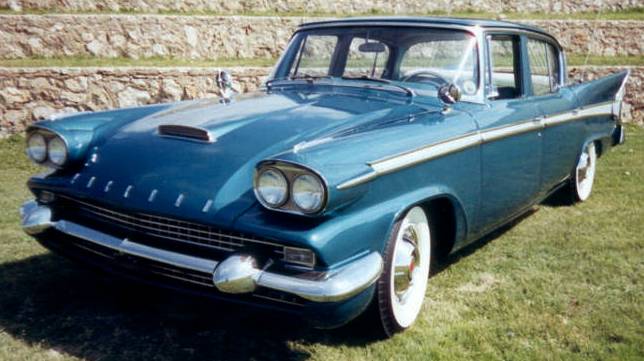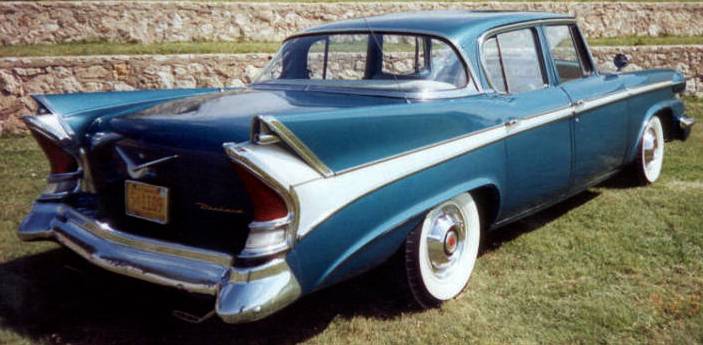 | | | | | |
| --- | --- | --- | --- | --- |
| | ou | | ou | |
| 1899/1936 | | 1937/1958 | | des sites de http://www.mainguet.com |