créée le

| | |
| --- | --- |
| marque | SHELBY-AMERICAN |
| modèle | MUSTANG |
| finitions | GT-500 Fastback RE-CREATION |
| année | 1 9 6 8 |
| quantité / prix | Refabrication |
| carrosserie | coupé 2 portes 4 places |
| moteur/boite | V8 de 428cid - 486cv |
<<BARRETT-JACKSON>> ENCHERES DE SCOTTSDALE 2008 (Arizona)
hôte : <<BARRETT-JACKSON>> se dit lui même "the world's greatest collector car events" met aux enchères un bon millier de voitures en une semaine à Scottsdale (Arizona) tous les ans en janvier. Puis c'est au tour de Las Vegas, Palm Beach etc etc
voitures américaines : c'est 95% des propositions au marteau
photos : du webmestre du trombinoscar en janvier 2008
PRODUCTION SHELBY MUSTANG 1968
Chez Shelby, l'année 1968 est assez particulière car c'est la seule comportant 3 series différentes, chacune en deux carrosseries

SHELBY MUSTANG GT-350

moteur 302cid développant 250cv à 4800t/mn
compression 10,5:1, carburateur Holley quadruple corps
option possible pour porter la puissance à 335cv à 5200t/mn

1253 Coupe HT à $4117
404 Convertible à $4238

SHELBY MUSTANG GT-500

moteur 428cid développant 360cv à 5400t/mn
compression 10,5:1, carburateur Holley quadruple corps
option possible pour porter la puissance à 400cv à 5600t/mn

1140 Coupe HT à $4317
402 Convertible à $4439

SHELBY MUSTANG GT-500 KR

moteur 428cid développant 400cv

933 Coupe HT à $4473
318 Convertible à $4594
CE QU'EN DIT LE COMMISSAIRE PRISEUR
adjugé $47000
1968 SHELBY GT500 FASTBACK RE-CREATION V8 428ci C6 AUTOMATIC
Summary : 428cid/486hp V8 with an automatic transmission. Custom restoration as a tribute to the Shelby GT500.
Description : 1968 Shelby Mustang GT500 re-creation. Wimbledon White with Guardsman Blue stripes. Multiple first place winner including First Place in the largest indoor all Ford show in the US. Stunning automobile to look at and incredible power. The car has less than 2,000 miles run on the full restoration. Fresh 1968 date coded 428 professionally built with Edelbrock aluminum heads and manifold, roller cam with full roller rockers and a 750 cfm Holley carb. 9.7:1 compression so it runs on pump gas. Dyno at 486hp. Ron Davis 5-core aluminum radiator, remote oil filter and MSD ignition system. Under carriage: rear end narrowed 1-1/2" on each side to accommodate larger tires, 4:11 gears in a nodular pumpkin with 2-piece billet axles, custom spring loaded rear sway bar. 4-wheel disc brakes with stainless brake lines throughout, Lakewood traction bars. Professionally sub-framed. Transmission: Art Carr built C6 with 3600 stall converter and new flywheel. Front suspension: Inner shock towers have 1/4" steel plates welded on for extra support. All suspension is new and lower control arms have steel plate welded underneath for extra support. Custom-made 1-1/2 sway bar on Heim joints. Rebuilt close ratio steering box, Koni shocks and electronic chromed vacuum booster. Trunk: custom carpet kit and battery in trunk. 1965 R model quick fuel fill adapter in trunk is functional as is the one in rear panel. VDO gauges fitted into original bezel. Glovebox door signed by Carroll Shelby.
PHOTOS DE LA SHELBY MUSTANG GT-500 FASTBACK REPLICA 1968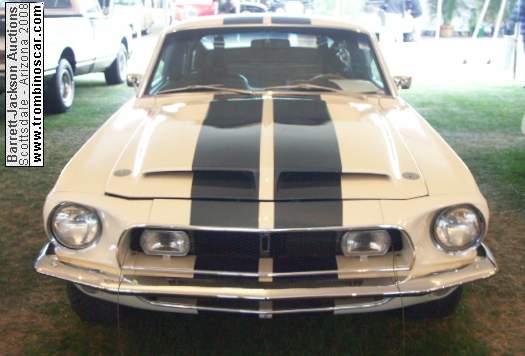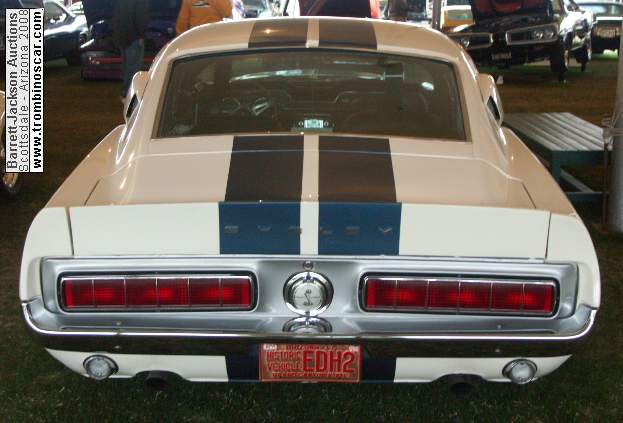 | | | |
| --- | --- | --- |
| | OU | |

des sites de http://www.mainguet.com