créée le 10 novembre 2008 et mise à jour le 10 novembre 2008

| | |
| --- | --- |
| marque | A M C |
| modèle | AMX |
| finitions | Hardtop Coupe |
| année | 1 9 6 9 |
| quantité/prix | exemplaires / $ |
| carrosserie | coupé 2 portes 2 places |
| moteur/boite | V8 de 390cid (option) |
<<BARRETT-JACKSON>> ENCHERES DE SCOTTSDALE 2008 (Arizona)
hôte : <<BARRETT-JACKSON>> se dit lui même "the world's greatest collector car events" met aux enchères un bon millier de voitures en une semaine à Scottsdale (Arizona) tous les ans en janvier. Puis c'est au tour de Las Vegas, Palm Beach etc etc
voitures américaines : c'est 95% des propositions au marteau
photos : du webmestre du trombinoscar en janvier 2008
la gamme 1968 A M C = RAMBLER - REBEL - AMBASSADOR - JAVELIN - AMX
RAMBLER
moteur de base 6cyl de198,6cid développant 128cv à 4400t/mn avec une compression de 8.5:1 et un carburateur monocorps

RAMBLER

16 234 SEDAN 4 portes 6 places à $2076
51 062 SEDAN 2 portes 6 places à $1998

RAMBLER 440

11 957 SEDAN 4 portes 6 places à $2218
13 233 SEDAN 2 portes 6 places à $2478 (?)

RAMBLER ROQUE

3 543 HARDTOP COUPE 2 portes 6 places à $2296

HURST S/C RAMBLER
moteur V8 de 390cid développant 315cv à 4600t/mn avec une compression de 10.2:1 et un carburateur quadruple corps

1 512 HARDTOP COUPE 2 prtes 6 places à $2998
1012 de Groupe A et 500 de Groupe B

REBEL
AMBASSADOR
JAVELIN
AMX
CE QU'EN DIT LE COMMISSAIRE-PRISEUR
Adjugé $32000
LotNumber 1067 -1969 AMERICAN MOTORS AMX COUPE V8 390 4-SPEED
Summary - Matching numbers car in original Big Bad Blue. 390 engine with a 4-speed with Go-Pack. Nice light restoration.
Description - There's only one way you would order a 1969 AMX. That's with the Go-Pack high performance package. Anything else was just a 2-seat muscle car poseur. The Go-Pack equipment offered a choice of two engines; fast and real fast. This one is equipped with the real fast 390cid; developing 315hp with 425 ft/lbs. of torque. Some buyer's chose the automatic transmission. Not this buyer. He kept the standard close ration Borg-Warner T10 4-speed transmission. Also specified was the Twin Grip 3.54 axle package. But this AMX has something even more special. Somebody wanted to get noticed in his new AMX. You're looking at 1 of only 195 AMX's ever produced with special paint code "2A" which included the unique monochromatic bumpers; better known as Big Bad Blue. This is the rarest Big Bad color produced by AMC. Presently, there are only 11 BBB 1969 AMX's listed in the Big Bad Javelin/AMX Registry. And this BBB AMX is not only full of the premium performance features, but it is also beautifully accented by the optional Dark Charcoal interior. Coming or going, there's no mistaking this AMX as an extremely rare piece of automotive muscle car history. This original piece of AMC history has the original engine, transmission and rear axle and is Box A original 78,800 miles. This BBB has only received one repaint in its life. Check out the features of the AMX: 1969 AMX - 1 of 8,230 produced; 1 of 3,620 produced with the 390, 4-speed; 1 of 2,810 with charcoal interior; 1 of 195 with Big Bad Blue "2A" paint code. Data is not available to break down "2A" paint code with drivetrain as any of the 195 AMX's built with BBB could have had the available 290, 343 or 290 engines. Go-Pack package included the following: standard 343 of optional AMX 390 engine, power disc brakes, E70 x 14 redline tires, Twin-Grip axle, special handling package, 7-blade flex fan, HD cooling, 140mph speedometer, 8000rpm tachometer, space-saver spare and over-the-top roof striping. Rarity aside, this AMX offers a unique opportunity to enjoy one of the best looking, accelerating and handling muscle cars built from an era where muscle cars dominated cruise sites and drag strips from coast to coast.
PHOTOS DE LA AMC AMX COUPE 1969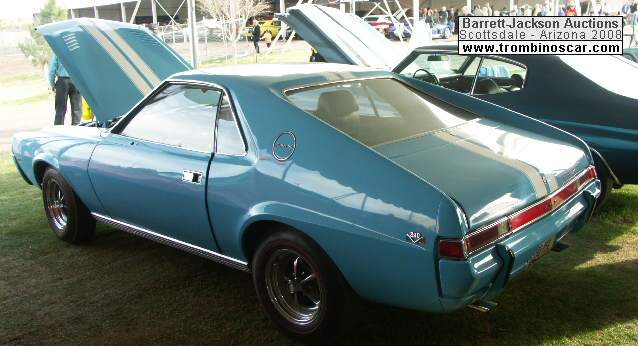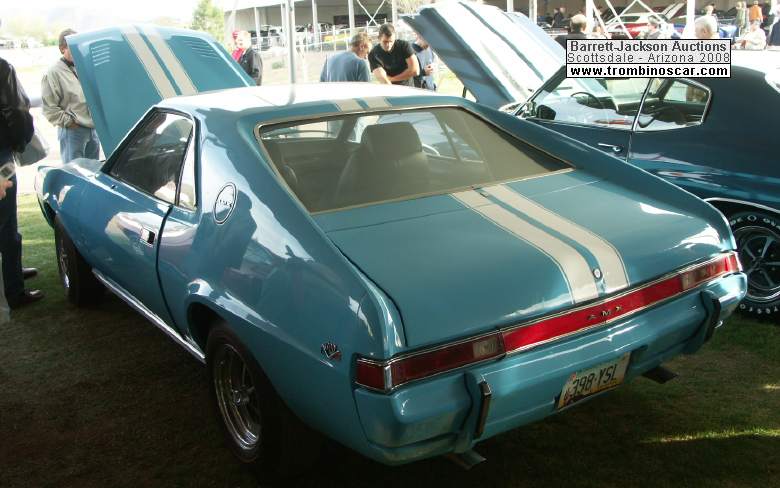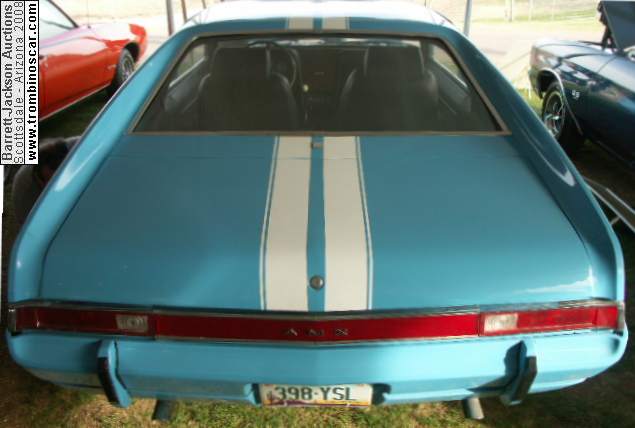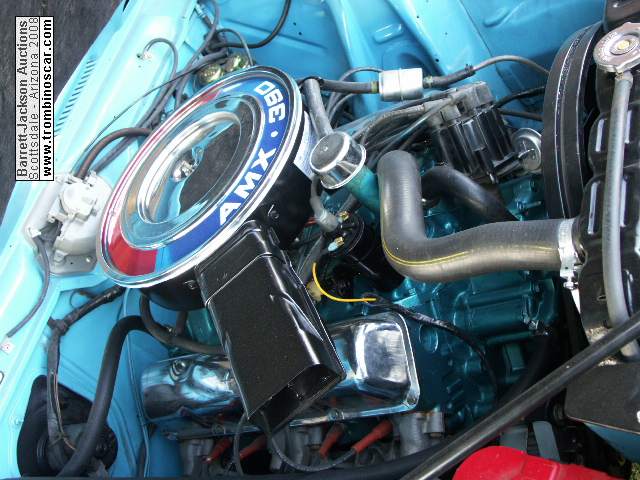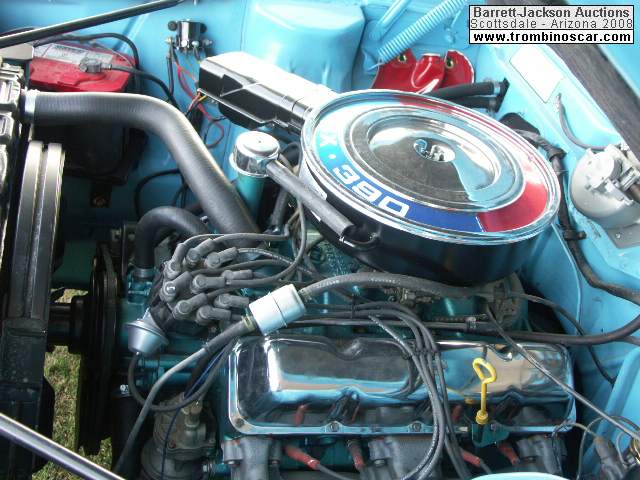 | | | |
| --- | --- | --- |
| | OU | |

des sites de https://trombinoscar.com