fiche créée le 21 février 2003 et mise à jour du 21 février 2003


| | |
| --- | --- |
| marque | DESOTO |
| modèle | S 11C CUSTOM |
| finitions | (Long Wheelbase) Suburban 4dr 7pass |
| année | 1 9 4 7 |
| quantité/prix | 7500 sur 3 ans / $2193 |
| carrosserie | berline 4 portes 7 places sur châssis long |
| moteur/boite | 6cyl de 236,6cid - 109cv à 3600t/mn |
DU SITE D'ENCHERES <<E-BAY>> usa
hôte : e-bay, le fameux site d'enchères aux USA qui comprend toujours entre 1 et 2 millions d'objets à enchérir. C'est celui aussi qui a acheté notre iBazar national avec ses 4 à 600 mille objets aux enchères et qui est devenu ebay.fr

voitures américaines : il y en a toujours beaucoup avec de superbes photos sur le site américain. Le site français propose en général entre 2 et 4 pages d'objets et de voitures avec une certaine modestie pour les photos. Ceci va sans doute changer

photos : elles sont du propriétaire-vendeur z1@fix.net
PRODUCTION DE 1946 à 1948
DESOTO commercialise les mêmes voitures de 1946 à 1948 en gammes DELUXE et CUSTOM
les quantités indiquées sont l'ADDITION de 1946+1947+1948
DELUXE S11S

1 950 CLUB COUPE 2 portes 3 places à $1315 (1946) $1331 (1947) $1699 (1948)
8 580 CLUB COUPE 2 portes 6 places à $1435 (1946) $1451 (1947) $1815 (1948)
12 751 SEDAN 2 portes 6 places à $1410 (1946) $1426 (1947) $1788 (1948)
32 216 SEDAN 4 portes 6 places à $1445 (1946) $1461 (1947) $1825 (1948)
11 600 TAXI-CAB 4 portes 6 plces de prix inconnus

CUSTOM S11C châssis Standard

38 720 CLUB COUPE 2 portes 6 places à $1485 (1946) $1501 (1947) $1874 (1948)
1 600 SEDAN 2 portes 6 places à $1475 (1946) $1491 (1947) $1860 (1948)
126 226 SEDAN 4 portes 6 places à $1495 (1946) $1511 (1947) $1892 (1948)
8 100 CONVERTIBLE-COUPE 2 portes 6 places à $1745 (1946) $1761 (1947) $2296 (1948)

CUSTOM S11C châssis Long

3 530 SEDAN 4 portes 7 places à $1875 (1946) $1893 (1947) $2315 (1948)
120 LIMOUSINE 4 portes 7 places à $1995 (1946) $2013 (1947) $2442 (1948)
7 500 SUBURBAN 4 portes 7 places à $2175 (1946) $2193 (1947) $2631 (1948)
120 Châssis seuls de prix inconnu en 1948
1947 De Soto SUBURBAN
Vehicle Description : Super rare real SUBURBAN not a 4 door limo. This is a really neat original car 100% complete that runs great. Almost all the paint is worn off and the interior is old but totally original including the original and hard to find 3rd. seat. This is a very honest car. The metal is straight, there is no hidden bondo and is almost 100% rust free. All trim. glass, emblums, bumpers, grill, stainless and chrome are there. It is missing only the drivers side mirror. Lights, horn, interior lights, ect, ect, all still work great. If you are looking for a really neat original SUBURBAN to use as is or restore, please consider this car. Good bidding.
Vehicle Condition : Needs: front brakes rebuilt. They work fine now, however both cylinders do leak. The radiator is original and in good condition except for one hole (puncture) near the top. The seats are original and need either covers or redo. Springs and frame are good. No headliner, no carpet. The original stainless steel slats on the cargo floor are in excellent condition. The interior trim, window handles and pulls all there. Last week I purchased and had installed 4 brand new 26Jx75MS radials with new air shocks. ($700). All galss is there and unbroken with the exception of the flat glass drivers side window (crack). As a family car, beach car, ranch or stylish theater car this original SUBURBAN is an attention getter and is truely the first real SUBURBAN ever made. Car sold with Bill of Sale only- have original California black plates.
PHOTOS de la DESOTO CUSTOM (long wheelbase) SUBURBAN 1947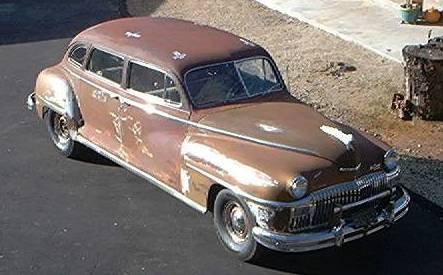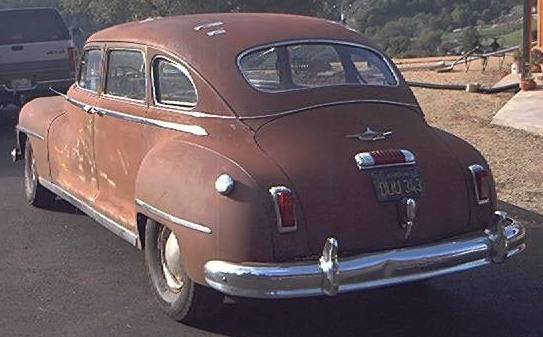 | | | |
| --- | --- | --- |
| | ou | |

des sites de https://trombinoscar.com