fiche créée le 21 février 2003 et mise à jour du 21 février 2003


| | |
| --- | --- |
| marque | DESOTO |
| modèle | S11C CUSTOM |
| finitions | Club Coupe (Street Rod) |
| année | 1 9 4 8 |
| quantité/prix | 38 720 sur 3 ans / $1874 d'origine |
| carrosserie | coupé 2 portes 6 places |
| moteur/boite | 8 cyl - boîte auto (transformé) |
DU SITE D'ENCHERES <<E-BAY>> usa
hôte : e-bay, le fameux site d'enchères aux USA qui comprend toujours entre 1 et 2 millions d'objets à enchérir. C'est celui aussi qui a acheté notre iBazar national avec ses 4 à 600 mille objets aux enchères et qui est devenu ebay.fr

voitures américaines : il y en a toujours beaucoup avec de superbes photos sur le site américain. Le site français propose en général entre 2 et 4 pages d'objets et de voitures avec une certaine modestie pour les photos. Ceci va sans doute changer

photos : elles sont du propriétaire-vendeur sous le pseudi Iasglobalsales
PRODUCTION DE 1946 à 1948
DESOTO commercialise les mêmes voitures de 1946 à 1948 en gammes DELUXE et CUSTOM
les quantités indiquées sont l'ADDITION de 1946+1947+1948
DELUXE S11S

1 950 CLUB COUPE 2 portes 3 places à $1315 (1946) $1331 (1947) $1699 (1948)
8 580 CLUB COUPE 2 portes 6 places à $1435 (1946) $1451 (1947) $1815 (1948)
12 751 SEDAN 2 portes 6 places à $1410 (1946) $1426 (1947) $1788 (1948)
32 216 SEDAN 4 portes 6 places à $1445 (1946) $1461 (1947) $1825 (1948)
11 600 TAXI-CAB 4 portes 6 plces de prix inconnus

CUSTOM S11C châssis Standard

38 720 CLUB COUPE 2 portes 6 places à $1485 (1946) $1501 (1947) $1874 (1948)
1 600 SEDAN 2 portes 6 places à $1475 (1946) $1491 (1947) $1860 (1948)
126 226 SEDAN 4 portes 6 places à $1495 (1946) $1511 (1947) $1892 (1948)
8 100 CONVERTIBLE-COUPE 2 portes 6 places à $1745 (1946) $1761 (1947) $2296 (1948)

CUSTOM S11C châssis Long

3 530 SEDAN 4 portes 7 places à $1875 (1946) $1893 (1947) $2315 (1948)
120 LIMOUSINE 4 portes7 places à $1995 (1946) $2013 (1947) $2442 (1948)
7 500 SUBURBAN 4 portes 7 places à $2175 (1946) $2193 (1947) $2631 (1948)
120 Châssis seuls de prix inconnu en 1948
1948 DESOTO COUPE PRO BUILT HOT ROD 440-6PACK
Vehicle Description : 1948 DESOTO COUPE STREET ROD ANOTHER QUALITY VEHICLE OFFERING FROM INTERNET AUCTION SERVICES INC. BID AND BUY WITH COMPLETE CONFIDENCE FROM AN EBAY PLATINUM LEVEL POWER SELLER! DOES IT GET ANY BETTER THAN A BIG INCH MOPAR POWERED MOPAR STREET ROD? YOU ARE LOOKING AT A REAL NICE EXAMPLE, DONE RIGHT, TURNKEY AND READY TO GO. NO NEED TO SPEND THE NEXT FEW SEASONS SOURCING EVERYTHING YOU NEED AND BUILDING ONE WHEN YOU CAN BUY THIS CAR FOR A LOT LESS NOW AND BE ON THE ROAD! CHECK OUT THE PICTURES OF THIS STUNNING CAR! IT HAS THE LOOK, THE STANCE AND THOSE TIMELESS UNCUT RESTO-ROD LINES. ORIGINALLY A STRAIGHT, DRY AND NEVER ABUSED, SOUTH DAKOTA CAR, THE BODY IS FINISHED IN 2001 PT CRUISER CRANBERRY PEARL, BEAUTIFULLY POLISHED. THE INTERIOR IS A GORGEOUS GREY AND CRANBERRY TWEED FABRIC THAT REALLY COMPLEMENTS THE PAINT. THE TRUNK IS NICELY FINISHED TOO AND UPHOLSTERED TO MATCH THE INTERIOR. THE GLASS FOR THE WINDSHIELD, BOTH DOORS AND VENT WINDOWS IS NEW. THE TRIM, BADGING, CHROME AND STAINLESS IS BRIGHT, STRAIGHT AND ATTRACTIVE. A LOT OF TIME AND MONEY HAVE BEEN SPENT STREET RODDING THIS PROFESSIONALLY BUILT CAR THAT THE WINNING BIDDER WILL BE THE LUCKY BENEFICIARY OF. IT IS A BUILT FOR THE STREET, RELIABLE, TURNKEY CAR THAT IS DRIVEN DAILY IN SEASON. AS SOON AS YOU GET IT HOME, YOU ARE ON THE ROAD! IF YOU HAVE EVER PRICED OUT BUILDING ONE PROPERLY, YOU'LL KNOW HOW MUCH THAT IS WORTH TO YOU!
THE CAR IS IN VERY NICE CONDITION OVERALL, BOTH MECHANICALLY AND COSMETICALLY. CRUISE PROUDLY ANYWHERE WITH COMPLETE CONFIDENCE. THE EQUIPMENT LIST INCLUDES POWER RACK AND PINION STEERING, POWER FRONT DISC BRAKES, TILT STEERING, POWER ANTENNA, ELECTRIC FUEL PUMP, ANTI-THEFT SYSTEM, AIR CONDITIONING (PRESENTLY NOT FUNCTIONAL) AND A FLOOR SHIFTER. THE ORIGINAL MOPAR RADIO HAS BEEN CONVERTED INTERNALLY TO AM/FM WITH 5 SPEAKERS, SO THE TUNES ARE THERE! THE ART DECO ORIGINAL DASH AND GAUGES ALSO REMAIN IN PLACE WITH REBUILT INSTRUMENTS. THE GAS GAUGE DOES TEND TO FLUCUATE A LITTLE WITH THE '56 CHEV GAS TANK INSTALLED. A LARGE, COMFORTABLE, SAFE TO DRIVE, RARE BODIED MOPAR!
THE MASSIVE CHASSIS IS STOCK WITH A HORTON PERFORMANCE MUSTANG II FRONT END. THE REAR END OF COURSE, IS AN 8 3/4 INCH MOPAR. THE BRAKES ARE NEW ALL AROUND. THIS BEAUTIFUL ROD IS REALLY WELL BUILT WITH ALL THE RIGHT STUFF! THE EXCELLENT RADIAL TIRES ARE 195/70-14 FRONTS AND 215/70-15 REARS MOUNTED ON AMERICAN RACING WHEELS WITH CHROME CENTER CAPS. A VERY NICE, DEPENDABLE, PROFESSIONALLY BUILT, DRIVE ANYWHERE CAR TO BE PROUD OF! AN INVESTMENT YOU CAN DRIVE AND ENJOY AND NOT PASS YOURSELF ON THE WAY TO A SHOW!
THE ENGINE IS A BIG BLOCK 440 WITH A CORRECT 1969 VINTAGE 6-PACK INTAKE MANIFOLD AND CARBS, HIGH PERFORMANCE CAM AND LIFTERS. THE ENGINE HAS BEEN ALL CHECKED OUT, RESEALED AND RUNS LIKE JACK THE BEAR WITH 60 POUNDS OF OIL PRESSURE. IT HAS A DUAL EXHAUST SYSTEM WITH THE PIPES EXITING BELOW THE REAR BUMPER. THE TRANSMISSION IS A BULLET PROOF 727, 3 SPEED AUTOMATIC, COMPLETE WITH A COOLER. IT'S A SMOOTH RUNNING, BUG FREE, QUICK CAR!. A RARE BODY STYLE, NEAR MINT, STEEL HOT ROD WITH THE LOOKS AND AWESOME PERFORMANCE, READY TO GO, IN YOUR DRIVEWAY WITH NO FUSS! DON'T WAIT FOR SPRING! ZERO PROBLEMS SHIPPING TO THE U.S. FROM CANADA! WE HAVE DONE SO MANY TIMES TO LOTS OF HAPPY NEW OWNERS AND CAN ENSURE THE BEST OF WHITE GLOVE TREATMENT PUTTING THIS FABULOUS MOPAR STREET ROD INTO YOUR DRIVEWAY! WE USE TFX INTERNATIONAL SPECIALIZED VEHICLE TRANSPORT. THEY ARE THE BEST THERE IS AND WILL HANDLE EVERYTHING FOR YOU FROM OUR DOOR TO YOURS. ALWAYS SMOOTH AND EASY. CHECK THEM OUT AT WWW.TFXINTERNATIONAL.COM
Vehicle Condition : EXCELLENT, READY TO CRUISE IN STREET ROD.
THE GRILLE ON THIS CAR HAS NOT BEEN MOLDED IN AND CAN BE EASILY REMOVED FOR PLATING. IT DOES NOT HAVE ANY SPLITS OR BREAKS AND IS AN EXCELLENT CANDIDATE FOR NEW CHROME.
PHOTOS de la DESOTO CLUB COUPE (STREET ROD) 1948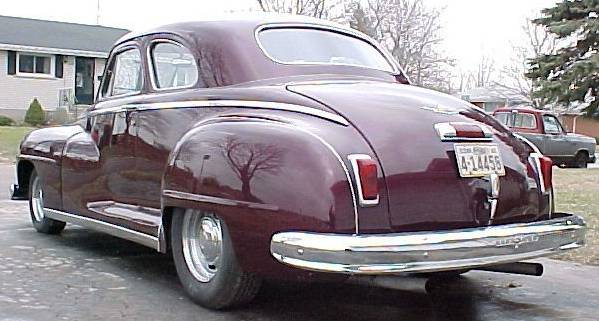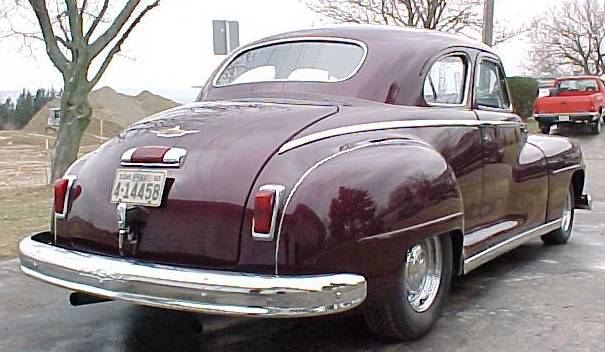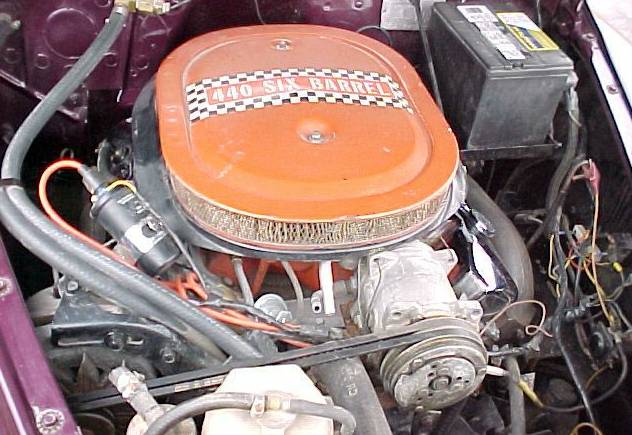 | | | |
| --- | --- | --- |
| | ou | |

des sites de https://trombinoscar.com