fiche créée le 21 février 2003 et mise à jour du 21 février 2003


| | |
| --- | --- |
| marque | DESOTO |
| modèle | S11C CUSTOM |
| finitions | Sedan 4dr |
| année | 1 9 4 8 |
| quantité/prix | 126 226 sur 3 ans / $1892 |
| carrosserie | berline 4 portes 6 places |
| moteur/boite | 6cyl de 236,6cid - 109cv à 3600t/mn |
DU SITE D'ENCHERES <<E-BAY>> usa
hôte : e-bay, le fameux site d'enchères aux USA qui comprend toujours entre 1 et 2 millions d'objets à enchérir. C'est celui aussi qui a acheté notre iBazar national avec ses 4 à 600 mille objets aux enchères et qui est devenu ebay.fr

voitures américaines : il y en a toujours beaucoup avec de superbes photos sur le site américain. Le site français propose en général entre 2 et 4 pages d'objets et de voitures avec une certaine modestie pour les photos. Ceci va sans doute changer

photos : elles sont du propriétaire-vendeur du nom de code ufactory
PRODUCTION DE 1946 à 1948
DESOTO commercialise les mêmes voitures de 1946 à 1948 en gammes DELUXE et CUSTOM
les quantités indiquées sont l'ADDITION de 1946+1947+1948
DELUXE S11S

1 950 CLUB COUPE 2 portes 3 places à $1315 (1946) $1331 (1947) $1699 (1948)
8 580 CLUB COUPE 2 portes 6 places à $1435 (1946) $1451 (1947) $1815 (1948)
12 751 SEDAN 2 portes 6 places à $1410 (1946) $1426 (1947) $1788 (1948)
32 216 SEDAN 4 portes 6 places à $1445 (1946) $1461 (1947) $1825 (1948)
11 600 TAXI-CAB 4 portes 6 plces de prix inconnus

CUSTOM S11C châssis Standard

38 720 CLUB COUPE 2 portes 6 places à $1485 (1946) $1501 (1947) $1874 (1948)
1 600 SEDAN 2 portes 6 places à $1475 (1946) $1491 (1947) $1860 (1948)
126 226 SEDAN 4 portes 6 places à $1495 (1946) $1511 (1947) $1892 (1948)
8 100 CONVERTIBLE-COUPE 2 portes 6 places à $1745 (1946) $1761 (1947) $2296 (1948)

CUSTOM S11C châssis Long

3 530 SEDAN 4 portes 7 places à $1875 (1946) $1893 (1947) $2315 (1948)
120 LIMOUSINE 4 portes7 places à $1995 (1946) $2013 (1947) $2442 (1948)
7 500 SUBURBAN 4 portes 7 places à $2175 (1946) $2193 (1947) $2631 (1948)
120 Châssis seuls de prix inconnu en 1948
1948 DeSoto Custom Four Door - Original
Vehicle Description : This is a 1948 DeSoto Custom Four Door. It is blue with a brown interior. It has a 6 cylinder engine with a 3 speed transmission. It is an all original car except for the paint. As you can see from the pictures, it is in great shape for it's age. The engine has just recently been rebuilt and it runs great. There are zero miles on the rebuild. This would be a great DeSoto to restore.
Vehicle Condition : The car does drives but it needs some work.
Mechanical Problems:There is NO 1st gear. There are NO brakes. It must be started from under the hood.
Cosmetic Problems: There is a dent in the left rear fender.The primer is showing thru in a couple of spots on the right side of the roof. It will need new tires. It is missing a front floor pan. The front seat is worn. There is some rust behind the trunk lid. The grill is broken in places.
Despite it's problems it would be a great car to restore.
PHOTOS de la DESOTO CUSTOM SEDAN 4dr 1948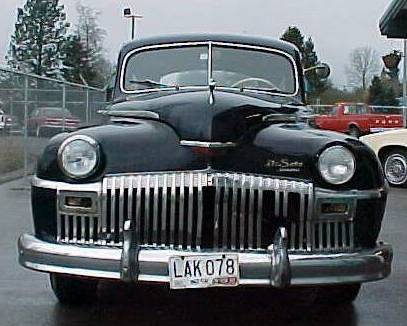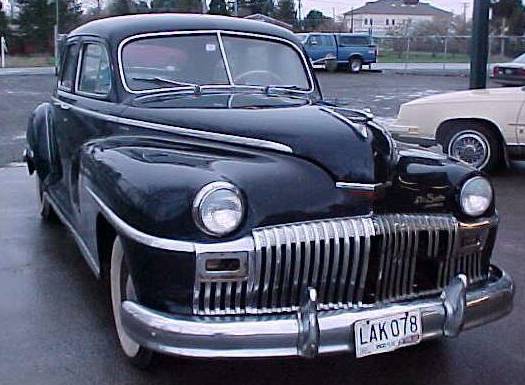 | | | |
| --- | --- | --- |
| | ou | |

des sites de https://trombinoscar.com