fiche créée le 21 février 2003 et mise à jour du 21 février 2003


| | |
| --- | --- |
| marque | DESOTO |
| modèle | FIREDOME |
| finitions | Sedan 4dr |
| année | 1 9 5 6 |
| quantité/prix | 44 909 exemplaires / $2805 |
| carrosserie | berline 4 portes 6 places |
| moteur/boite | V8 de 330,4cid - 230cv à 4400t/mn |
DU SITE D'ENCHERES <<E-BAY>> usa
hôte : e-bay, le fameux site d'enchères aux USA qui comprend toujours entre 1 et 2 millions d'objets à enchérir. C'est celui aussi qui a acheté notre iBazar national avec ses 4 à 600 mille objets aux enchères et qui est devenu ebay.fr

voitures américaines : il y en a toujours beaucoup avec de superbes photos sur le site américain. Le site français propose en général entre 2 et 4 pages d'objets et de voitures avec une certaine modestie pour les photos. Ceci va sans doute changer

photos : elles sont du propriétaire-vendeur de code ebay jackjoanemilly
DeSoto fabrique des FIREDOME - FIREFLITE - ADENTURER
FIREDOME
moteur V8 de 330,4cid développant 230cv à 4400t/mn, compression 8.5:1 et carburateur doublecorps

44 909 SEDAN 4 portes 6 places à $2805
19 136 SEVILLE HARDTOP 2 portes 6 places à $2684
4 030 SEVILLE HARDTOP 4 portes 6 places à $2833
4 589 SPORTSMAN 2 portes 6 places à $2783
1 645 SPORTSMAN 4 portes 6 places à $2954
2 950 STATION WAGON 4 portes 6 places à $3321
646 CONVERTIBLE 2 portes 6 places à $3032

FIREFLITE
moteur V8 de 330,4cid développant 255cv à 4400t/mn, compression 8.5:1 et carburateur quadruplecorps

18 207 SEDAN 4 portes 6 places à $3029
7 479 SPORTSMAN 2 portes 6 places à $3256
3 350 SPORTSMAN 4 portes 6 places à $3341
1 485 CONVERTIBLE 2 portes 6 places à $3454 ou $3565 pour le Pace Car Indy

ADVENTURER
moteur V8 de 341,4cid développant 320cv à 5200t/mn, compression 9.25:1 et carburateur quadruplecorps

996 HARDTOP COUPE 2 portes 6 places à $3678
'56 firedome black and red original Hemi
Vehicle Description : Original Hemi, professional reblt motor and transmission less than 1k miles on each. Push button transmission, recently detailed, real classic cruiser, everything works. 2nd owner, completely roadworthy.
Vehicle Condition : Three and a half star rating. Clean and in good order.
PHOTOS de la DESOTO FIREDOME SEDAN 4dr 1956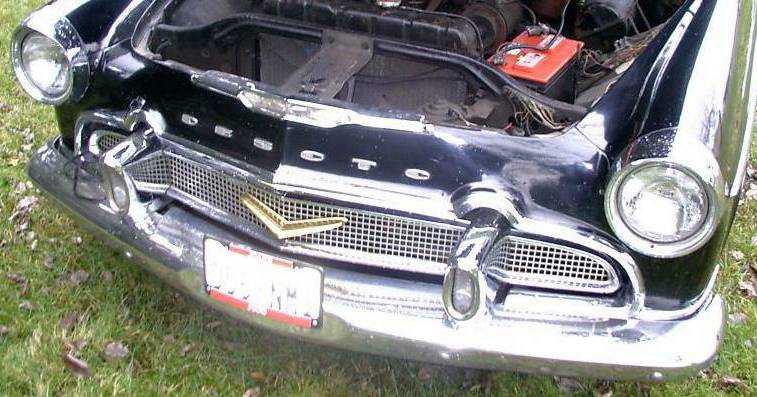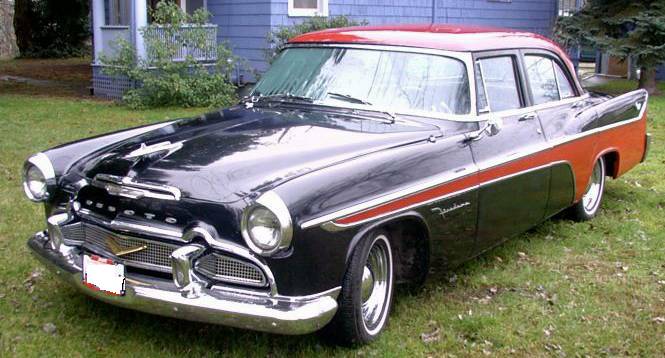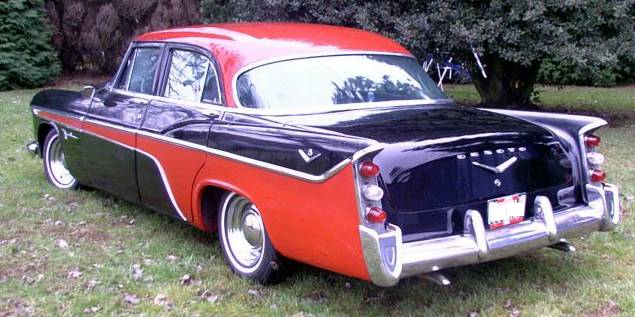 | | | |
| --- | --- | --- |
| | ou | |

des sites de https://trombinoscar.com