créée le 2 août 2007 et mise à jour le 2 août 2007


| | |
| --- | --- |
| marque | DESOTO |
| modèle | FIREFLITE |
| finitions | S24 Convertible |
| année | 1 9 5 6 |
| quantité/prix | 1 485 exemplaires / $3454 |
| carrosserie | cabriolet 2 portes 6 places |
| moteur/boite | V8 HEMI de 330.4cid - 255cv à 4400t/mn |
<<BARRETT-JACKSON>> ENCHERES DE SCOTTSDALE 2007 (Arizona)

DeSoto fabrique des FIREDOME - FIREFLITE - ADENTURER
FIREDOME, moteur V8 de 330,4cid développant 230cv à 4400t/mn, compression 8.5:1 et carburateur doublecorps

44 909 SEDAN 4 portes 6 places à $2805
19 136 SEVILLE HARDTOP 2 portes 6 places à $2684
4 030 SEVILLE HARDTOP 4 portes 6 places à $2833
4 589 SPORTSMAN 2 portes 6 places à $2783
1 645 SPORTSMAN 4 portes 6 places à $2954
2 950 STATION WAGON 4 portes 6 places à $3321
646 CONVERTIBLE 2 portes 6 places à $3032

FIREFLITE, moteur V8 de 330,4cid développant 255cv à 4400t/mn, compression 8.5:1 et carburateur quadruplecorps

18 207 SEDAN 4 portes 6 places à $3029
7 479 SPORTSMAN 2 portes 6 places à $3256
3 350 SPORTSMAN 4 portes 6 places à $3341
1 485 CONVERTIBLE 2 portes 6 places à $3454 ou $3565 pour le Pace Car Indy

ADVENTURER, moteur V8 de 341,4cid développant 320cv à 5200t/mn, compression 9.25:1 et carburateur quadruplecorps

996 HARDTOP COUPE 2 portes 6 places à $3678
CE QU'EN DIT LE COMMISSAIRE PRISEUR
1956 DE SOTO FIREFLYTE CONVERTIBLE
Engine: 341 HEMI - Transmission Type: 3-SPEED AUTOMATIC - Horsepower: 320
In 1956, Desoto produced 1485 top of the line Fireflite convertibles. Options include power steering, brakes, top & seat; dual exhaust with extensions; 5 original Chrysler wire wheels, push button signal-seeking radio with dual antenna, above dash clock, 3 speed Torque Flite auto transmission, Hiway hi-fi player; 341.4 cubic inch HEMI engine with dual 4-barrel carburetors with original gold "bat. wing" air cleaner. In files accompanying this car, Chrysler officials confirm it to be one of only 42 convertibles equipped with the 320 h.p. HEMI engine. This car runs and drives flawlessly and is a much rarer and higher performer than a pace car.
PHOTOS de la DESOTO FIREFLITE CONVERTIBLE 1956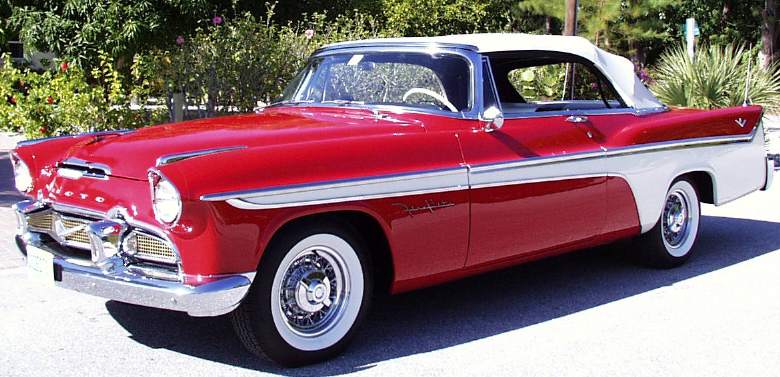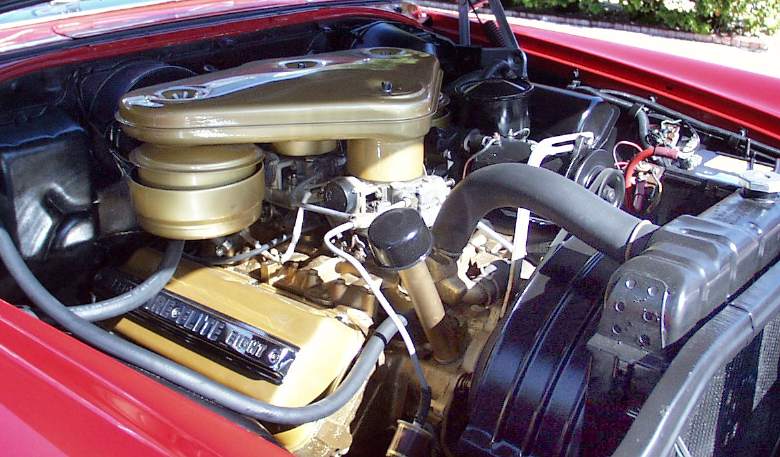 | | | |
| --- | --- | --- |
| | ou | |

des sites de https://trombinoscar.com