créée le 5 mai 2002 et mise à jour du 23 mai 2003


| | |
| --- | --- |
| marque | HUDSON |
| modèle | COMMODORE EIGHT |
| finitions | Sedan 4dr |
| année | 1 9 4 2 |
| quantité / prix | 40 661 Hudson 1942 / $1291 |
| carrosserie | berline 4 portes x places |
| moteur/boite | 8 cylindres de 254,4cid - 128cv à 4200t/mn |
DU SITE D'ENCHERES <<E-BAY>> usa
hôte : e-bay, le fameux site d'enchères aux USA qui comprend toujours entre 1 et 2 millions d'objets à enchérir. C'est celui aussi qui a acheté notre iBazar national avec ses 4 à 600 mille objets aux enchères et qui est devenu ebay.fr
voitures américaines : il y en a toujours beaucoup avec de superbes photos sur le site américain. Le site français propose en général entre 2 et 4 pages d'objets et de voitures avec une certaine modestie pour les photos. Ceci va sans doute changer
photos : elles sont du propriétaire-vendeur
la gamme Hudson 1942 est une production légèrement remaniée juste avant guerre qui s'étend du 21 juillet 1941 au 5 février 1942 pour un total de 40 661 voitures assemblées
Series 20 T TRAVELER 6 cylindres en quatre carrosseries de $893 à $973
Series 20 P DELUXE 6 cylindres en cinq carrosseries de $981 à $1292
Super Series 21 en 6 cylindres en six carrosseries
moteur 6 cylindres de 212cid développant 102cv à 4000t/mn

COUPE 2 portes 3 places à $1102
CLUB SEDAN 2 portes 6 places à $1132
CLUB COUPE 2 portes 6 places à $1159
SEDAN 4 portes 6 places à $1162
CONVERTIBLE SEDAN 2 portes 6 places à $1414
STATION WAGON WOODY 4 portes 6 places à$1486

Series 22 COMMODORE SIX
moteur 6 cylindres de 212cid développant 102cv à 4000t/mn

COUPE 2 portes 3 places à $1176
CLUB COUPE 2 portes 6 places à $1239
CLUB SEDAN 2 portes 6 places à $1216
SEDAN 4 portes 6 places à $1246
CONVERTIBLE SEDAN 2 portes 6 places à $1481

Series 22 COMMODORE EIGHT
moteur 8 cylindres de 254,4cid développant 128cv à 4200t/mn, carburateur double corps

COUPE 2 portes 3 places à $1220
CLUB COUPE 2 portes 6 places à $1282
CLUB SEDAN 2 portes 6 places à $1252
SEDAN 4 portes 6 places à $1291
CONVERTIBLE SEDAN 2 portes 6 places à $1533

Series 25 COMMODORE CUSTOM
moteur 8 cylindres de 254,4cid développant 128cv à 4200t/mn, carburateur double corps

COUPE 2 portes 3 places à $1318
CLUB COUPE 2 portes 6 places à $1380

Series 27 COMMODORE SERIES
moteur 8 cylindres de 254,4cid développant 128cv à 4200t/mn, carburateur double corps

SEDAN 4 portes 8 places à $1510
1942 Hudson Commodore 8, four door sedan in restored condition. This sixty-year old automobile was lovingly restored in 1976, and no expense was spared in the overhaul. Over $2,000 was invested in her interior alone. The car has spent its life since in a climate controlled garage, and has only been out-of-doors for exhibitions, car shows, etc.
This spectacular Hudson is currently owned by Shelter Insurance Companies located in Columbia, Missouri. Shelter purchased the car and financed its frame-up restoration to commemorate the first auto policy written by the company after its founding in 1946.
This Hudson model features a straight-eight, flat-head eight cylinder engine (rebuilt as part of the restoration) with a three-speed, column shift, manual transmission. The clutch is Hudson's famous Fluid Cushioned Clutch utilizing a cork disk. The car also has a radio (not working), heater, driving lights, cloth interior, white-wall tires, spare tire and jack, and much, much more. This auction also includes many extras that will add to the value of the car. An original owner's manual, mechanics guide, shoulder patch (for your cover-alls), reproduction gas ration coupons, car show trophies, pictures, and more are all included with this sale.
This car also has a cinematic history! It was used in the filming of Crazy Mama with Cloris Leachman in the early 1970's.
Vehicle Condition : As previously stated, this vehicle was completely restored in 1976. Since then it has been driven very few miles. While the odometer reflects over 102,000 miles, the vehicle has only been driven a few hundred miles since its overhaul. The body is in near perfect condition except for a small crease in the driver's side of the hood, and there is some bubbling of chrome on some trim pieces. The interior was restored, and is in excellent condition. The engine was overhauled and runs smoothly and does not smoke, although the mechanical fuel pump needs to be rebuilt (an electrical fuel pump has been installed so that the vehicle can be driven).
PHOTOS de la HUDSON COMMODORE EIGHT SEDAN 4DR 1942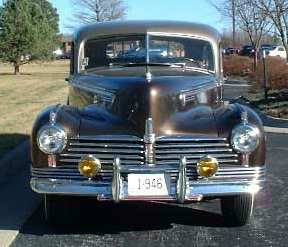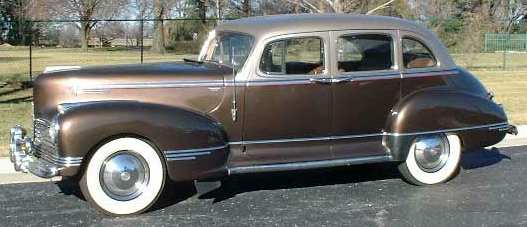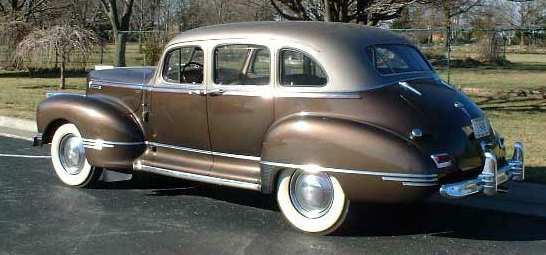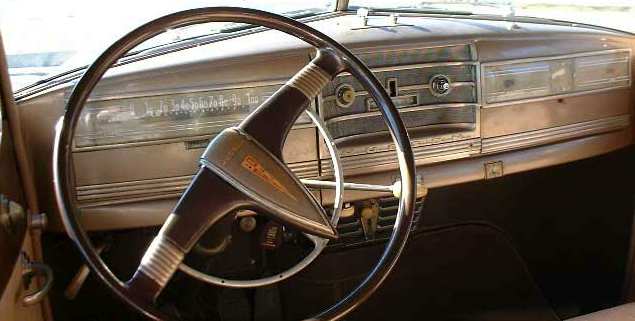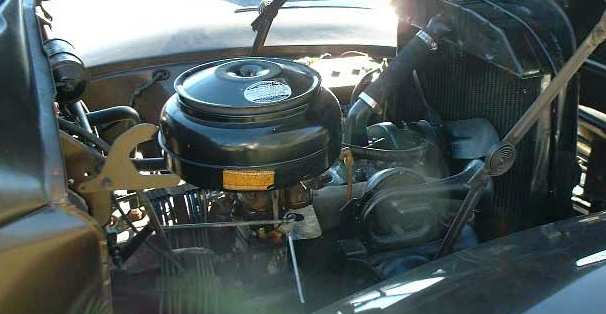 | | | |
| --- | --- | --- |
| | ou | |

des sites de https://trombinoscar.com