créée le 6 mai 2004 et mise à jour le 22 novembre 2008


| | |
| --- | --- |
| marque | HUDSON |
| modèle | HORNET |
| finitions | Custom Sedan 4dr |
| année | 1 9 5 5 |
| quantité/prix | 4 449exemplaires / $3015 |
| carrosserie | berline 4 portes 6 places |
| moteur/boite | V8 Packard - boîte auto |
DU SITE D'ENCHERES <<E-BAY>> usa
hôte : e-bay, le fameux site d'enchères aux USA qui comprend toujours entre 1 et 2 millions d'objets à enchérir. C'est celui aussi qui a acheté notre iBazar national avec ses 4 à 600 mille objets aux enchères et qui est devenu ebay.fr
voitures américaines : il y en a toujours beaucoup avec de superbes photos sur le site américain. Le site français propose en général entre 2 et 4 pages d'objets et de voitures avec une certaine modestie pour les photos. Ceci va sans doute changer
photos : elles sont du vendeur Bob Adams qui habite Scottsdale (Arizona)
Gamme Hudson 1955 :
RAMBLER SIX
moteur 6 cylindres de 195,6cid développant 90cv à 3800t/mn avec une compression de 7.3:1 et un carburateur monocorps

FLEET SPECIAL
DELUXE
SUPER
CUSTOM

WASP SIX
moteur 6 cylindres 202cid développant 120cv à 4000t/mn avec une compression de 7.5:1 et un carburateur monocorps

STANDARD

SEDAN 4 portes 6 places à $2290

CUSTOM

5 551 SEDAN 4 portes 6 places (total avec les Custom)
1 640 HOLLYWOOD HARDTOP 2 portes 6 places à $2570

HORNET SUPER
moteur 6 cylindres de 308cid développant 160cv à 3800t/mn avec une compression de 7.5:1 et un carburateur monocorps
ou V8 Packard de 320cid développant 208cv à 4200t/mn avec une compression de 7.8:1 et un carburateur double corps

5 357 SEDAN 4 portes 6 places à $2565 (total pour Super et Custom)
4 449 V8 SEDAN 4 portes 6 places à $2825 (total pour Super et Custom)

HORNET CUSTOM
moteur 6 cylindres de 308cid développant 160cv à 3800t/mn avec une compression de 7.5:1 et un carburateur monocorps
ou V8 Packard de 320cid développant 208cv à 4200t/mn avec une compression de 7.8:1 et un carburateur double corps

5 357 SEDAN 4 portes 6 places à $2760 (total pour Super et Custom)
1 554 V8 HOLLYWOOD HARDTOP 2 portes 6 places à $2880
4 449 V8 SEDAN 4 portes 6 places à $3015 (total pour Super et Custom)
1 770 V8 HOLLYWOOD HARDTOP 2 portes 6 places à $3145
en vente aux enchères sur ebay en avril 2004, il est parti à $7500......
Description 1955 Hudson Hornet Custom - California Car - Restored! Automatic I 8 - Cyl.
Vehicle Description : 1955 Hudson Hornet Custom - California Car - Restored!
Here is a Rare and Unique 1950's cruiser! It is a 1955 Hudson Hornet Custom 4-Dr Sedan Built by the American Motors Corp. It is a Black Plate California car with 77,680 actual miles and has spent most if not all its' life in sunny California! 1955 was the first year for the V8 engine for Hudson and this car is equipped with the Packard supplied 320 cu. in. V8 engine and the Packard Twin Ultramatic transmission. It also comes equipped with the factory Continental Kit and Reclining seats that transform into Twin Travel beds.
This little Hudson was restored 10 - 12 years ago and still looks great as my photos show! It is painted its' original colors of Sunburst Yellow and Black two tone and although the paint is not new, it is still quite attractive. I would call it a very nice, driver quality paint job. The bumpers have been rechromed and are gorgeous. The rest of the chrome is very nice original with only an occasional ding in the stainless. The glass is all in good condition. An interesting detail is that the grille emblem lights up with the headlights.
The interior is restored and although not necessarily the correct fabric, it follows the original pattern and it looks great! It has a unique AMC feature of full reclining front seats that produce Twin Travel beds when lowered. The plastic armrest bases need to be replaced but the dash and gauges and steering wheel are all in excellent condition. Even the original tinted plastic sunvisors are nice.
Mechanically, it seems to run and drive very nice and it cruises at 70 to 80 MPH! The prior owner has driven it over 10,000 miles in the past 6-8 years and regularly took it on 200+ mile trips and even volunteered to drive it from Carmel, California to Phoenix for me! The car has only 77K actual miles. The engine runs well and the transmission shifts as it should. The brakes have been rebuilt with new shoes and rebuilt booster. The exhaust is quiet and two of the tires are somewhat worn. The steering gear box has a little tight or flat spot but is not that objectionable. The engine has a small oil leak and a transmission seal leaks a little when it sits for a longer time. Most of the gauges work and the gas gauge and radio do not. Most of the lights work as well as the heater and wipers. It really is a FUN car to drive!
The body is, for the most part, very solid and rust free. There is a slight dent in the roof and the body is otherwise very straight. In the interest of full disclosure, I will mention a small area of rust, low in the LF inner fender well and a few small blisters on each rocker panel and the corner of the LF fender. The floor pan has a couple pin holes but otherwise, this car is as rock solid and rust free as you would expect a California car to be!
This is a great and unique 50's Cruiser and surely will be the center of attention at any car show! It looks as good in person as it does in my photos, so please consider bidding on this Classic Hudson Hornet! Included with the car is a box full of extra parts, the original Owners Manual as well as a Shop Manual and a fitted car cover! Please call or email with any questions and I can help with shipping quotes and arrangements.
PHOTOS de la HUDSON HORNET SEDAN 4dr 1955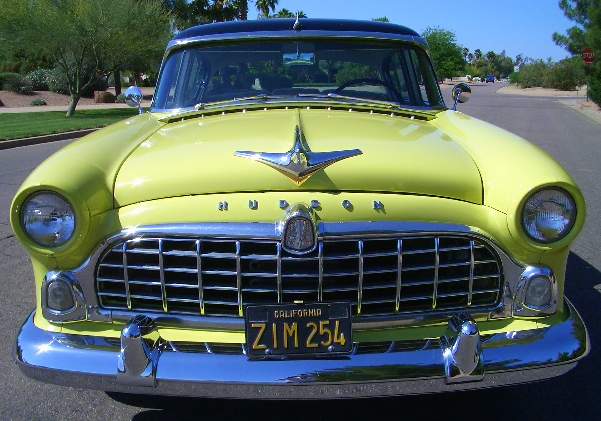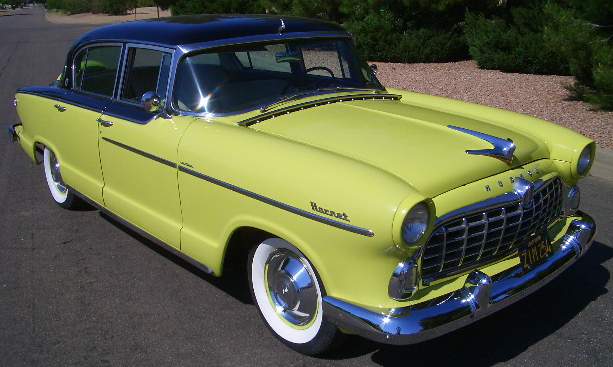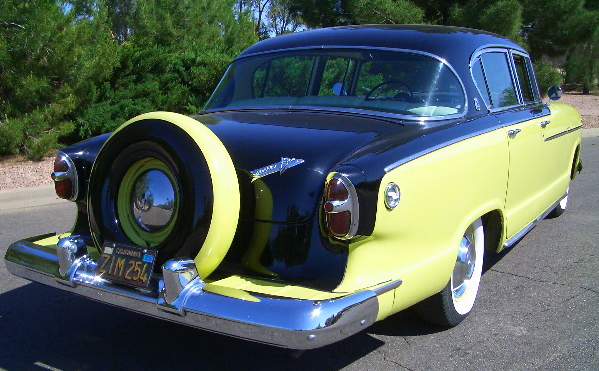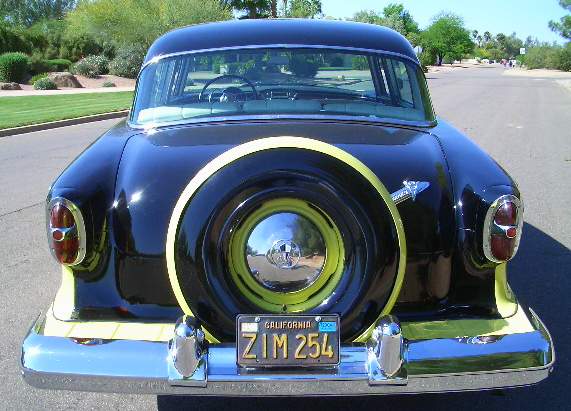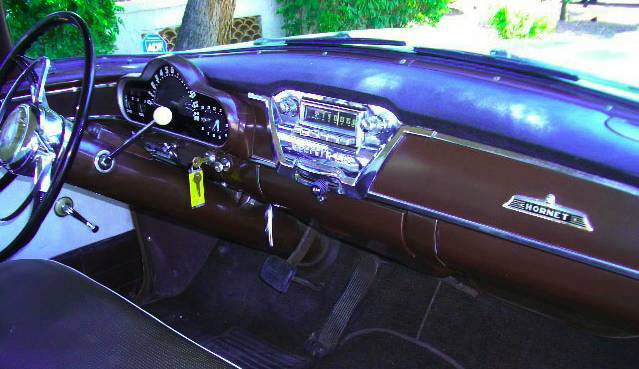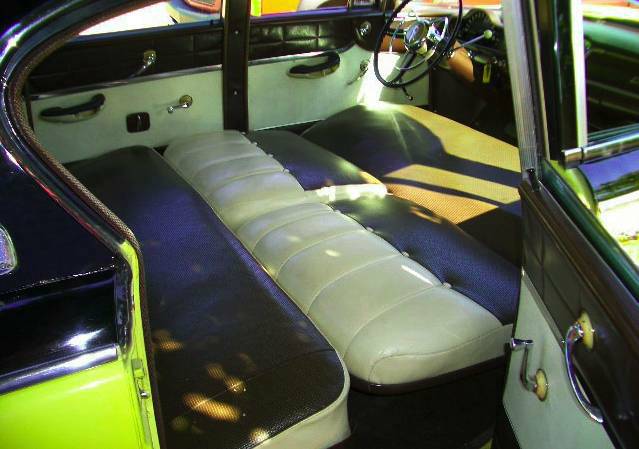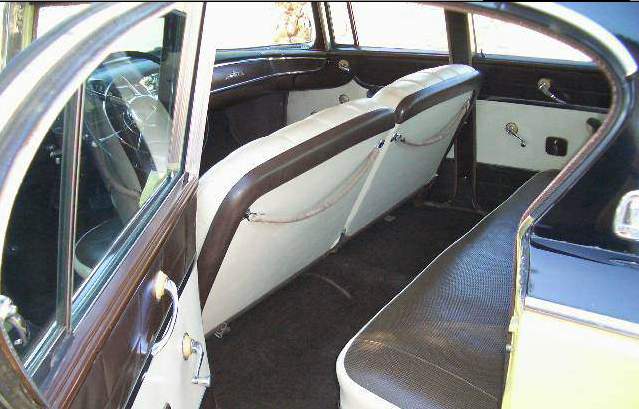 | | | |
| --- | --- | --- |
| | ou | |

des sites de https://trombinoscar.com