créée le 31 juillet 2003 et mise à jour du 31 juillet 2003


| | |
| --- | --- |
| marque | NASH |
| modèle | RAMBLER |
| finitions | Convertible |
| année | 1 9 5 1 |
| quantité/prix | 14881 exemplaires / $1837 |
| carrosserie | berline découvrable 2 portes 5 places |
| moteur/boite | 6 cyl 172,6cid - 82cv à 3800t/mn |
DU SITE D'ENCHERES <<E-BAY>> usa
hôte : e-bay, le fameux site d'enchères aux USA qui comprend toujours entre 1 et 2 millions d'objets à enchérir. C'est celui aussi qui a acheté notre iBazar national avec ses 4 à 600 mille objets aux enchères et qui est devenu ebay.fr
voitures américaines : il y en a toujours beaucoup avec de superbes photos sur le site américain. Le site français propose en général entre 2 et 4 pages d'objets et de voitures avec une certaine modestie pour les photos. Ceci va sans doute changer
photos : elles sont du propriétaire-vendeur de Cleveland, toys@accnorwalk.com
Nash en 1951 a pour gamme : STATESMAN - AMBASSADOR - RAMBLER
STATESMAN comprend deux finitions

SUPER et DELUXE

52 DELUXE BUSINESS COUPE 2 portes 3 places à $1710
152 BROUGHAM 2 portes 5 places à $1812
22 261 SEDAN 2 portes 6 places à $1790
52 325 SEDAN 4 portes 6 places à $1815

CUSTOM LINE

38 BROUGHAM 2 portes 5 places à $1971
2 141 SEDAN 2 portes 6 places à $1949
14 846 SEDAN 4 portes 6 places à $1974

le moteur est un 6 cylindres de 184cid développant 85cv à 3800t/mn avec une compression de 7.0:1

AMBASSADOR comprend deux finitions

SUPER LINE

40 BROUGHAM 2 portes 5 places à $2158
4 382 SEDAN 2 portes 6 places à $2137
34 935 SEDAN 4 portes 6 places à $2162

CUSTOM LINE

37 BROUGHAM 2 portes 5 places à $2317
1 1181 SEDAN 2 portes 6 places à $2296
21 071 SEDAN 4 portes 6 places à $2321

le moteur est un 6 cylindres de 234,8cid développant 115cv à 3400t/mn avec une compression de 7.3:1

RAMBLER comprend une seule serie

SERIES 10

1 HT COUPE 2 portes 5 places de prix inconnu
50 CLUB SEDAN 2 portes 5 places de prix inconnu
19 317 HT COUNTRY CLUB 2 portes 5 places à $1968
14 881 CONVERTIBLE 2 portes 5 places à $1837
1 569 UTILITY WAGON 2 portes 3 places à $1673
5 568 STATION WAGON 2 portes 5 places à $1723
28 617 CUSTOM ST WAGON 2 portes 5 places à $1837

le moteur est un 6 cylindres de 172,6cid développant 82cv à 3800t/mn avec une compression de 7.25:1
1951 Nash Rambler Airflyte Convertible Red
Vehicle Description : 1951 Nash Rambler Airflyte Convertible. Near perfect restoration on a rust free car. Looks like brand new. Salmon red (show quality, excellent block sanding and color sanding to make a near perfect finish) with black convertible top with maroon, beige, and gray cloth interior. 6 cylinder 3 speed with overdrive, runs excllent. (complete engine room detail, like new) All chrome is excellent. All gauges, lights, instruments, horn, radio, heater, and power top work. This is a top show quality car with fresh restoration absolutely beautiful ready for any prestigious show. This is a top quality restoration. This car is very cute and desirable. Lois Lane used a Nash Convertible in the movie Superman. (incidently she does not go with the car, although we have a Clark Kent and Lois Lane movie poster) Ford and Chevrolet certainly out produced Nash Rambler and Cadillac was more luxurious but Nash Rambler was just plain cute, and still is today. Everybody smiles when they see this cute little car. Call 419 668 1884 (8am-10pm Ohio) for further details. Please no emails.
Vehicle Condition : Like brand new-show quality-excellent fit and finish-runs and drives excellent-cute.
PHOTOS DE LA NASH RAMBLER CONVERTIBLE 1951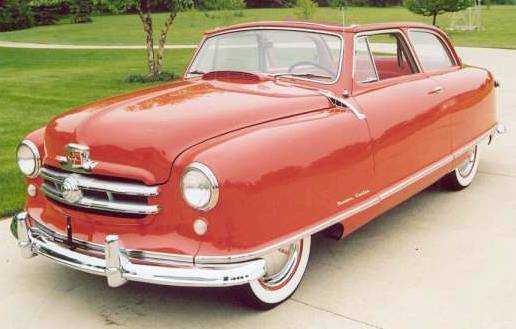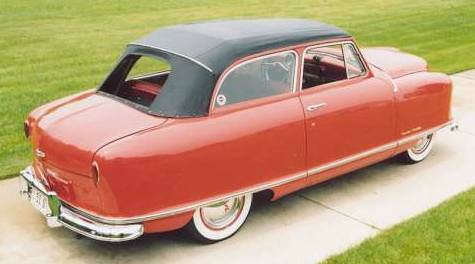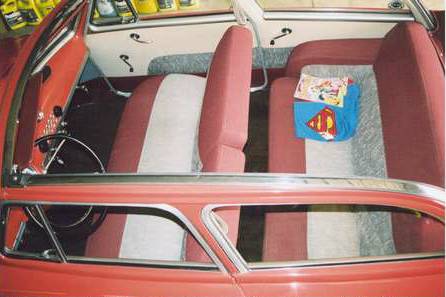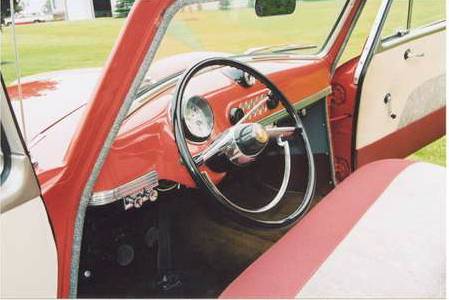 la même à colorier (cliquez dessus)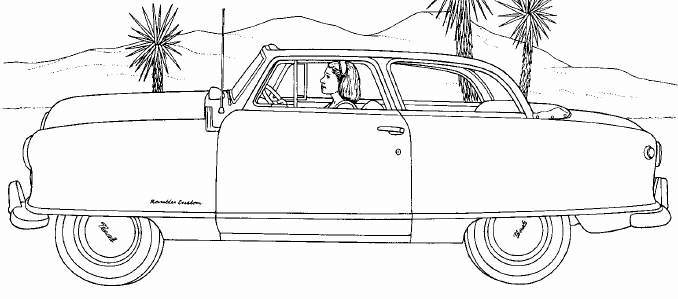 | | | |
| --- | --- | --- |
| | OU | |

des sites de https://trombinoscar.com