créée le 20 avril 2002 et mise à jour du 2 novembre 2006


| | |
| --- | --- |
| marque | NASH |
| modèle | AMBASSADOR |
| finitions | (Airflyte) Custom Sedan 4dr |
| année | 1 9 5 3 |
| quantité/prix | 12 222 exemplaires / $2716 |
| carrosserie | berline 4 portes 6 places |
| moteur/boite | moteur Jetfire 6 cylindres (sans doute "Le Mans", voir production) |
DU SITE D'ENCHERES <<E-BAY>> usa
hôte : e-bay, le fameux site d'enchères aux USA qui comprend toujours entre 1 et 2 millions d'objets à enchérir. C'est celui aussi qui a acheté notre iBazar national avec ses 4 à 600 mille objets aux enchères et qui est devenu ebay.fr
voitures américaines : il y en a toujours beaucoup avec de superbes photos sur le site américain. Le site français propose en général entre 2 et 4 pages d'objets et de voitures avec une certaine modestie pour les photos. Ceci va sans doute changer
photos : elles sont du propriétaire-vendeur
La gamme Nash 1953 se compose de STATESMAN - AMBASSADOR - RAMBLER

NASH STATESMAN ou Series 40 en cinq choix possibles
le moteur est un 6 cylindres de195,6cid développant 100cv à 3800t/mn, compression 7.45:1 et carburateur double corps

SUPER LINE

28 445 SEDAN 4 portes 6 places à $2178
7 999 SEDAN 2 portes 6 places à $2144

CUSTOM LINE

11 476 SEDAN 4 portes 6 places à $2332
1 305 SEDAN 2 portes 6 places à $2309
7 025 COUPE HARDTOP 2 portes 6 places à $2433

NASH AMBASSADOR ou Series 60 en cinq choix possibles
le moteur est un 6 cylindres de 252,6cid développant 120cv à 3700t/mn, compression 7.3:1 carburateur simple corps
ou ce 6 cylindres de 252,6cid mais développant 140cv à 4000t/mn, compression 8.0:1 et deux carburateurs

SUPER LINE

12 489 SEDAN 4 portes 6 places à $2557
1 273 SEDAN 2 portes 6 places à $2521

CUSTOM LINE

12 222 SEDAN 4 portes 6 places à $2716
428 SEDAN 2 portes 6 places à $2695
6 438 COUPE HARDTOP 2 portes 6 places à $2829

NASH RAMBLER ou Series 10 en cinq choix possibles
le moteur est en boîte manuelle, un 6 cylindres de 184,1cid développant 85cv à 3800t/mn, compression 7.25:1 et carburateur simple corps
en boîte Hydra-Matic, un 6 cylindres de 195,6cid développant 90cv à 3800t/mn, compression 7.3:1 et carburateur simple corps

9 DELIVERYMAN 2 portes au prix inconnu
1 114 STATION WAGON 2 portes 5 places à $2003
10 598 STATION WAGON 4 portes 5 places à $2119
3 284 CONVERTIBLE 2 portes 5 places à $2150

15 255CITY CLUB 2 portes 3 à 5 places à $2125
YEOWSA!!! SHAZZAM!!! THE KELVINATOR!!!!!
Vehicle Description :You are bidding on a rare 1953 Nash Ambassador Custom Airflyte with the famous "JETFIRE" inline six cylinder engine combined with the Nash 4 speed automatic transmission. It is in EXCELLENT condition folks, the mechanics and cosmetics are AWESOME!!! This one has the famous "NASH CONVERTIBLE BED", the back of the front seat will go all the way back until it is completely horizontal; then you scoot the front seat up, and the entire interior becomes one huge bed! WOW! If you are a serious bidder/buyer, please call Jay Scheiman at 1-956-607-3370 and I will be happy to answer any questions you may have prior to bidding/purchase.
Vehicle Condition : This car is gorgeous and excellent in every way. The mechanics are great, the cosmetics are great,the car is just totally awesome for the year folks. The only pick on the car is that some of the chrome on the grill has lost it's original luster and a perfectionist would probably want to have it chromed. That's all folks!
PHOTOS de la NASH AMBASSADOR CUSTOM AIRFLYTE 1953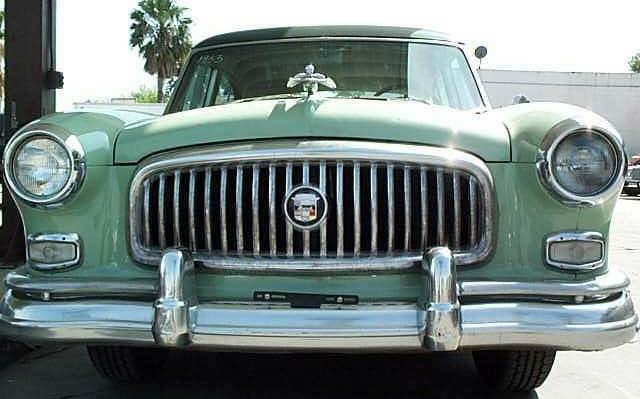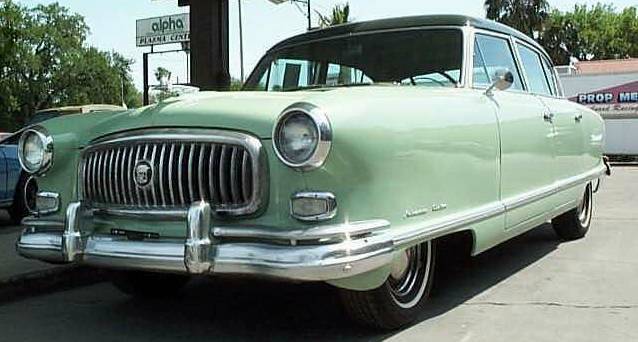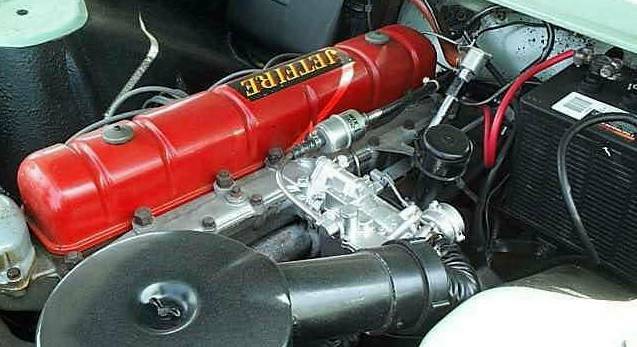 | | | |
| --- | --- | --- |
| | OU | |

des sites de https://trombinoscar.com