créée le14 février 2002 et mise à jour du 31 juillet 2003


marque

NASH

modèle

RAMBLER

finitions

(Farina) Super Sedan 4dr

année

1 9 5 4

quantité/prix

4 313 exemplaires / $1995

carrosserie

berline 4 portes 5 places

moteur/boite

6 cyl 195,6cid - 90cv à 3600t/mn
boîte Hydra-Matic
DU SITE D'ENCHERES <<E-BAY>> usa
hôte : e-bay, le fameux site d'enchères aux USA qui comprend toujours entre 1 et 2 millions d'objets à enchérir. C'est celui aussi qui a acheté notre iBazar national avec ses 4 à 600 mille objets aux enchères et qui est devenu ebay.fr

voitures américaines : il y en a toujours beaucoup avec de superbes photos sur le site américain. Le site français propose en général entre 2 et 4 pages d'objets et de voitures avec une certaine modestie pour les photos. Ceci va sans doute changer

photos : elles sont de vintagelife, nom de code ebay du vendeur
Nash en 1954 a pour gamme : STATESMAN - AMBASSADOR - RAMBLER
STATESMAN comprend deux finitions

SUPER LINE

1 855 SEDAN 2 portes 6 places à $2178
11 401 SEDAN 4 portes 6 places à $2130

CUSTOM LINE

24 SEDAN 2 portes 6 places à $2340
2 726 HT SEDAN 2 portes 6 places à $2468
4 219 SEDAN 4 portes 6 places à $2362

le moteur est un 6 cylindres de 195,6cid développant 110cv à 4000t/mn avec une compression de 8.5:1

AMBASSADOR comprend deux finitions

SUPER LINE

283 SEDAN 2 portes 6 places à $2360
7 433 SEDAN 4 portes 6 places à $2412

CUSTOM LINE

3 581 HT SEDAN 2 portes 6 places à $2730
10 131 SEDAN 4 portes 6 places à $2595

le moteur est un 6 cylindres de 252,6cid développant 130cv à 3700t/mn avec une compression de 7.6:1

RAMBLER comprend une seule serie

SERIES 10

7 273DELUXE SEDAN 2 portes 5 places à $1550
504 SUB 2 portes 5 places à $1945
300 SUPER SEDAN 2 portes 5 places à $1865
4 313 SUPER SEDAN 4 portes 5 places à $1995
221 CONVERTIBLE 2 portes 5 places à $2125
7 640 CUSTOM SEDAN 4 portes 5 places à $2175
56 UTILITY WAGON 2 portes 5 places à $1444
2 202 STATION WAGON 2 portes 5 places à $2095
9 039 CUSTOM ST WAGON 4 portes 5 places à $2200

le moteur est un 6 cylindres

de 184,1cid développant 85cv à 3800t/mn avec une compression de 7.25:1 pour la boite mécanique
de 195,6cid développant 90cv à 3600t/mn avec une compression de 7.3:1 pour la boite Hydra-Matic
ce véhicule était aux enchères sur ebay fin 2001 au prix de départ de $650 et $1500 pour un achat immédiat
c'est un sedan 4 portes à restaurer avec boite automatique
le proprio la dénomme 1954 Nah Rambler Farina. Il en dit ceci:
This car is currently not running, battery is missing. I was told it ran when last parked (1986. There is rust and bondo on both front and back fenders,and the floor. Everything seems to be there,except the front hood ornament and the keys! LOL. Has the "NASH" Hubcaps and the "N" gas cap. Original interior I believe. Needs total restoration inside and out...or you could use as a parts car? The chrome is all there though its a bit pitted. All the glass is there except the drivers side window is cracked. I have more detailed pictures, or if youd like pictures of anything specific let me know! Buyer is responsible for pick up and transport! Car is located on Griffith Street, off Eastern/Oakey.
PHOTOS DE LA NASH RAMBLER SEDAN 4dr 1954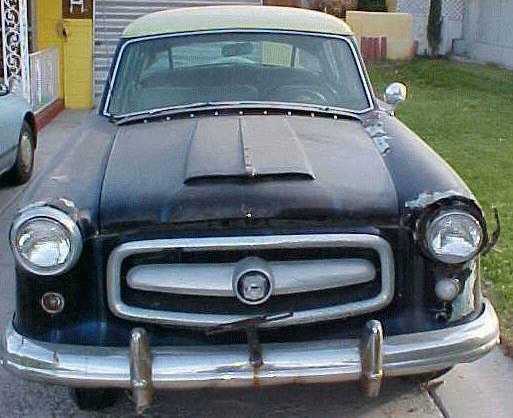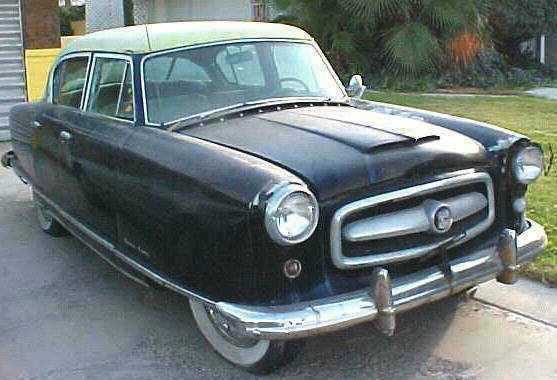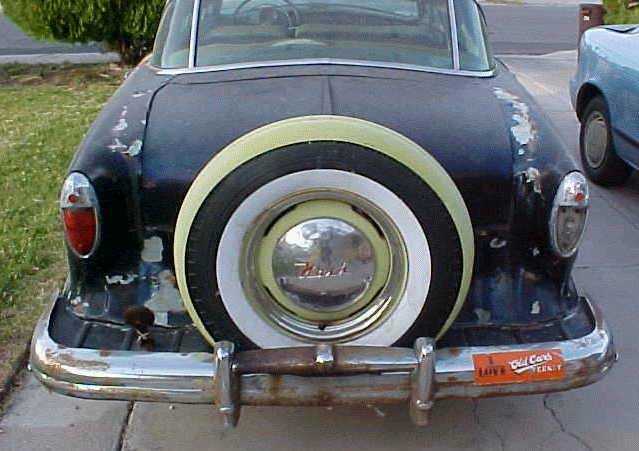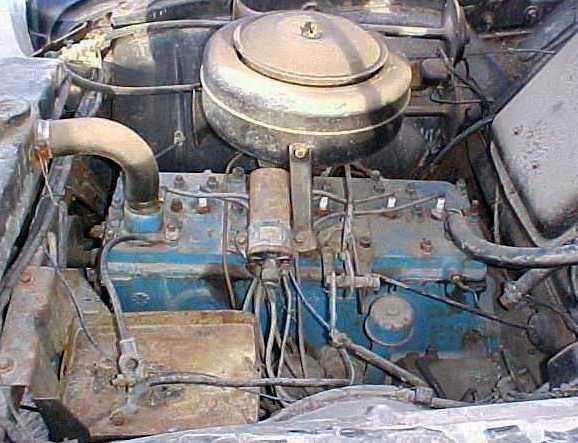 | | | |
| --- | --- | --- |
| | OU | |

des sites de https://trombinoscar.com