fiche créée le 31 juillet 2003 et mise à jour du 2 novembre 2006


| | |
| --- | --- |
| marque | NASH |
| modèle | RAMBLER |
| finitions | Sedan 4dr |
| année | 1 9 5 5 |
| quantité/prix | 83 852 Rambler 1955 / $1585 |
| carrosserie | berline 4 portes 5 places |
| moteur/boite | moteur 6cyl |
DU SITE D'ENCHERES <<E-BAY>> usa
hôte : e-bay, le fameux site d'enchères aux USA qui comprend toujours entre 1 et 2 millions d'objets à enchérir. C'est celui aussi qui a acheté notre iBazar national avec ses 4 à 600 mille objets aux enchères et qui est devenu ebay.fr

voitures américaines : il y en a toujours beaucoup avec de superbes photos sur le site américain. Le site français propose en général entre 2 et 4 pages d'objets et de voitures avec une certaine modestie pour les photos. Ceci va sans doute changer

photos : elles sont de kruseintl, nom de code ebay du vendeur bien connu
gamme 1955 : STATESMAN - AMBASSADOR - RAMBLER - METROPOLITAN
STATESMAN ou SERIES 40
avec moteur 6 cylindres de 195,6cid développant 100cv à 3800t/mn avec une compression de 7.45:1 et un carburateur monocorps

12 877 SUPER SEDAN 4 portes 6 places à $2215 ou CUSTOM SEDAN à $2385
1 395 HARDTOP COUPE 2 portes 6 places à $2495

AMBASSADOR ou SERIES 60
avec moteur 6 cylindres de 252,6cid développant 130cv à 42700t/mn avec une compression de 7.8:1 et un carburateur monocorps

13 809 SUPER SEDAN 4 portes 6 places à $2480 ou CUSTOM SEDAN à $2675
1 395 (?) HARDTOP COUPE 2 portes 6 places à $2795

AMBASSADOR V8 ou SERIES 80
avec moteur V8 Packard de 320cid développant 208cv à 4200t/mn avec une compression de 7.8:1 et un carburateur double corps

8 805 SUPER SEDAN 4 portes 6 places à $2775 ou CUSTOM SEDAN à $2965
1 775CUSTOM HARDTOP COUPE 2 portes 6 places à $3095

RAMBLER ou SERIES 10 en Fleet, DeLuxe, Super et Custom
moteur 6 cylindres de 195,6cid développant 90cv à 3800t/mn avec une compression de 7.3:1 et un carburateur monocorps

43 DELUXE BUSINESS SEDAN 2 portes 3 places à $1328
8 979 DELUXE CLUB SEDAN 2 portes 5 places à $1585
ou SUPER CLUB SEDAN 2 portes 5 places à $1683
15 998 DELUXE SEDAN 4 portes 6 places à $1695
ou SUPER SEDAN 4 portes 6 places à $1798
ou CUSTOM SEDAN 4 portes 6 places à $1989
14 FLEET UTILITY WAGON 2 portes 5 places à $?
2 379 SUPER SUBURBAN 2 portes 5 places à $1869
25 617 SUPER COUNTRY WAGON 4 portes 6 places à $1807
ou CUSTOM COUNTRY CLUB WAGON 4 portes 6 places à $298
2 993 CUSTOM HARDTOP COUNTRY CLUB 2 portes 6 places à $1995
1955 NASH RAMBLER 4 Door
This California 1955 Nash Rambler super is one neat little piece. This car still has the California title. The blue and white paint has a great shine. The interior has been replaced and is light gray in color. Body is very solid and straight. The car was a daily driver when purchased from the previous owner. This car is nice but not perfect. There is a picture of the paint that has a slight bubble along the door.
Feel confident that this car drives and runs good. The car is believed to have had restoration with in the last five years. The price is right and will sell. Please remember that this is an auction and the reserve price will be kept a secret until the end of the auction.
PHOTOS DE LA NASH RAMBLER SEDAN 4dr 1955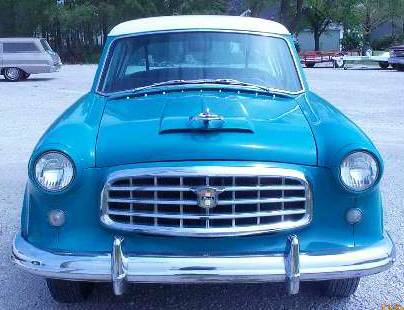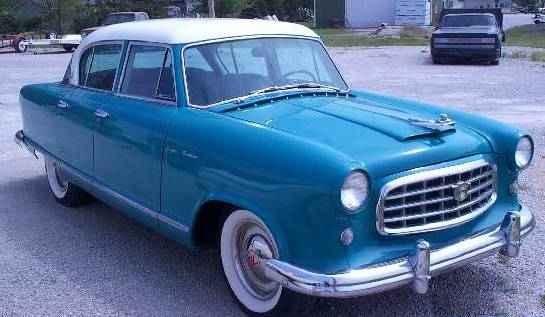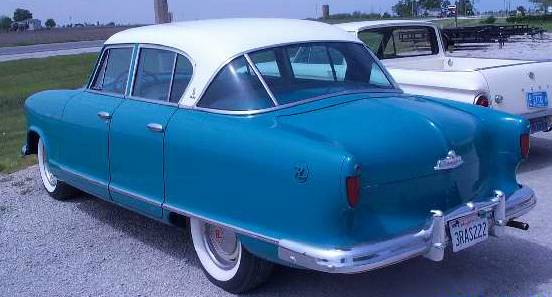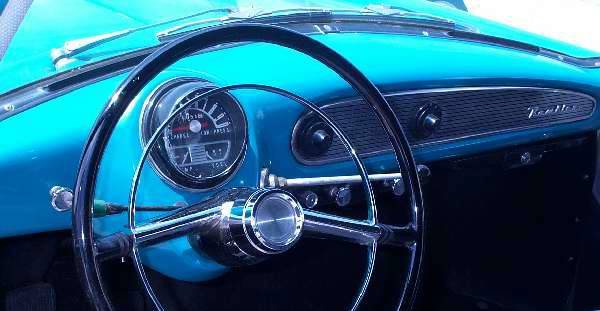 | | | |
| --- | --- | --- |
| | OU | |

des sites de https://trombinoscar.com