créée le 21 juin 2008 et mise à jour le 21 juin 2008


| | |
| --- | --- |
| marque | ZIMMER |
| modèle | GOLDEN SPIRIT |
| finitions | Landau KUSTOM |
| année | 1 9 8 2 |
| quantité/prix | exemplaires / $? |
| carrosserie | coupé 2 portes 5 places |
| moteur/boite | V8 de 5L - boîte auto |
<<BARRETT-JACKSON>> ENCHERES DE SCOTTSDALE 2008 (Arizona)
hôte : <<BARRETT-JACKSON>> se dit lui même "the world's greatest collector car events" met aux enchères un bon millier de voitures en une semaine à Scottsdale (Arizona) tous les ans en janvier. Puis c'est au tour de Las Vegas, Palm Beach etc etc
voitures américaines : c'est 95% des propositions au marteau
photos : du webmestre du trombinoscar en janvier 2008
CE QU'EN DIT LE COMMISSAIRRRE-PRISEUR
adjugé : $15000
1982 ZIMMER GOLDEN SPIRIT CUSTOM "LOG SPLITTER"
Summary : Part 1982 Zimmer Golden Spirit, part lumber jack, this luxury car with built-in log splitter can split the wood, then split the scene.
Description : For this build it was "goodbye, crash helmet" and "hello, wool cap," as Jesse and the crew created a log splitter out of a 1982 powder blue Zimmer Golden Spirit, a car made famous in the early '80s for an over-the-top, pimped-out luxury style. Jesse and his team cut the Zimmer in half, extending the car. After a log was dropped in, the car would come back together via a couple of hydraulic cylinders and thus split the log. The Log Splitter boasts an 18hp gas-driven V-twin engine, a 4-way/3-position control valve and a 7-gallon oil reservoir. Hydraulics expert Eddie Nahir assisted with the build of the Log Splitter. He was skeptical about getting the car working properly in five days, and he became very frustrated when Jesse changed the specs of the opening from 36" to 24". Among other things, Jesse and his team struggled on how to support the car to keep it from splitting in half while splitting the wood. THE BUILDERS: Jesse James, custom-bike builder/designer, West Coast Choppers, Long Beach, CA, Eddie Nahir, hydraulics expert and race-car driver, Woodland Hills, CA, Tim Rogers, mechanic and hydraulics expert, Benson, VT, Sam Vigliotti, welder and fabricator, Syracuse, NY, "Shovelhead" Willy Wilson, welder, fabricator, gearhead and biker, Mims, FL, Paul Hall, welder and fabricator, Moreno Valley, CA, and T. Jon Mayer, automotive designer, Philadelphia, PA. VEHICLE SPECS: Height: 57.5"; Width: 77"; Length: 208"; Ground Clearance: 3"; Weight: 6,000 pounds (1,500 pounds heavier than when they started). Painter: Pete "Hot Dog" Finlin, West Coast Choppers, Long Beach, CA. Additional Acquired or Machined Parts: Includes a log splitter, drive shaft, wheels and long lines for brakes and fuel system. Body Modifications: To make the Zimmer split in half, the team had to convert the unibody chassis into a rail-type one. Moving Parts: Includes a hydraulic cylinder and railing system. The telescopic drive shaft enables the car to lengthen 24 extra"
PHOTOS de la ZIMMER GOLDEN SPIRIT LANDAU KUSTOM 1982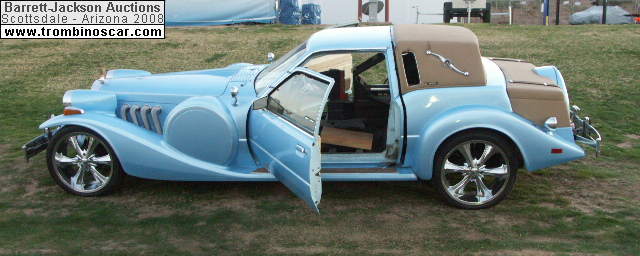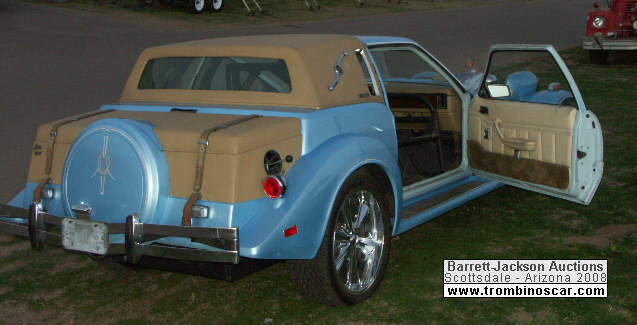 des sites de https://trombinoscar.com