fiche créée le 31 juillet 2003 et mise à jour du 31 juillet 2003

| | |
| --- | --- |
| marque | RAMBLER |
| modèle | AMERICAN |
| finitions | Super Station Wagon 2dr |
| année | 1 9 6 0 |
| quantité/prix | 15 093 exemplaires / $2105 |
| carrosserie | familiale 2 portes 6 places |
| moteur/boite | 6cyl de 195,6cid - 90cv à 3800t/mn |
DU SITE D'ENCHERES <<E-BAY>> usa
hôte : e-bay, le fameux site d'enchères aux USA qui comprend toujours entre 1 et 2 millions d'objets à enchérir. C'est celui aussi qui a acheté notre iBazar national avec ses 4 à 600 mille objets aux enchères et qui est devenu ebay.fr
voitures américaines : il y en a toujours beaucoup avec de superbes photos sur le site américain. Le site français propose en général entre 2 et 4 pages d'objets et de voitures avec une certaine modestie pour les photos. Ceci va sans doute changer
photos : elles sont du propriétaire-vendeur du nom de BuyerCom de Caroline du Nord
1960 Gamme
AMERICAN
moteur 6 cylindres de 195,6cid dévelopant 90cv à 3800t/mn avec une compression de 8.0:1 et un carburateur monocorps

DELUXE

22 593 SEDAN 4 portes 5 places à $1844
23 960 SEDAN 2 portes 5 places à $1795
630 BUSINESS COUPE 2 portes 3 places à $1781
12 290 STATION WAGON 2 portes 5 places à $2020

SUPER

21 108 SEDAN 4 portes 6 places à $1929
17 233 SEDAN 2 portes 5 places à $1880
15 093 STATION WAGON 2 portes 5 places à $2105

CUSTOM

3 272 SEDAN 4 portes 6 places à $2059
2 994 SEDAN 2 portes 5 places à $2010
1 430 STATION WAGON 2 portes 5 places à $2235

SIX
REBEL
AMBASSADOR
CE QU'EN DIT LE PROPRIETAIRE
1960 AMC Rambler American Station Wagon 60
Vehicle Description : Cute little Rambler American Super Station Wagon. Older repaint in the original Chatsworth Green/White tu tone. Basically straight and solid, California car still on California title and tags. original flathead 6 motor starts quick and runs strong.Has aftermarket electric fuel pump. Car drives and stops and everything works except the original radio. With some TLC and minor tinkering this can be a funky little daily driver/grocery getter. Better yet use it as the basis for the all out full restoration that it deserves. Would also make a killer pro street rod. Interior is presentable, seats were redone in solid green vinyl years ago and are solid and serviceable, door panels are original but have been cut for speakers and are worn. Headliner has some rips in rear area. Body is straight and solid, drivers door has some bondo but looks to be from long ago poor dent repair. Floors show some rusting and rust through as a result of condensation sweating under original rubber floor mat.
Vehicle Condition : Certainly not a show car, but a worthy and deserving project for a somewhat rare car and body style. Seen any for sale lately ?? Personal inspection and test drive invited and encouraged. Vehicle does need some work and is sold as is where is. Please ask all questions before bidding.*** Please note that I will be unavailable for email questions from 5/28 until 6/1 but will reply promptly when I return. Thanks.
PHOTOS DE LA RAMBLER AMERICAN SUPER STATION WAGON 2dr 1960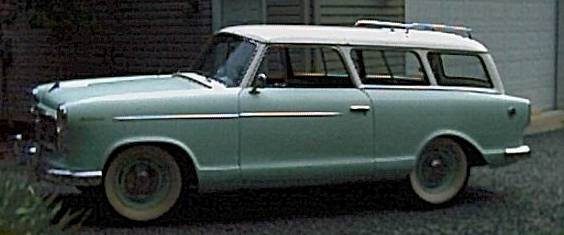 | | | |
| --- | --- | --- |
| | OU | |

des sites de https://trombinoscar.com