fiche créée le 6 mai 2004 et mise à jour du 6 mai 2004

| | |
| --- | --- |
| marque | RAMBLER |
| modèle | CLASSIC 550 |
| finitions | 550 Sedan 4dr |
| année | 1 9 6 5 |
| quantité/prix | 30 869 exemplaires / $2192 |
| carrosserie | berline 4 portes 6 places |
| moteur/boite | 6cyl de 198,8cid - 128cv |
DU SITE D'ENCHERES <<E-BAY>> usa
hôte : e-bay, le fameux site d'enchères aux USA qui comprend toujours entre 1 et 2 millions d'objets à enchérir. C'est celui aussi qui a acheté notre iBazar national avec ses 4 à 600 mille objets aux enchères et qui est devenu ebay.fr
voitures américaines : il y en a toujours beaucoup avec de superbes photos sur le site américain. Le site français propose en général entre 2 et 4 pages d'objets et de voitures avec une certaine modestie pour les photos. Ceci va sans doute changer
photos : elles sont du propriétaire-vendeur "Rambler Man" de Kennesaw en Georgie près d'Atlanta
RAMBLER commercialisait
AMERICAN

SERIES 220 : moteur 6 cylindres de195,6cid développant 90cv à 3800t/mn, compression 8.0:1 et carburateur monocorps

13 700 SEDAN 4 portes 6 places à $2036
26 409 SEDAN 2 portes 6 places à $1979
5224 STATION WAGON 2 portes 6 places à $2312

SERIES 330 : moteur 6 cylindres de195,6cid développant 90cv à 3800t/mn, compression 8.0:1 et carburateur monocorps

15 148 SEDAN 4 portes 6 places à $2129
9 065 SEDAN 2 portes 6 places à $2072
12 313 STATION WAGON 2 portes 6 places à $2396

SERIES 440 : moteur 6 cylindres de195,6cid développant 125cv à 4200t/mn, compression 8.7:1 et carburateur monocorps

5 194 SEDAN 4 portes 6 places à $2222
3 882 CONVERTIBLE 2 portes 5 places à $2418
8 164 HARDTOP 440H 2 portes 4 places à $2327
13 784 HARDTOP COUPE 2 portes 6 places à $2205

CLASSIC

SERIES 550 : moteur 6 cylindres de198,8cid développant 128cv à 4400t/mn, compression 8.5:1 et carburateur monocorps

30 869 SEDAN 4 portes 6 places à $2192
7 082 SEDAN 2 portes 6 places à $2142
13 759 STATION WAGON 4 portes 6 places à $2522

SERIES 660 : moteur 6 cylindres de 231,9cid développant 155cv à 4400t/mn, compression 8.5:1 et carburateur double-corps
ou option moteur V8 de 287cid développant 198cv à 4700t/mn, compression 8.7:1 et carburateur Holley

50 638 SEDAN 4 portes 6 places à $2287
4 561 SEDAN 2 portes 6 places à $2282
32 444 STATION WAGON 4 portes 6 places à $2624

SERIES 770 : moteur 6 cylindres de 231,9cid développant 155cv à 4400t/mn, compression 8.5:1 et carburateur double-corps
ou option moteur V8 de 287cid développant 198cv à 4700t/mn, compression 8.7:1 et carburateur Holley

23 603 SEDAN 4 portes 6 places à $2436
4 953 CONVERTIBLE 2 portes 6 places à $2696
15 623 STATION WAGON 4 portes 6 places à $2727
14 778 HARDTOP COUPE 2 portes 6 places à $2436
5 706 HARDTOP 770H 2 portes 5 places à $2548

MARLIN
AMBASSADOR

SERIES 880
moteur 6 cylindres de 231,9cid développant 155cv à 4400t/mn, compression 8.5:1 et carburateur double-corps

10 564 SEDAN 4 portes 6 places à $2565
1 301 SEDAN 2 portes 6 places à $2512
3 812 STATION WAGON 4 portes 6 places à $2879

SERIES 990
moteur 6 cylindres de 231,9cid développant 155cv à 4400t/mn, compression 8.5:1 et carburateur double-corps
ou option moteur V8 de 326,7cid développant 250cv à 4700t/mn, compression 8.7:1 et carburateur Holley quadruple-corps

24 852 SEDAN 4 portes 6 places à $2656
3 499 CONVERTIBLE 2 portes 6 places à $2955
8 701 STATION WAGON 4 portes 6 places à $2970
5 034 HARDTOP COUPE 2 portes 6 places à $2669
6 382 HARDTOP 990H 2 portes 5 places à $2837
Very nice original, low miles, drive anywhere
Vehicle Description : 1965 Rambler Classic 550. Very low miles. Rare car. Everything works and can be driven anywhere, many compliments from other drivers. Has updated radial tires. New brake system, master cylinder, all new steel lines, wheel cylinders. All stock appearance, even the original AM radio works.
Vehicle Condition : Does have a couple small dings and scratches, no real need to repair, unless you want to restore the car. Front seat has one rip, passenger side.
PHOTOS DE LA RAMBLER CLASSIC SEDAN 4dr 1965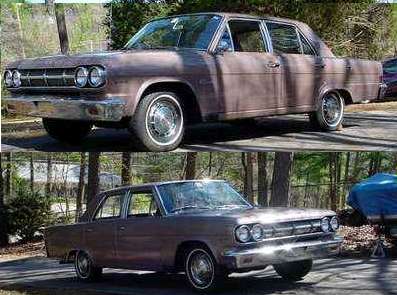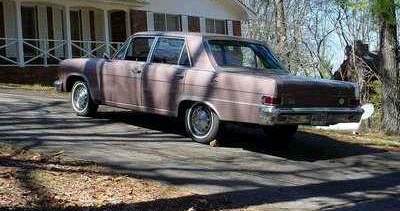 | | | |
| --- | --- | --- |
| | OU | |

des sites de https://trombinoscar.com