créée le 16 novembre 2008 et dernière mise à jour le 16 novembre 2008

| | |
| --- | --- |
| marque | JEEP |
| modèle | Series FC-150 |
| finitions | Forward Control Pickup 1/2 Ton |
| année | 1 9 5 9 |
| quantité/prix | $2533 |
| carrosserie | pickup à cabine avancée 2 portes 2 places |
| moteur/boite | 4cyl de 134,2cid |
<<BARRETT-JACKSON>> ENCHERES DE SCOTTSDALE 2008 (Arizona)
hôte : <<BARRETT-JACKSON>> se dit lui même "the world's greatest collector car events" met aux enchères un bon millier de voitures en une semaine à Scottsdale (Arizona) tous les ans en janvier. Puis c'est au tour de Las Vegas, Palm Beach etc etc
voitures américaines : c'est 95% des propositions au marteau
photos : du webmestre du trombinoscar en janvier 2008
gamme Willys Jeep 1959
JEEP

1/4 Ton Universal 4x4 en 80" et 81"
1/2 Ton Universal 4x4

DISPATCHER
JEEP TRUCKS 1/2 Ton

en 4x2 et 4x4
en 4 et 6 cylindres

JEEP TRUCKS 1 Ton

en 4x2 et 4x4
en 6 cylindres

FC-150 FORWARD CONTROL 1/2 Ton 4x4
moteur 4 cylindres de 134,2cid développant 72cv à 4000t/mn

CHASSIS CABINE à $2416
PICKUP à $2533
PLATFORM STAKE à $2634

FC-170 FORWARD CONTROL 1 Ton 4x4

CHASSIS CABINE à $2722
PICKUP à $2858
PLATFORM STAKE à $3065
CE QU'EN DIT LE COMMISSAIRE PRISEUR
adjugé $20500
1959 WILLYS FC150 PICKUP CYL4 134 3-SPEED MANUAL
Summary : Restored cosmetically to prize-winning and original specs. Complete engine rebuild, balanced drivetrain, fresh interior and new tires.
Description : I purchased this Jeep 12/98 with most of the cosmetic/paint work completed. We rebuilt the original engine, new water pump, clutch assembly, belt, hoses, oil lines and Recore radiator using original tanks and brackets. New bearings and seals in the 3-speed transmission and transfer case. New brakes, shocks and frame repainted. Bumpers repainted. Upgraded non-functioning vacuum wiper motor for electric. All other systems restored to original condition. 1,800 miles on new odometer since restoration. New non-directional military tires. This truck has been used for promotions and advertising for my business. Entered in two local car shows to win a First Place in one and Second in the other. Used in parades, etc. Beautiful example and rare to find in this condition.
PHOTOS de la JEEP FC-150 FORWARD CONTROL PICKUP 1959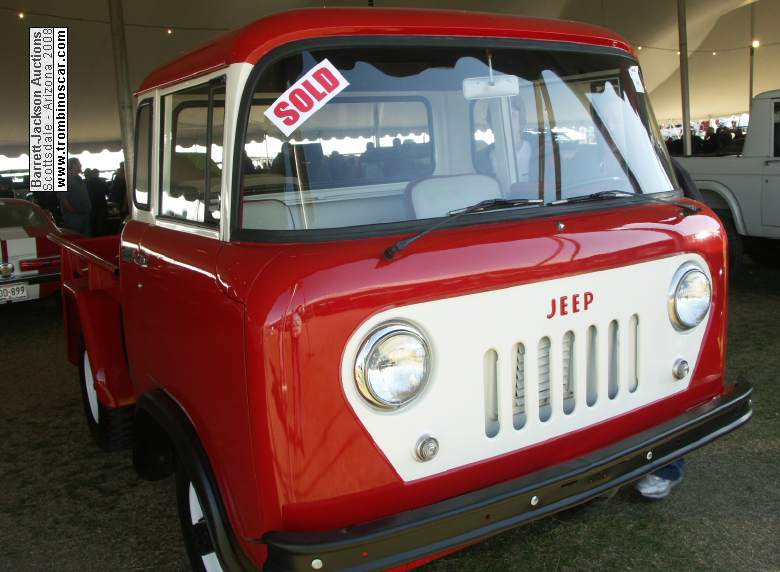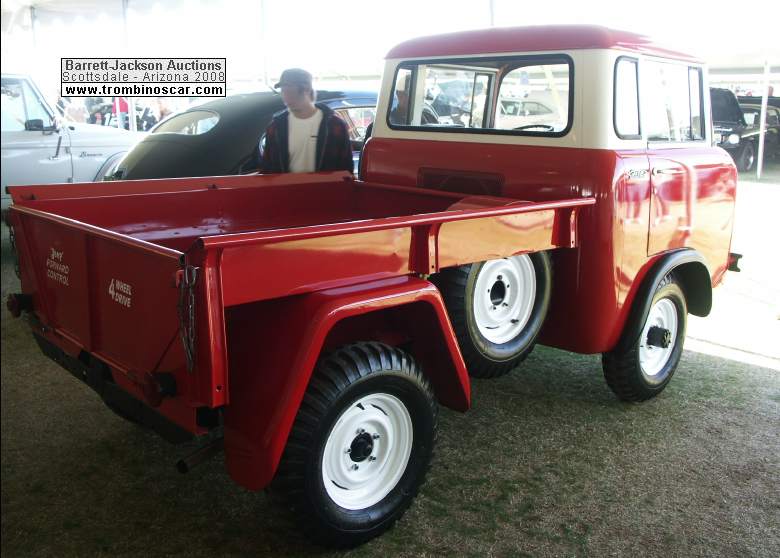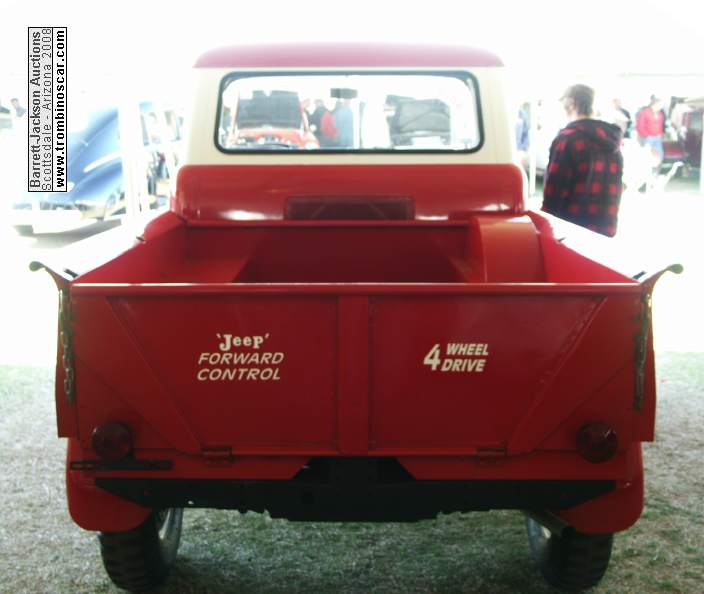 | | | |
| --- | --- | --- |
| | ou | |

des sites de https://trombinoscar.com