fiche créée le 26 mai 2008 et derniere mise à jour le 26 mai 2008


marque

FORD

modèle

01A - V8

finitions

Chopped Coupe
"BARRIS"

année

1 9 4 0

quantité / prix

23 704 exemplaires / $850

carrosserie

coupé 2 portes 3 places
abaissé et reconstruit par les frères Barris

moteur/boite

modifié V8 de 233cid
<<BARRETT-JACKSON>> ENCHERES DE SCOTTSDALE 2008 (Arizona)
hôte : <<BARRETT-JACKSON>> se dit lui même "the world's greatest collector car events" met aux enchères un bon millier de voitures en une semaine à Scottsdale (Arizona) tous les ans en janvier. Puis c'est au tour de Las Vegas, Palm Beach etc etc
voitures américaines : c'est 95% des propositions au marteau
photos : du webmestre du trombinoscar en janvier 2008
pour 1940, model 01A EIGHT et model 022A EIGHT
model 022A EIGHT STANDARD
moteur V8 de 135cid développant 60cv à 3500t/mn avec une compression de 6.6:1 et un carburateur doublecorps

33 693 COUPE 2 portes 3 places à $660
16 785 BUSINESS COUPE 2 portes 5 places à $680
150 933 TUDOR SEDAN 2 portes 5 places à $700
25 545 FORDOR SEDAN 4 portes 5 places à $750
4 469 STATION WAGON 4 portes 5 places à $875

model 01A EIGHT DELUXE
moteur V8 de 221cid développant 85cv à 3800t/mn avec une compression de 6.1:1 et un carburateur doublecorps

27 919 COUPE 2 portes 3 places à $721
20 183 BUSINESS COUPE 2 portes 5 places à $745
171 368 TUDOR SEDAN 2 portes 5 places à $765
91 756 FORDOR SEDAN 4 portes 5 places à $810
23 704 CONVERTIBLE COUPE 2 portes 5 places à $850
8 730 STATION WAGON 4 portes 5 places à $950

Pas d'infos pour les utilitaires
CE QU'EN DIT LE COMMISSAIRE PRISEUR
adjugé $70000
1940 FORD 2 DOOR HOTROD COUPE 223CI 3SPEED MANUAL
Summary : A Hot Rod Kustom from Barris Kustoms during their early years at the Atlantic Ave shops in Los Angeles, CA. Documented by George Barris.
Description : "A 1940 Ford chopped coupe found in a chicken ranch barn in Yucaipa, CA. Restored to preserve the Kustom features of the find including shaved drip rails and door handles, frenched head and taillights, leaded molded fenders and 6 -7" chop from the original Ford lines. Chromed Radir single ribbed wheels added with chromed De Soto bumpers. Ford Flathead rebuilt with original speed equipment and Offenhouser heads. Eddie Meyer custom intake, LaSalle 3-speed transmission and Lincoln brakes. Paint and striping by E-Dog of Riverside and interior by Kiwi Kustoms also of Riverside. Along the way of this project, the find was documented and authenticated by George Barris as a part of Barris Industries permanent collection. Not a copy. An original one-of-a-kind.
PHOTOS DE LA FORD V8 DELUXE "BARRIS" COUPE 1940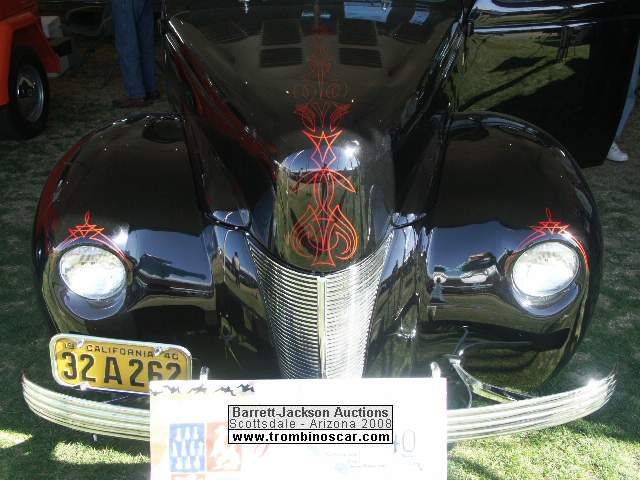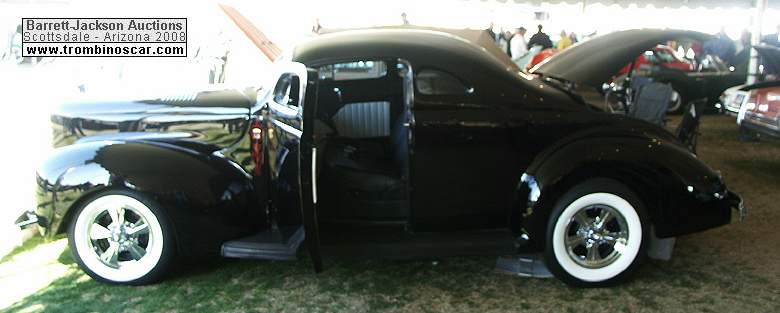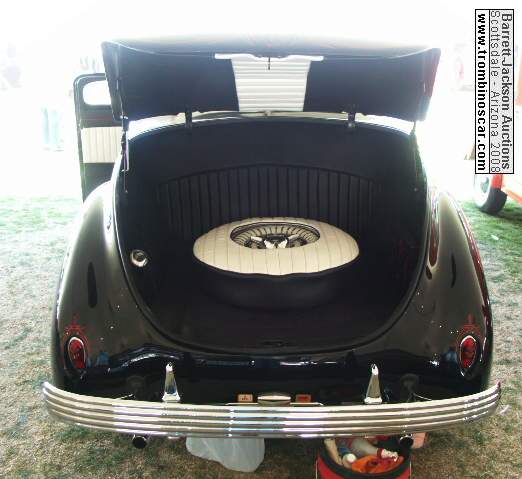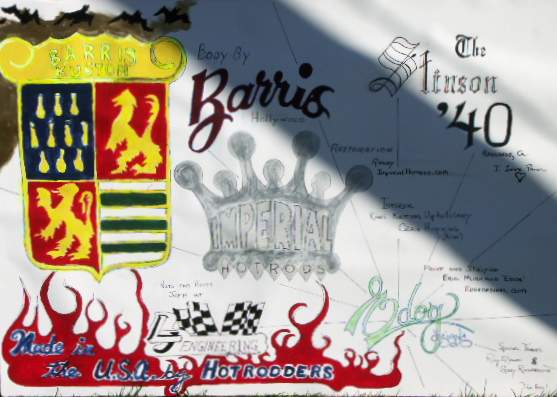 des sites de http://www.mainguet.com