cree le 12 mai 2009 et derniere mise a jour le 12 mai 2009

| | |
| --- | --- |
| marque | MERCURY |
| modèle | MONTEREY |
| finitions | Station Wagon (Woody) |
| année | 1 9 5 3 |
| quantité/prix | 7 719 exemplaires / $2591 |
| carrosserie | familiale 4 portes 6 places |
| moteur/boite | V8 de 255,4cid - 125cv |
<<BARRETT-JACKSON>> ENCHERES DE SCOTTSDALE 2008 (Arizona)
hôte : <<BARRETT-JACKSON>> se dit lui même "the world's greatest collector car events" met aux enchères un bon millier de voitures en une semaine à Scottsdale (Arizona) tous les ans en janvier. Puis c'est au tour de Las Vegas, Palm Beach etc etc
voitures américaines : c'est 95% des propositions au marteauj
photos : du webmestre du trombinoscar en janvier 2008
gamme Mercury 1953 : CUSTOM et MONTEREY
moteur V8 de 255,4cid développant 125cv à 3800t/mn avec une compression de 7.2:1 et un carburateur double corps
CUSTOM

39 547 SPORT COUPE 2 portes 6 places à $2117
50 183 SEDAN 2 portes 6 places à $2004
59 794 SEDAN 4 portes 6 places à $2057

`MONTEREY

76 119 HARDTOP COUPE 2 portes 6 places à $2244
8 463 CONVERTIBLE 2 portes 6 places à $390
64 038 SEDAN 4 portes 6 places à $2133
7 719 STATION WAGON 4 portes 6 places à $2591
CE QU'EN DIT LE COMMISSAIRE-PRISEUR
adjugé $45000
1953 MERCURY MONTEREY 4DR WOODY WAGON V8-255 3 SPEED MANUAL
Summary : Stunning black Woody in original stock configuration, except electrical system upgrade to 12-volt. Has spent most of its life in California.
Description : This stunning black example of the 1953 Mercury Monterey Woody Wagon has spent most of its life in Southern California and sports the following original features: Flathead V8 (255cid/125hp), 3-speed overdrive manual transmission and two tone turquoise/black interior. This Monterey Wagon has been upgraded to a 12-volt electrical system. In 1953, the Mercury line was divided into Custom and top of the line Monterey models. The VIN indicates that this Monterey was produced in Los Angeles, California, plant (code LA). The data plate indicates a 118" (code BG) 8-passenger wagon (code 79B) with black exterior (code 377) with Turquoise and Black interior as well as that it was the fourteenth car produced at the Los Angeles plant (code 14) on May 7, 1953 (code 7E). Surviving '53 Monterey Wagons are obviously rare. How many have you seen? While it's not known how many have survived, the international Mercury Owner Association (IMOA) 2006-2007 Registry has five listed, including this one. This fine investment-grade vehicle is a stunning head turner that's fun to drive, show and enjoy. It runs, looks and drives like a dream. A little Mercury and Woody wagon history: In 1939, Ford Motor Company created the Mercury Division and vehicle line to plug the midsize/price gap between the utilitarian Ford line and the luxury Lincoln line. (Lincoln had been purchased by Ford in 1922.) Unlike the later Edsel experiment, the Mercury experiment was very successful with a consistent sales rank through the 1950's of 5th to 8th in relation to all manufactures' lines in the US. 1951 was the last year of wood wagons for both Ford and Mercury. While both divisions shifted to all steel wagons in 1952, for those who had difficulty accepting the transition, both divisions offered wood grain appliqués and trim to sooth these customer's nerves (and serve their market). 1953 was the last year that the outlining trim of the wood grain appliqués and trim was real wood. Due to continued demand, these steel Woodys were offered into the 1960's and 1970's.
PHOTOS DE LA MERCURY MONTEREY STATION WAGON 1953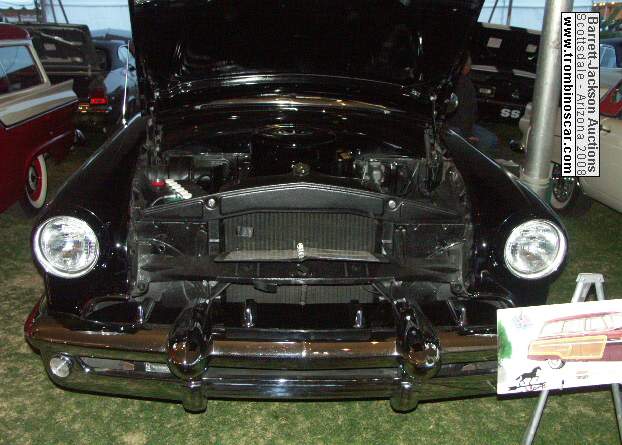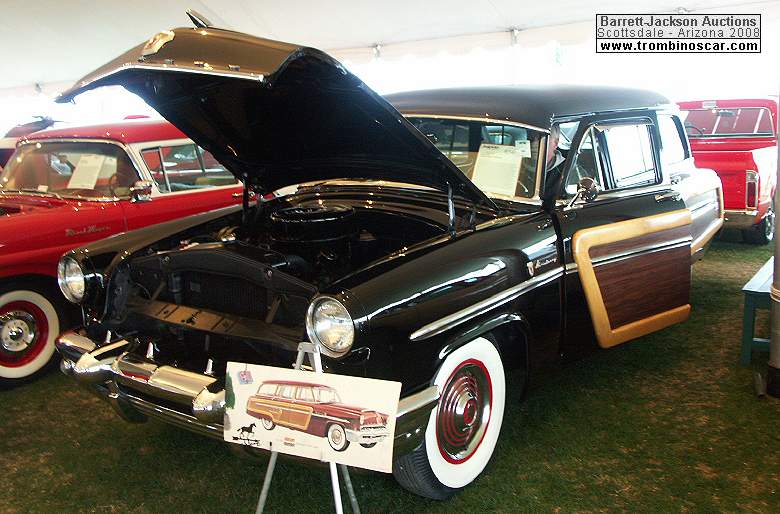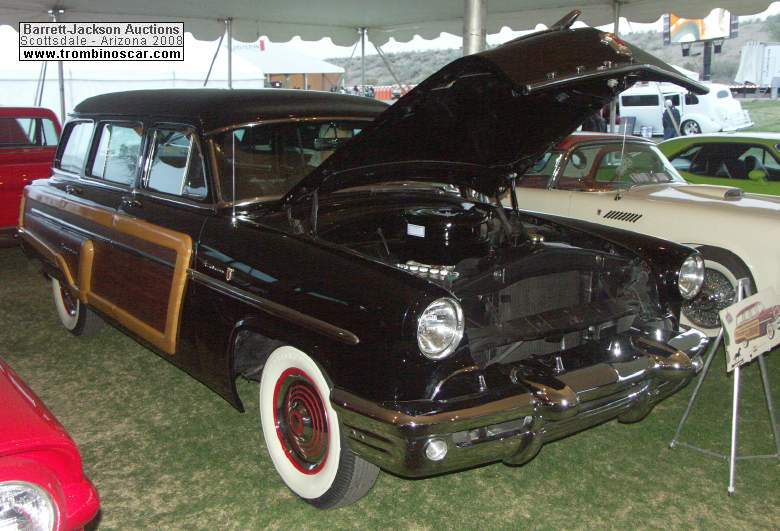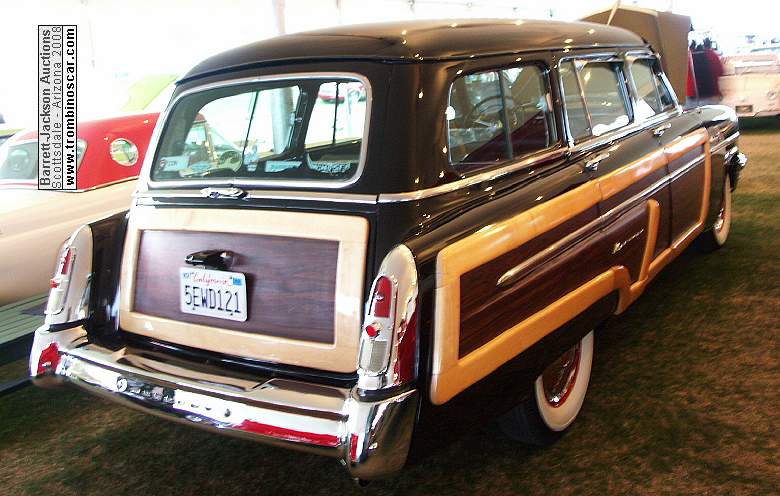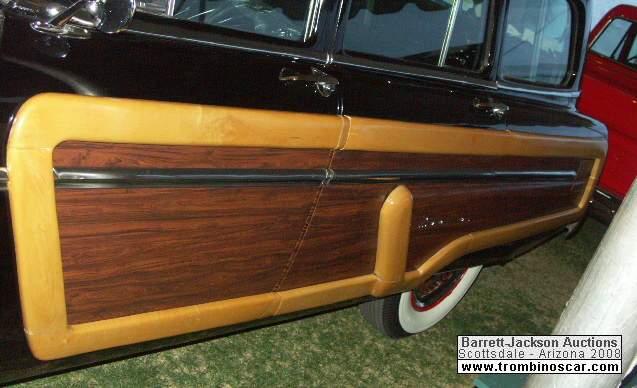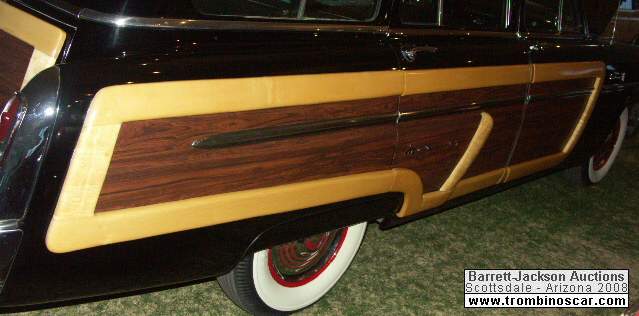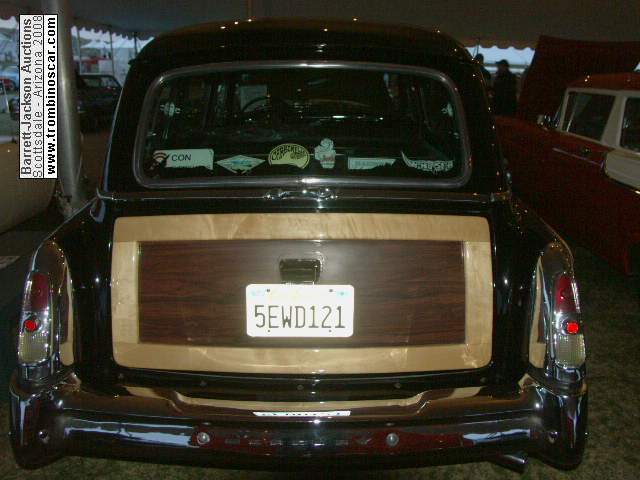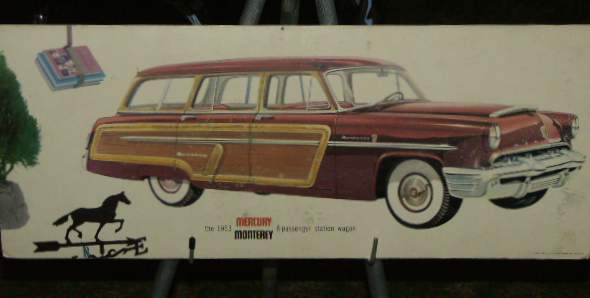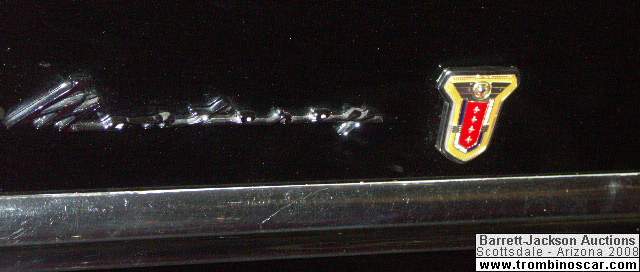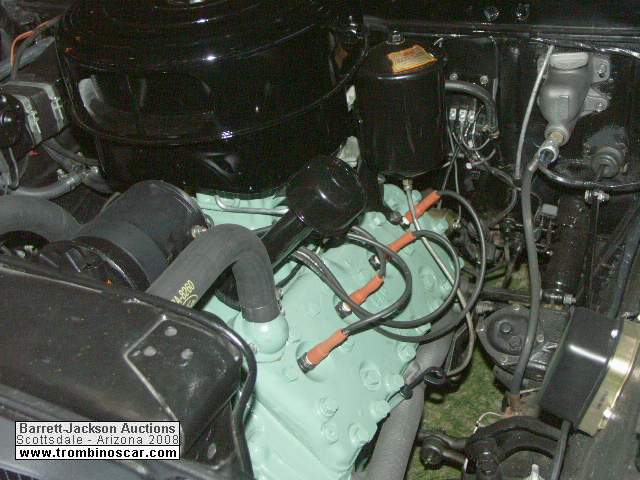 des sites de http://www.mainguet.com