créée le 5 février 2002 et mise à jour du 31 juillet 2003

marque

AUBURN-REPLICA

modèle

BOAT-TAIL

finitions

Speedster

année

1 9 3 2 réplique de 1981
Ressemble plus à une réplique 1936 que 1932......

quantité/prix

inconnu

carrosserie

spider 2 places

moteur/boite

V8 Ford de 302cid
DU SITE D'ENCHERES <<E-BAY>> usa
hôte : e-bay, le fameux site d'enchères aux USA qui comprend toujours entre 1 et 2 millions d'objets à enchérir. C'est celui aussi qui a acheté notre iBazar national avec ses 4 à 600 mille objets aux enchères et qui est devenu ebay.fr

voitures américaines : il y en a toujours beaucoup avec de superbes photos sur le site américain. Le site français propose en général entre 2 et 4 pages d'objets et de voitures avec une certaine modestie pour les photos. Ceci va sans doute changer

photos : elles sont de "kruseintl", nom de code ebay du vendeur professionnel
ce véhicule était aux enchères sur ebay fin 2001 au prix de $16300 et le prix de réserve n'était pas encore atteint
elle se situe à Waycross (GA)
le proprio en dit ceci:

1932 Auburn Speedster Boat Tail Speedster Replica
If you are looking to purchase that perfect car at the right price, look no further! This is your opportunity to purchase a quality vehicle for less than what you'd find at your local classic dealer or private seller. This vehicle is part of a new program from Kruse International to bring excellent cars to you at quality prices, but this car will last for long on Ebay, so don't let your opportunity to own this car slip away.
This is it folks! Your chance to own your very on Auburn Boat tail Speedster. This car was manufactured by Auburn Speedster company in Pasadena California in 1981. The model date of this car is a 1932 and it holds all the beauty of the original. The car is powered by a Ford 302 V-8 and has an automatic transmission. The car only has 5000 original miles on it and sports Auburn wire wheels on wide white walls. The interior is leather and in excellent condition. This car has been taken well care of and as it's next owner you would want shower it with the same love. If you are a true Auburn Enthusiast then you know that no collection is complete without a speedster. Don't let this chance zoom by you!
VIN #: CCC78-1236, Exterior: Brown, Interior: White Leather in Excellent Condition, Engine: 302 V8 Automatic, Odometer Reading: 5000 Actual Miles, Built in 1981 by Auburn Speedster Company, Auburn Wire Wheels, Power Steering, Power Brakes
If you have any questions, email or contact John at 800-968-4444, ext 251. As questions are asked and in turn answered, we will try to post at the bottom of this page the answers. Therefore, please check below for additional information on this auction before asking for additional information.
PHOTOS DE LA AUBURN BOAT-TAIL 1932 REPLICA 1981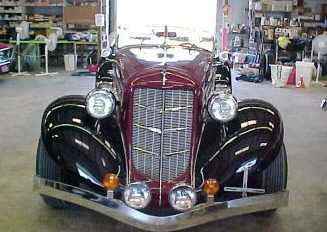 PHOTOS DE LA AUBURN 851 SPEEDSTER 1928/1935 de MARCEL JAUDOU
la carrosserie est sculptée dans un bloc de bois de Movingui (bois jaune africain)
Les équipements sont en aluminium poli et acier. La direction est fonctionnelle. Les sièges sont en cuir
Le Maquettiste Marcel Jaudou est sculpteur- maquettiste pour son plaisir, Il habite l'Hérault à La Grand Motte