cree le 24 mai 2009 et derniere mise a jour le 24 mai 2009
| | |
| --- | --- |
| marque | (CCC) CHAMPION |
| modèle | LAND CRUISER |
| finitions | Motorhome |
| année | 1 9 6 7 |
| quantité / prix | / $ |
| carrosserie | motorhome 8cyl |
<<BARRETT-JACKSON>> ENCHERES DE SCOTTSDALE 2008 (Arizona)
hôte : <<BARRETT-JACKSON>> se dit lui même "the world's greatest collector car events" met aux enchères un bon millier de voitures en une semaine à Scottsdale (Arizona) tous les ans en janvier. Puis c'est au tour de Las Vegas, Palm Beach etc etc
voitures américaines : c'est 95% des propositions au marteau
photos : du webmestre du trombinoscar en janvier 2008
CE QU'EN DIT LE COMMISSAIRE PRISEUR
adjugé $19000
1967 CHAMPION LAND CRUISER 8cyl 534cid AUTOMATIC
Summary : Built by Custom Coach using a Champion Carriage chassis and Flxible front and rear caps for a coach with air ride suspension.
Description : This is a 1967 Champion Land Cruiser by Custom Coach Corporation. Custom Coach built this coach using a Champion Carriage chassis and Flxible front and rear caps. They did this because they wanted a coach with an air ride suspension. Flxible buses did not have air ride at the time. This one looks like a Flxible Hi-Level. This coach is powered by a 534cid. Ford industrial gasoline V8 and an Allison 6-speed automatic transmission. It has air brakes, an 8 bag air ride suspension and an air horn. The fuel tank holds 150 gallons of gas. Next to the engine is a 12.5 KW Kohler gas generator. There is also a heavy cord for shore power. The exterior features includes tan Sherwin Williams paint, thick aluminum front and rear bumpers, awnings for all of the side windows, corrugated stainless steel sides, trailer hitch, backup camera, two luggage bays for storage and two 5 gallon propane cylinders. The holding tanks includes an 80+ fresh water tank and a 100 gallon gray/black tank. The hot water heater is electric. The interior is mostly white and pink. The ceiling is white vinyl with white diamond pattern vinyl towards the front. The wallpaper is white and pink. There is pink carpeting throughout. The bedroom has a walk around queen bed, TV table and plenty of drawers and cabinets. Next to that are two closets. The kitchen has a 3 burner stove with oven, a microwave, double sink, Dometic refrigerator and also plenty of cabinets. There are also two roof air conditioners, two vents, Fan-Tastic fan, three electric heaters and a propane forced air ducted heater. The front has a couch bed, single couch and dinette with folding leaves. There is also a removable table that has a map of the US on the top. It stows in a small closet. The passenger seat swivels around for use with the dinette. The light fixture in the center of the coach is a set of four glass squares. The other fixtures are metal cones. The cone fixtures run on 12 volts and the rest on 120 volts. There is fluorescent lighting throughout as well. The bathroom has a combination of yellow, orange, brown and silver wallpaper. It has a lavatory, shower stall and toilet. There is a really cool glass rod light fixture in there as well as metal cone fixtures. This is a nice example of a well-made 60's motor coach.
PHOTOS du CHAMPION LAND CRUISER MOTORHOME 1967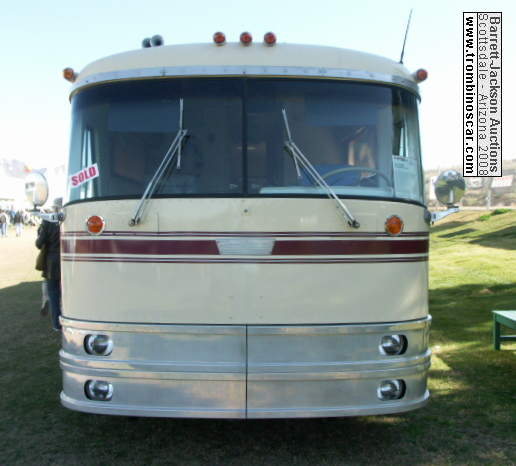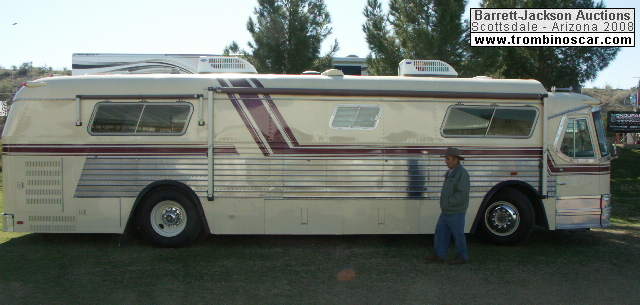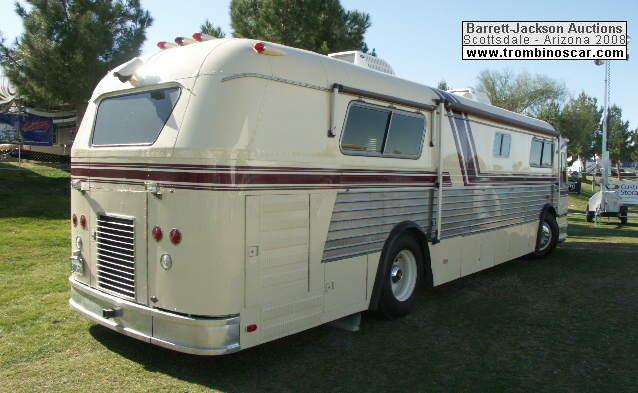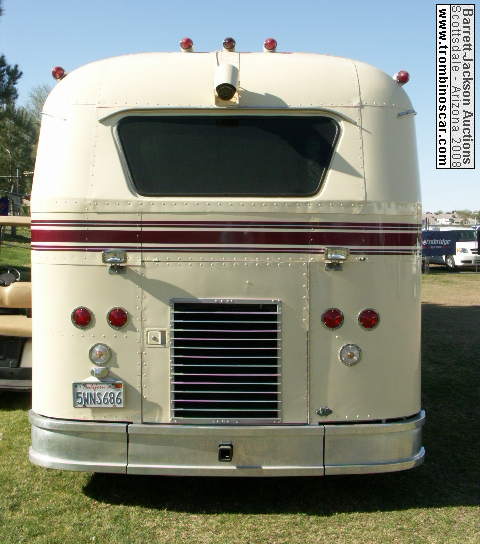 | | | |
| --- | --- | --- |
| | OU | |
des sites de https://trombinoscar.com