cree le 5 octobre 2009 et derniere mise a jour le 5 octobre 2009


| | |
| --- | --- |
| marque | FORD |
| modèle | model T |
| finitions | HEARSE ROD Delivery |
| année | 1 9 2 6 |
| quantité/prix | base châssis T / $290 |
| carrosserie | hotrod corbillard 2 places |
| moteur/boite | V8 de 468cid |
<<BARRETT-JACKSON>> ENCHERES DE SCOTTSDALE 2008 (Arizona)
hôte : <<BARRETT-JACKSON>> se dit lui même "the world's greatest collector car events" met aux enchères un bon millier de voitures en une semaine à Scottsdale (Arizona) tous les ans en janvier. Puis c'est au tour de Las Vegas, Palm Beach etc etc
voitures américaines : c'est 95% des propositions au marteau
photos : du webmestre du trombinoscar en janvier 2008
le modèle Touring passe de trois à quatre portes
T

364 409 TOURING 4 portes 5 places à $290 et $375
342 575 RUNABOUT 2 portes 2 places à $260 et $345
270 331 SEDAN 2 portes 5 places à $580
102 732 SEDAN 4 portes 5 places à $660
288 342 COUPE 2 portes 2 places à $520
75 406 PICKUP 2 portes 2 places à $281 et $366
58 223 CHASSIS CAR Tà $225 et $290

TT

228 496 CHASSIS TRUCK TT à $365 et $430

dont 142 852 en OPEN CAB pour +$65
? en CLOSED CAB pour +$85
? en EXPORESS BODY pour +$55
? en EXPRESS CLOSEC CAB pour +$110
? en PLATFORM BODY pour +$50
CE QU'EN DIT LE COMMISAIRE-PRISEUR
adjugé $50000
1926 FORD T CUSTOM C CAB DELIVERY V8/468 AUTOMATIC 3 SPEED
Summary : One-of-a-kind custom. Hearse-style themed car with a blown 468, organ pipes, 137" wheelbase and cozy coffin interior.
Description : This is a one-of-a-kind hearse-style theme car built in 2006 by Kustom Koffins and is known as "The Reaper's Ride", currently registered as a 1926 Ford. Professionally built blown 468BBC topped off with a set of chromed out organ pipes estimated 875 horsepower. Transmission is a race prepped turbo 350. Nine inch posi differential, 137 inch wheelbase. Custom Transparent mirrored windows. Interior is fitted with coffin shaped seat backs and creased velvet throughout and is equipped with flame throwing system which exits from roof of car. So far this unique ride has baffled judges and has stopped spectators by the masses and has unlimited media capability. It has received great attention and recognitions from some of the best in the business. Indoor car shows can't argue with its imaginative parts and styling. It simply has the look to stop you dead in your tracks.
PHOTOS DU FORD model T HEARSE ROD DELIVERY 1926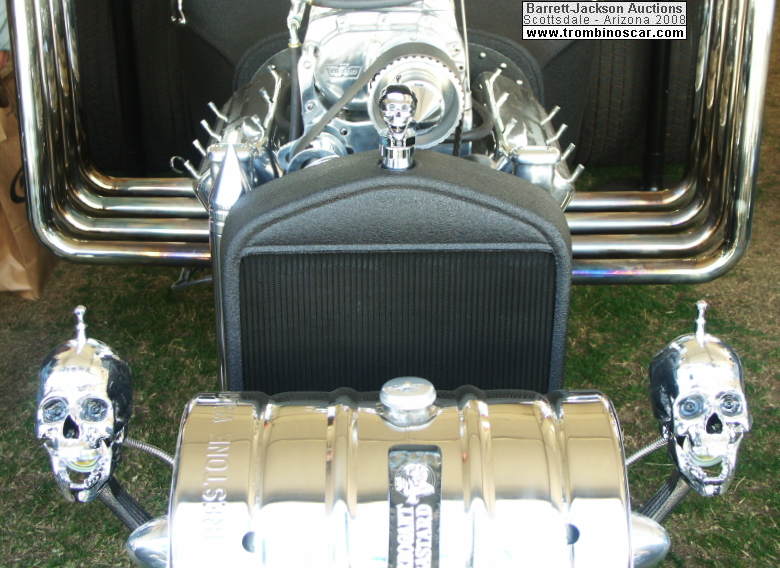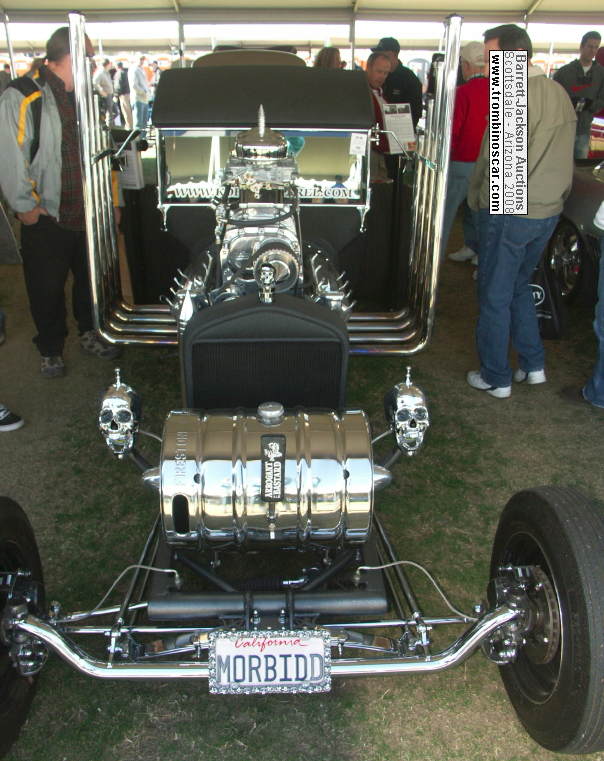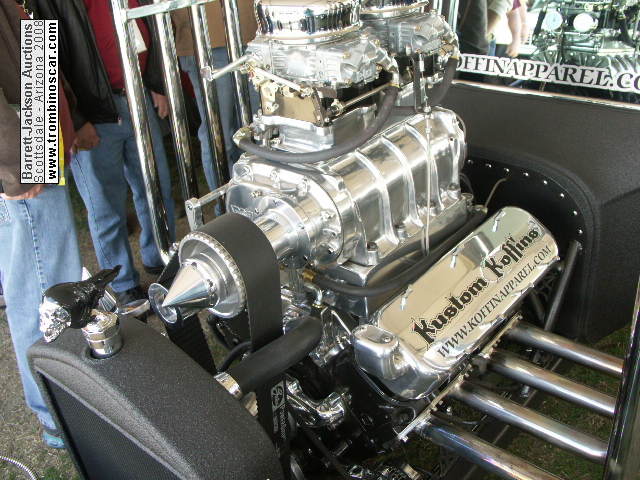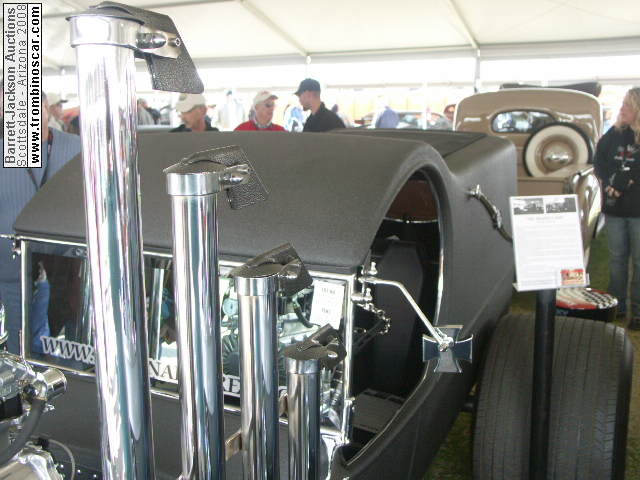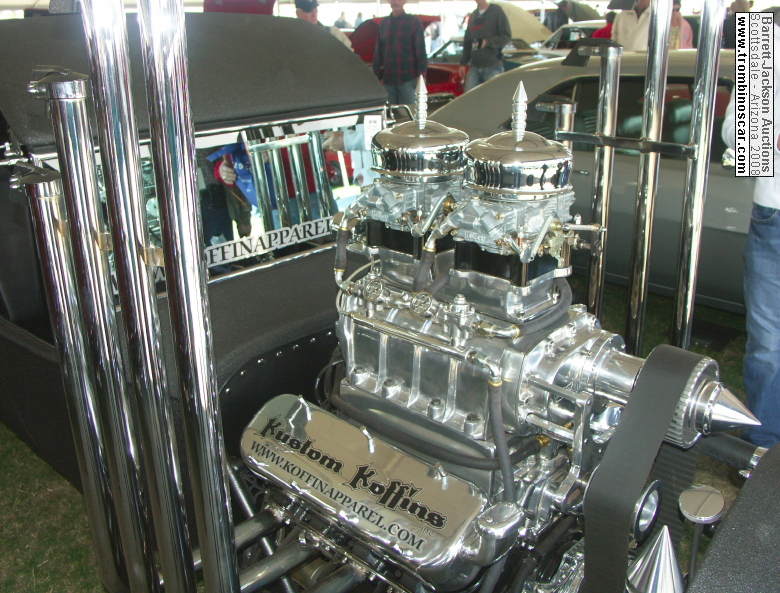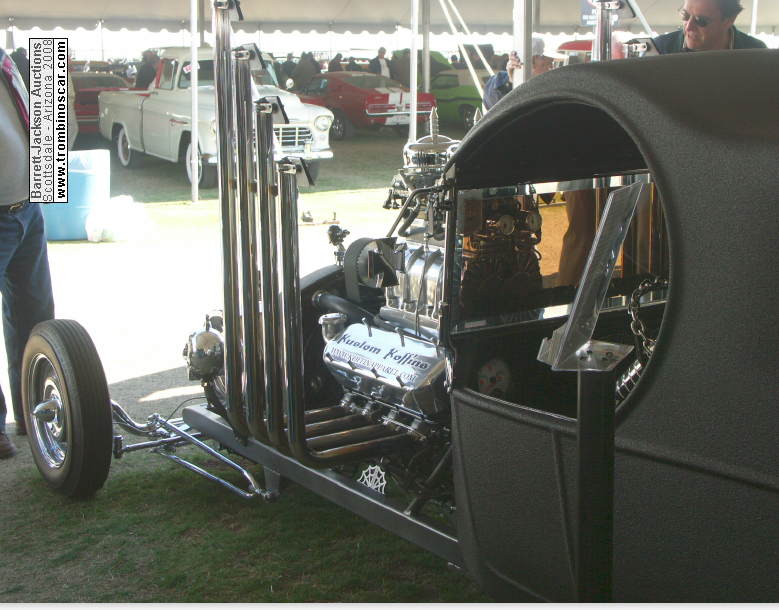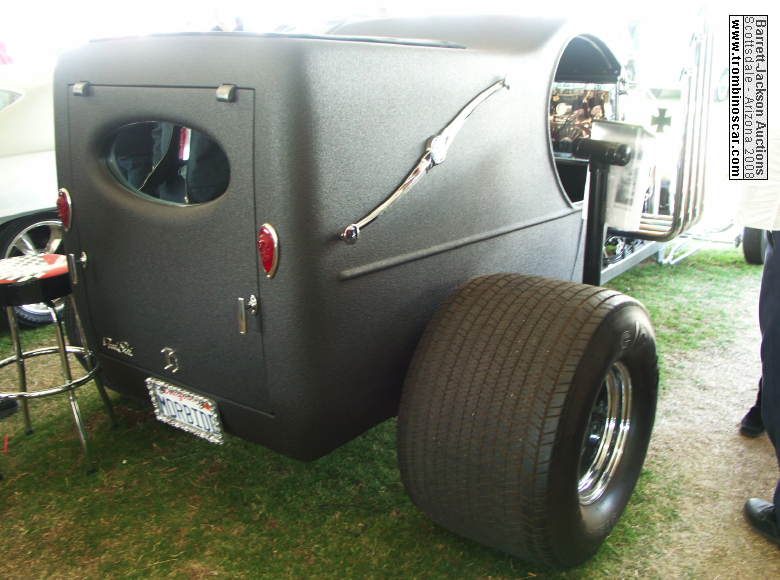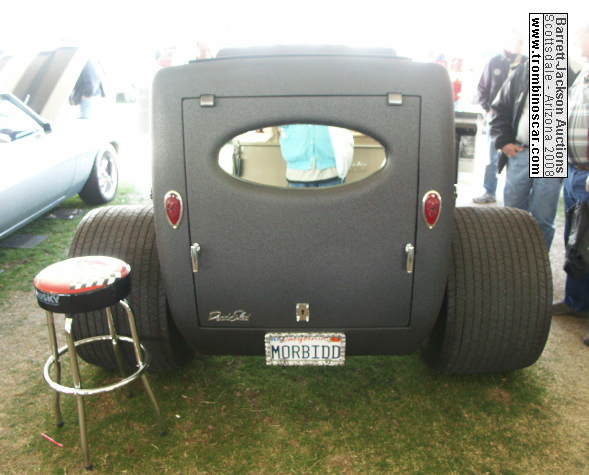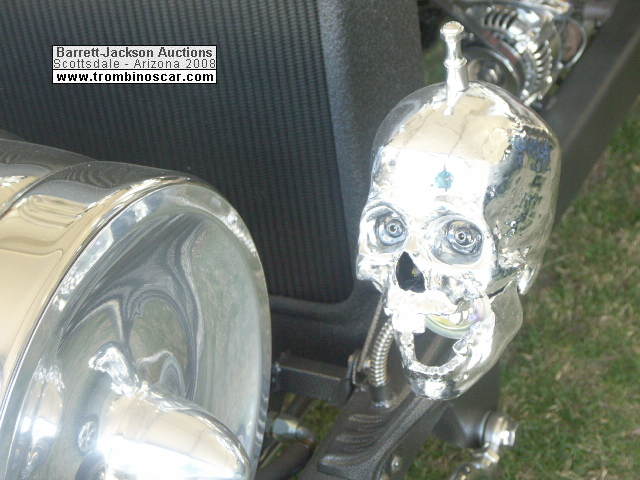 des sites de https://trombinoscar.com