créée le 20 janvier 2002 et mise à jour du 20 décembre 2002


| | |
| --- | --- |
| marque | LINCOLN |
| modèle | VERSAILLES |
| finitions | Sedan 4dr |
| année | 1 9 7 9 |
| quantité/prix | 21 007 exemplaires / $12939 |
| carrosserie | berline 4 portes 5 places |
| moteur/boite | V8 de302cid - 130cv à 3600t/mn |
DU SITE D'ENCHERES EBAY USA
hôte : le site d'enchères par internet <<ebay>> est de loin celui qui marche le mieux au monde. Il a dailleurs racheté notre ibazar nationale pour former ebay-France
voitures américaines : elles sont excessivement nombreuses sur le site américain
photos : le propriétaire du véhicule mis en vente ici son nom de code est lovetoys1
la gamme se compose de : VERSAILLES - CONTINENTAL - MARK V - tous en V8
.
VERSAILLES

un modèle Sedan 4 portes 5 places vendu $12939 à 21007 exemplaires
moteur V8 de 5L2 développant 130cv à 3600t/mn avec une compression de 8.4:1

CONTINENTAL

deux modèles

Sedan 4 portes 6 places vendu $11200 à 76458 exemplaires
Hartop Coupe 2 portes 6 places vendu $10985 à 16142 exemplaires

moteur V8 de 6L6 (400cid) développant 159cv à 3400t/mn avec une compression de 8.0:1

MARK V

un modèle Hardtop Coupe 2 portes 6 places vendu $13067 à 75939 exemplaires
moteur V8 de 6L6 (400cid) développant 159cv à 3400t/mn avec une compression de 8.0:1
a été placé en vente aux enchères sur ebay/ A $500 à priori sans prix de réserve
Elle a un moteur V8 et 66166 Miles
Il se trouve près de Phoenix (Arizona) et voici ce que le vendeur en dit

Options : Air conditioning, Cruise Control, Power Locks, Sunroof, Power Seats, Cassette, Power Windows. Ford 302 Mustang Comet donor or Collector Car
Vehicle Description : Here is a 1979 Lincoln Versailles powered by a 302 V-8 with an automatic transmission, power steering, power brakes, A/C, Tilt steering wheel, moon roof, power windows, power locks, power seat, stereo tape and the list goes on and on. It also has the very desirable 4 wheel disk brake ford 9 inch rear end. They say you can take the motor, transmission, rear end with disk brakes, front disc brakes and put it all in an older ford. This car is really to nice to part out but I guess if you want the parts a totally complete car is the way to go. This Versailles has been sitting for years in storage. The interior is in near mint condition with only a little wear on the drivers seat. I have not even vacuumed this car and look at the pictures. The paint is fairly nice and would detail out to be OK for a driver. There is a small dent in the right side and a few chips pictures included. There is absolutely NO RUST on this car. The VIN is 9W84F615927 and its Mileage Box C. If you have any questions please Email me or just call Bill at 602-819-4499.
Vehicle Condition : Its been in storage for years and the gas is very old. I have replaced a few gas lines to make it run. It runs nice and smooth and the transmission and brakes work as they should. The gas tank should be flushed as with the fuel system before its driven. The hole car should really be looked over by a mechanic if you plan on driving it. The hood ornament is also missing.
PHOTOS DE LA LINCOLN VERSAILLES SEDAN 1979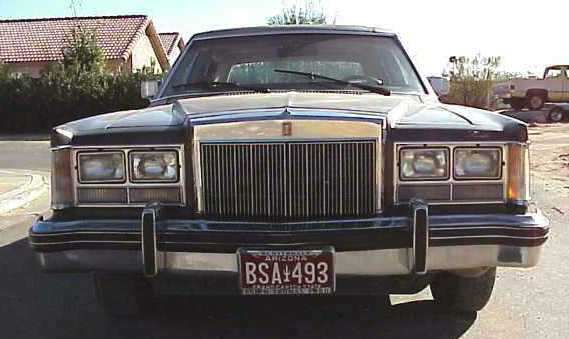 | | | |
| --- | --- | --- |
| | ou | |
des sites de https://trombinoscar.com