créée le 15 décembre 2003 et mise à jour du 15 décembre 2003


| | |
| --- | --- |
| marque | MERCURY |
| modèle | MARQUIS |
| finitions | Hearse |
| année | 1 9 7 1 |
| quantité/prix | / $ |
| carrosserie | Corbillard |
| moteur/boite | V8 de 400cid/6L6 |
DU SITE D'ENCHERES <<EBAY>> USA
hôte : e-bay, le fameux site d'enchères aux USA qui comprend toujours entre 1 et 2 millions d'objets à enchérir. C'est celui aussi qui a acheté notre iBazar national avec ses 4 à 600 mille objets aux enchères et qui est devenu ebay.fr
voitures américaines : il y en a toujours beaucoup avec de superbes photos sur le site américain. Le site français propose en général entre 2 et 4 pages d'objets et de voitures avec une certaine modestie pour les photos. Ceci va sans doute changer
photos : elles sont du propriétaire-vendeur basé à Orem (Utah)
1971 Mercury Marquis Hearse, Low Miles NR - Miles:111352 - Doors:4 doors - Automatic - Interior:Beige/Tan - 8 - Cyl. - 1971
Options Air Conditioning - Cassette
Vehicle Description : I am selling my 1971 Mercury Marquis Hearse. It is in great running condition. I am selling because my I got new car and can not afford to keep both of them on the insurance. I need to sell this quickly so I can stop paying insurance on it. That is why I am starting the bidding low with no reserve. This is a fun car to 4drive around in. I used it to haul my Drum set around which it worked great for.
The engine is an 8 cyl. 400CI/6.6L engine. 2 barrel carb. the car has 111352 Original miles on it. It has an automatic transmission that shifts very smoothly. I am also including a new set of front brake pads that I purchased for it, but it didn't need them.
New Alternator - New Starter - New Spark Plugs - New Tail Pipe - Rebuilt Carburetor - Original Manual Included - New Brake Pad Set
The car has Air Conditioning that was recently recharged, a new alternator, a new starter, new spark plugs, and a new tail pipe. I just rebuilt the carburetor this month. The tires are in good condition and the car has a full size spare. It has a tape/radio player and 2-3 way 6X9 speakers in a box in the front. The car also has a no 4velty horn installed in it. The heater works.
The rear window is beautifully sandblasted. The front vacum headlight covers work. they automatically come up when the headlights are on, and go down when they are turned off. The winshield washer fluid dispenser works and I recently put a new pump in it. The wipers are still good.
Vehicle Condition : The paint in in good condition. There are some scratches here and there but nothing extreme or bad for it's age. The car can still be easily shined up. The car has always passed safety and emmisions easily.
The black top does have some peeling as you can see in the pictures. There are 2 splits in the dashboard. The windshield has 1 crack on the passenger side, but it ends at the side and bottom of it so it will not grow and will not effect inspection.
PHOTOS de la MERCURY MARQUIS HEARSE 1971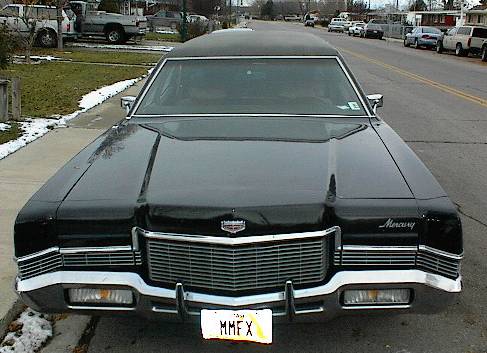 des sites de https://trombinoscar.com