créée le 1er décembre 2002 et mise à jour du 1er novembre 2011


| | |
| --- | --- |
| marque | OLDSMOBILE |
| modèle | DELTA 88 |
| finitions | Royal Convertible |
| année | 1 9 7 5 |
| quantité/prix | 7 181 exemplaires / $5213 |
| carrosserie | cabriolet 2 portes 5 places |
| moteur/boite | V8 de 350cid - 180cv à 4000t/mn |
SITE INTERNET <<EBAY USA>> DE VENTES AUX ENCHERES
hôte : Site ebay sur internet que je ne vous ferais pas l'injusre de vous présenter sachant que nous avons l'équivalent en français qui a succédé à ibazar
photos :de Matt@MalibuLongBoards.com, nom de code ebay du vendeur
Gamme Oldsmobile: Cutlass - Omega - Starfire - Delta - Custom Cruiser - 98 - Toronado
CUTLASS

CUTLASS
moteur 6 cylindres de 250cid développant 100cv à 3400t/mn avec une compression de 8.0:1 et un carburateur monocorps

12 797 COUPE 2 portes 5 places à $3755
30 144 SEDAN 4 portes 5 places à $3830

CUTLASS 'S'
moteur 6 cylindres de 250cid développant 100cv à 3400t/mn avec une compression de 8.0:1 et un carburateur monocorps

42 921 COUPE 2 portes 5 places à $3852

CUTLASS SUPREME
moteurV8 de 350cid développant 180cv à 4000t/mn avec une compression de 8.5:1 et un carburateur quadruple corps

150 874 COUPE 2 portes 5 places à $4047
15 517 SEDAN 4 portes 5 places à $4104

CUTLASS SALON
moteur V8 de 260cid développant 150cv à 3800t/mn avec une compression de 8.0:1 et un carburateur double corps

39 050 COUPE 2 portes 5 places à $4654
5 810 SEDAN 4 portes 5 places à $4726

CUTLASS SUPREME / VISTA CRUISER
moteurV8 de 350cid développant 180cv à 4000t/mn avec une compression de 8.5:1 et un carburateur quadruple corps

4 490 STATION WAGON 4 portes 5 places à $4678
3 739 STATION WAGON 4 portes 7 places à $4791
4 963 STATION WAGON Vista Cruiser 4 portes 5 places à $4888
9 226 STATION WAGON Vista Cruiser 4 portes 7 places à $5001

OMEGA
STARFIRE
DELTA 88 ROYALE
moteurV8 de 350cid développant 180cv à 4000t/mn avec une compression de 8.5:1 et un carburateur quadruple corps

23 465 COUPE 2 portes 5 places à $4998
21 038 TOWN SEDAN 4 portes 5 places à $4927
32 491 HARDTOP SEDAN 4 portes 5 places à $5064
7 181 CONVERTIBLE 2 portes 5 places à $5213

CUSTOM CRUISER
NINETY EIGHT
TORONADO
CALIF MOVIE CAR CONVERTIBLE OLDS DELTA 88
Vehicle Description : Use Proxy bidding to insure highest bid. Pick it up and drive it home. Burbank , LAX Airport Pick Up available I am using the reserve option for 2nd chance bidding. This car looks and runs awesome!
Amazing CALIFORNIA original 70's License Blue CA Plates, 1970's CLASSIC Convertible. New $1200 Power top, windows, brakes, steering, cruise, tilt, CD, AMFM, AC, split bench all original car. drives and looks great, great tires, brakes etc... $1000 paint job (3 years ago) $500 CD sound system cool white original interior. Best 70's ride..very drivable in todays conditions, better than caddys.... Drive this one to China and back as is. Roll down the windows and put down the top, crank up the tunes and cruise cause they don't make them like this any more. 4400+ pounds of Detroit steel, Power everything and nothing but serious room for 5 huge dudes plus fits 4 bodies in the trunk. Take it to the beach or maybe Vegas......and the CD sound system cranks.
Your car is a very well kept Hollywood Movie Car featured in numerous productions including Detroit Rock City... here is the movie promo poster with this actual car. your car in this photo! you get poster with car. Amazing 1975 Oldsmobile Delta 88 Convertible Royale. This classic factory convertible is very clean overall and would make a perfect daily driver or weekend cruiser. This car has been in numerous Hollywood productions, videos, print and more. I picked this up in Hollywood, CA from the second studio owner and it was always a well kept cruiser. This car was featured on one of the movie posters for the Kiss movie Detroit Rock City. I actually have the movie promo poster that I got from the studio with the car. Not a poster made with a like car........ but this is the actual car used. Just to give you a good idea of the great original condition of this car..... Hollywood is extremely particular on the cars they might want to use. They almost always want to use super clean and reliable convertibles. If the movie takes place in 1975 and they use a 1975 convert...obviously the car must look and sound brand new. This is critical when shooting cause if the car breaks down or is not maintained... the entire day could be lost at a cost of thousands....and any 70's cars are very carefully selected for studio use.
Back glass window, CD PLAYER, Air Cond, CRUISE, TILT, AUTO , smooth as silk 350 motor. These cars cruise very well with disc brakes and are very drivable under todays fast and stop conditions. Power steering and disc brakes. Major league head turner. Power windows and Killer $500 CD sound system complete the package. I also have the original 8 track that comes with your car. Plus the always hard to find Convertible Soft Boot comes with this car! The boot is the optional peice that goes over the top when it in the down position. CURRENT REGISTRATION AND passes world's toughest smog test.... pretty much has to run clean as new to pass Calif SMOG .
Interior and exterior look great on this car. Nicest I have seen yet. Drives dreamy, with great tires, brakes, steering, and suspension. Top is high quality and looks like it is right out of the showroom cause it pretty much is.
PHOTOS DE L'OLDSMOBILE DELTA 88 ROYALE 1975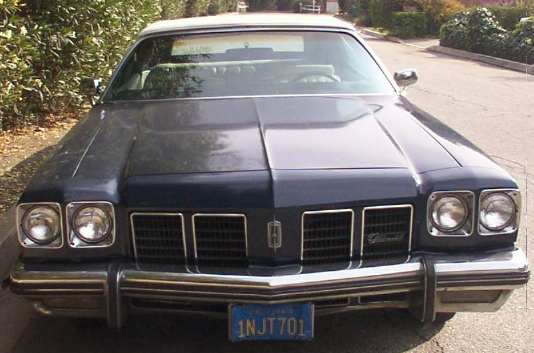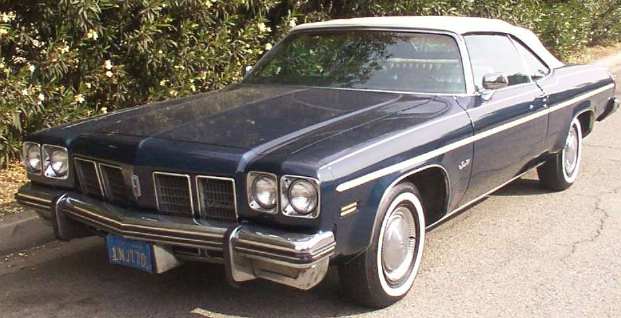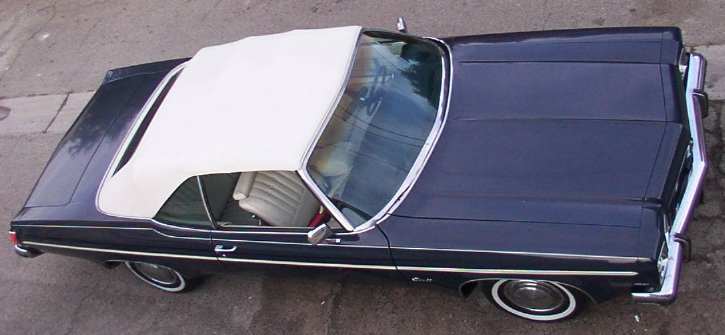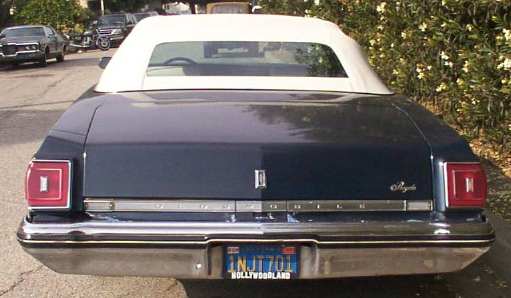 c'est la vedette de ce film !