créée le 25 avril 2008 et dernière mise à jour le 25 avril 2008

marque

COMMUTA (-Car)

modèle

CITICAR

finitions

Hardtop

année

1 9 8 2

quantité/prix

? exemplaires / $

carrosserie

miniberline à toît détachable
2 portes 2 places

moteur/boite

électrique Wound GE - 3cv
DU SITE EBAY-MOTORS (2008)

le meilleur concurrent du trombinoscar (cliquez sur l'image pour y accéder)
HISTOIRE DES MARQUES "CITICAR" et "COMMUTA-CAR"
CITICAR (1974/1979)
1974 : SEBRING VANGUARD (Floride) décide de commercialiser une mini-voiture électrique qui finalement aura été la voiture "street-legal" la plus vendue aux USA. Ses performances sont honorables avec 60km/h en pointe et avec une autonomie de 65km. Trois modèles existent: le coupé, le hatchback et le cityvan, du plus petit au plus grand, le CityVan atteignant tout de même 3m pour 2 passagers
1979 : la société change de mains et de nom
COMMUTER (1982/1983)
1979 : la marque change mais la production reste à Sebring (Californie) sans changement notoire pour deux ans
1983 : fin de production après 2500 unités au total sur dix ans
1982 ELECTRIC COMMUTA CAR
Vehicle Description : By now most of you should be familiar with these types of vehicles, there have been lots of them listed on e-Bay recently. However, most of them have been basket-cases, either not running or needing tons of money to get them into shape.
Presented for your approval: A 1982 Commuter Car that has been fully restored. This vehicle is in need of nothing. It has undergone a bumper-to-bumper restoration. It is powered by eight 6-volt Trojan batteries. It moves at a speed of up to 40 mph & a distance of 40 miles on one charge. You simply plug in the unit to charge it each time you use it. The batteries as well as everything else have plenty of life in them. It is a two-passenger vehicle with small hatchback storage in the rear. This vehicle can be used on any street & comes with a custom sun-roof, tow hitch, jack, lug wrench & several extra parts. We have also installed an automatic battery fill which make filling the batteries very easy. Everything on this vehicle is in working order & is ready to go.
PHOTOS de la COMMUTA CAR ELECTRIC 1982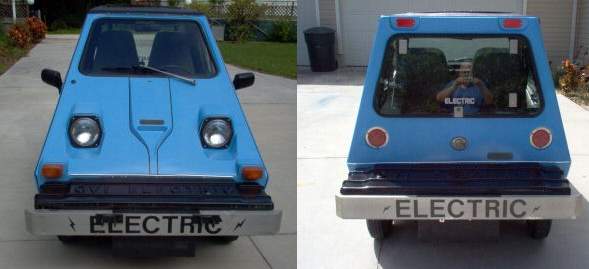 CLIQUEZ
sur votre choix
des sites de https://trombinoscar.com