créée le 9 mai 2008 et dernière mise à jour le 9 mai 2008


| | |
| --- | --- |
| marque | AHRENS-FOX |
| modèle | model J-S-4 |
| finitions | Piston Pump Truck |
| année | 1 9 2 5 |
| quantité/prix | / |
| carrosserie | engin de lutte contre le feu |
| moteur/boite | 6cyl Ahrens-Fox |

le meilleur concurrent du trombinoscar (cliquez sur l'image pour y accéder)
prix de réserve environ $50000, vendeur situé à Grand Rapids (Michigan) - mars 2008 March
1925 Ahrens Fox Fire Engine Piston Pump Truck ORIGINAL - 3,500 miles - 6 Cylinder
Vehicle Description : 1925 Ahrens Fox Piston Pumper ORIGINAL
This is the 1925 Ahrens Fox JS4 from Washington Courthouse Ohio. It is pictured in the Ahrens Fox album by Sytsma on page 45, and in Ed Hass' book on page 28. It was purchased new in 1925 by WCH and in-service until 1978. During that final year, the pumper showed it's true worth when it pumped for several hours straight at a large building fire. All that and at 53 years old! The truck was sold in 1979 to Brent Follweiler from Coatesville PA. He owned it for more than 20 years, then it was purchased by it's first Michigan owner in 2001. We purchased it in 2004.
The truck still wears its original paint, decoration, and brightwork; which to the advanced collector; is like a time capsule. The seat was reupholstered in 1988 by Snyders Auto Restoration in Mount Joy PA, done in leather and horse hair like it was done originally. The paint has been preserved with a coat of automotive clear. The gold leaf decoration is worn in spots and you can see the silver leaf under the tinted varnish, which shows the age of a truck of this vintage and makes the viewing of it a delight. The pump was rebuilt in 2002 with all new valves, leathers and bearings. All the wiring has been replaced with the original style cloth-covered wire. It comes complete with all equipment including the original Ahrens Fox extinguishers, hand lanterns, one playpipe (ahrens fox), and three tips. The truck came with two play pipes (see delivery photo), several other nozzles, original strainer, pikepole (not Ahrens Fox), ladders, original hard suction (which we have used and pumped for hours), original bell, siren, and searchlight, axes, and soft suction. The Windshield (not on) was purchased from Ahrens Fox in 1937 and does come with the truck. It also has its original commission plate for Washington Court House, Ohio still mounted on the splash apron.
The engine received its HPOF (Historic Preservation of Original Features) at the AACA meet in Moline IL in 2004. That show also won the truck the best prewar HPOF vehicle of any shows that year, and was presented at the AACA National meeting in Philadelphia PA. It also won best in class in 2005 at the Cranbrook Concours in Michigan.
If you are looking for a shiny paint truck, this is not the truck for you. If you are looking for a museum quality ORIGINAL truck that runs and pumps like the day it was made, this is the truck for you. This is one of the few (less than 5) piston pumpers that have been preserved. It is our hope that the next owner will cherish this truck for the piece of fire and automotive history that it is and continue the legacy of care taking that will preserve it for future generations to see. Fire engines can be restored many times, but they're only original once.
PHOTOS DU AHRENS-FOX J-S-4 PISTON PUMP 1925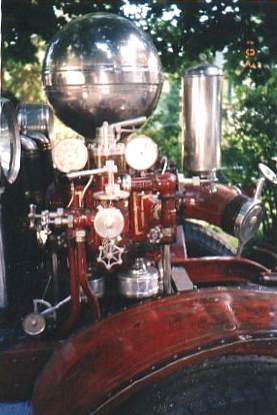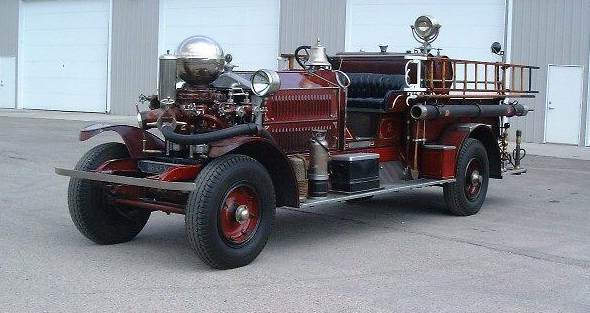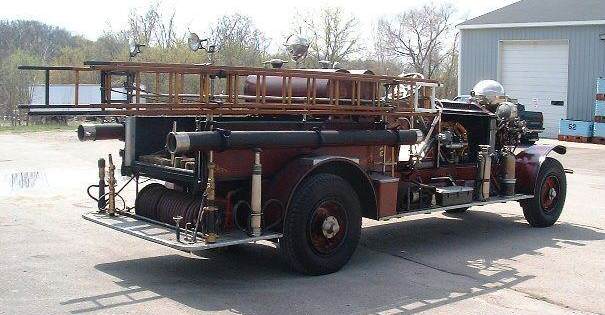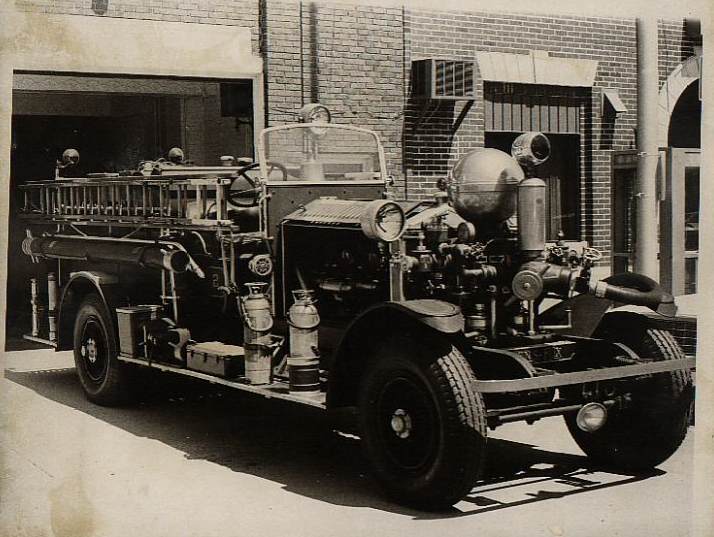 | | | |
| --- | --- | --- |
| | O U | |